In this DAKOTA HUNTER BLOG, you will read about a WWII Veteran Douglas C-47 that ended its operational career as a Chemical Warfare Machine. Sixty years after the War came to an end, this Douglas C-47B was found in Florida, where it had served for years as a Mosquito Control Sprayer near Fort Meyers on the western coastline. Remarkable feat: The first Douglas DC-3 came in US Public Service in 1936, while the same type of aircraft (an ex -military model C-47) still flies in US Public service, some 75 years later.
There is no transport in the World ( Car, Bus, Truck, Vessel, Train or Plane) that has shown such longevity in commercial or military/ public transport operations. The Douglas DC-3/ C-47 did it, does it and will do it for another decade, in numbers, not just a handful of the Last of the Mohicans.
With a growing reputation as The Dakota Hunter, I received over the years many clues and tips that often lead me to astounding finds, i.e. C-47's as crashed, abandoned or stored aircraft, worth to be salvaged for its parts or its cockpit or even worth to be recovered intact as a complete aircraft. That all is depending on the costs of recovery and transport, to be kept within the budget constraints of the customer. That can be a private collector, a War/ Aviation Museum, an Airport or Mall that wants to have a "Gate Guard" or Eye Catcher Airplane at the front/ main entry or inside the building.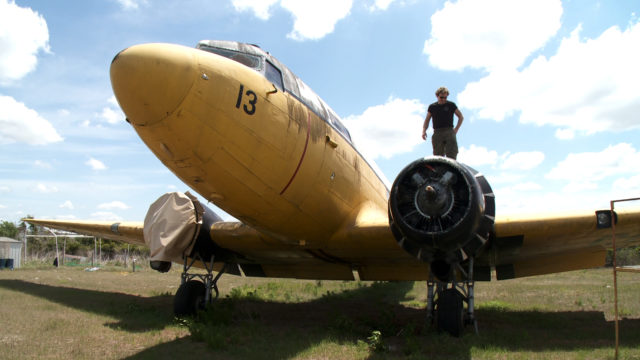 The Photo above shows The Dakota Hunter inspecting one of the out phased Mosquito Control Sprayer DC-3s that was sold to a small Salvage Company in Florida around 2008. On this yard, I found a Sikorsky Helicopter S-52, another DC-3, a bunch of derelict General Aviation aircraft and a depot full of parts. There are quite a few such "Mini Boneyards" to be found in Florida, Arizona, California, Nevada and Oregon. I love to visit those venues, many times I spoke with very amicable owners, sometimes I met grumpy old men who rather wanted to shoot me out of their yards. Life of the Dakota Hunter is always full of surprises, never a dull day!
The value of such vintage aircraft is to a certain extent to be determined by its overall condition, especially of the aluminum of the fuselage & wings (its rate of corrosion) and the presence of full instruments in the cockpit, and eventually the more or less complete engines and props. But beyond that mechanical / physical state, there is another factor of value, the documented history of the aircraft. War Museums always prefer a WWII aircraft that had a proven presence in one or more of the great Aerial Operations of the war. The Invasion of Normandy (D-Day) , the Battle of the Bulge with the Bastogne Siege/ droppings, the Arnhem Para droppings/ Glider tow operations, but also the flights over the Hump from India and Burma into China over the Himalaya. See my previous Blogs Bastogne Siege / Batte of the Bulge and Wartime flights over the Hump and First post D-Day landing of C-47 in Normandy.
With authentic factory tags /numbers & tail codes from the USAAF, we (my friends Michael Prophet and Bart Nopper) are mostly able to find the full (war) history and its place and date of production. But also the post-war events that the aircraft endured, often in smaller scale wars as the Korean conflict (1950-1953), the Vietnam War (1964-1975) , and revolts, hijacks, crashes, illegal smuggling, and other raids that can make a most interesting tale around such aircraft and add to its value for Museums. Also, the special Military roles that were given to a small number of aircraft can be much wanted. Spooky Gunships AC-47 from Vietnam (See also my Spooky AC-47 Facebook Post), Pathfinder C-47's that went ahead of the troops for marking the drop zone, they all belong to a very special breed of Dare Devil Aircraft with a fascinating history to tell. Evidently, that attracts more attention from the public than an "anonymous" or Grey Mouse C-47 will ever do. In my global quest for the legendary Dakota/ C-47 / DC-3, I focused primarily on such Dare Devil Aircraft. And I found quite a number of them. One such special C-47 with an intriguing war history is described in this Blog and in more details and photos in my book's chapter "Museums & Projects" ( The Dakota Hunter, chapter 11, Casemate Publishers USA/UK).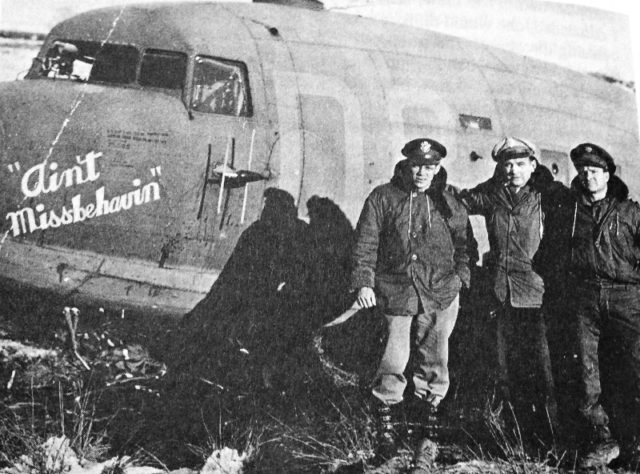 The Photo above shows the Douglas C-47 "Aint Misbehaving" that crash landed on 30 December 1944, near Bastogne. The Feature photo of this Dakota Hunter Blog depicts that same aircraft, which took part in the para dropping operations over besieged Bastogne during the Ardennes Offensive (half December 1944 until half January 1945). The droppings were done from low altitude, in order to avoid the drifting of the dropped ammo, food, fuel and medicaments to the German zone. But flying at that altitude, the Skytroopers/ C-47s became vulnerable to smaller caliber enemy gunfire . One single stray bullet in an engine could stop the mill and with a bit more mishap as a leaking fuel tank or hydraulic oil, an emergency landing was sometimes imminent. The Douglas C-47 was an extremely rugged and forgiving aircraft that with wheels up was able to make often a perfectly "controlled" crash landing in open fields.
By the end of 1945, the larger part of the Allied Fighters and Bombers Inventory that had survived the war was declared surplus and often, the imminent destruction was their fate. The World needed more modern aircraft for the long haul over oceans with compressed cabins, more payload, and greater speed. The aluminum from the war-weary surplus aircraft was urgently needed to be recycled in order to scale up the manufacturing of the newer breed of planes, both in Military and Civil versions. That simple fact was the Death Knell for most wartime made aircraft, but a few "War Bird" types escaped from that cruel verdict.
No wonder that it was predominantly the C-plane (C for Cargo) that made a most successful post-war career as a much-needed transport of passengers and cargo for the medium/ short haul. From all C-planes built before and during that war, the Douglas DC-3/ C-47 had scored by far the highest number of production (over 10.600 built between 1936-1946 in the USA). Evidently, based on this figure, we see this legendary aircraft until today as the "reigning" war-made survivor aircraft of this world. The number of survivors is an estimated 900+ , while from that, some 100-150 or more are still flying or can be made flying. And that is a lot more than any other well-known aircraft types from the post-war past as the Fokker Friendship F-27 , the Boeing 727 Tri-engine Jet, the Vickers Viscount or VC-10 all together! They all came 10-20-30 years later than the DC-3 and almost all of those types are extinct by now: a few left in Museums, all the rest is gone into the smelting oven, for the making of your soda or beer can. This is no Rubbish Story!
Douglas made a very rugged, well-constructed and most reliable machine. DC-3's for sale are relatively cheap with low depreciation costs. Et Voilá, this plane is the perfect fit for seasonal labor. Mosquito Control and Oil Pollution Fighter aircraft are hard working machines but only during a limited days/weeks per year. With a long standstill time and ongoing high costs of depreciation, such seasonal fluctuations would soon become cost prohibitive. Not so with the Dakota/ DC-3/ C-47. It can be stored and maintained outdoors, no hangar needed. All good reasons making the Miracle that this aircraft is still alive and operational in numbers, at an average age of 70+ years! See also my "Big Bang" best scoring DAKOTA HUNTER Blog Jurassic Park of Aviation found with an amazing tale of that DC-3 survival!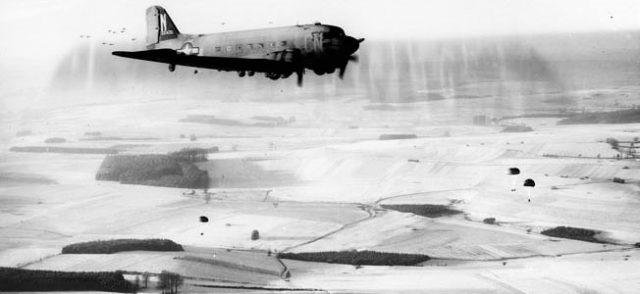 The photo above depicts a C-47 overflying the Ardennes' "Winter Wonderland" during the Bastogne siege ( late December 1944). Parachutes are being dropped with ammo, food, medicaments and fuel. The Douglas C-47 that we found in Florida was one of those aircraft, which was being hit by a German stray bullet in the Radio compartment while making a low fly pass over the city of Bastogne on December 24, 1944. The aircraft was so lucky to have only its radio out and could make it back home. After the war, she soldiered on, up into the New Age as a Mosquito Control Sprayer in Florida. It is there where I found her after a tip from my friend Bart Nopper. With help of the expert mechanic Kenny, we separated the cockpit and took her 'Home" for another final career as a Museum Star in the town of Best, Brabant, The Netherlands, near Eindhoven. It was right there that this aircraft was stationed during the final aerial assaults of the Allied Forces, from September 1944 until May 1945.
After the war, most C-47's entered their second Lease of Life with foreign Military Air Forces and flew out to all corners of the globe. Many C-47's in military outfit were transformed to civil versions, a conversion back to the DC-3 status with seats and interior upgrades. They retained the C-47 reinforced floor and in many cases also the double Cargo Doors, with a smaller door incorporated for more "decent" passenger transport. In the 1960s, many smaller Tourist Airlines in UK/ Holland/ France/ Scandinavia and Commuter Airlines in the USA flew the DC-3/ C-47 for their passenger transport. Over the years, the aircraft was out phased in this role and replaced by more modern and faster Turbo Prop and Jet Aircraft. The venerable DC-3 had yet another career to make that lasts until today, even in the US Mainland, Alaska, Caribbean, and in South America, in the remote pax/cargo and specialty role. One of them is that of the Insecticide Bomber, for Mosquito Control in Florida and Lousiana and for Agricultural use (Crop Sprayer).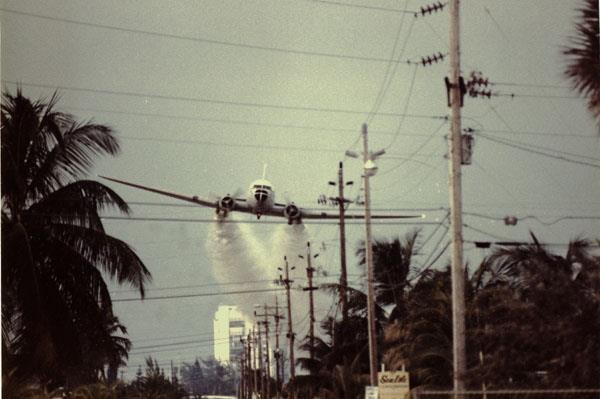 Photo above depicts a Mosquito Control Bomber DC-3, spraying a residential area in Key Largo, 1988. Photo made by Don Downing and sent to me, Thanks, Don! The aerial spraying of Chemicals to fight abundant mosquito populations has been exercised for many decades. The main insecticide applied is Naled (Dibrom) of which about one million pounds are used every year since 1998 in the USA, 70 % for Mosquito control, 30 % for agricultural uses ( Cotton, Alfalfa, and Grapes in California, Lousiana, Oregon, Idaho). That is a lot of chemical stuff to spray, done by smaller aircraft ( crop dusters, helicopters) and the DC-3s.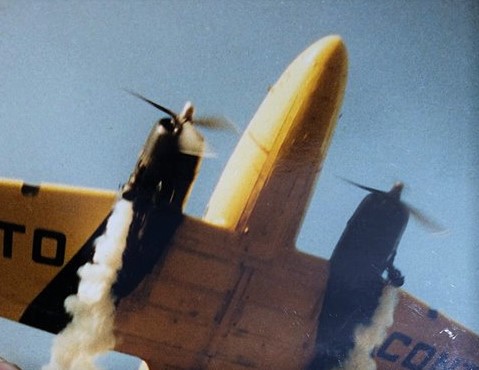 Photo above was sent to me by Don Downing, taken in Key Largo, 1988. Only recently (early August 2016), Florida Health Department has announced to begin aerial spraying of insecticides to control Zika Mosquito Populations near Miami. The campaign will cover a 10-mile area that includes the one-mile-square area just north of downtown Miami that health officials have identified as the hub of Zika transmission in the state. According to Miami-Dade officials, residents do not need to take special precautions during the aerial spraying activities. Aerial spraying over residential areas (as seen in photos above) has come under heavier public scrutiny, addressing the possible issues as toxicity to the nervous system of humans and animals. But that is a worldwide ongoing environmental discussion, far beyond the scope of this aviation related Blog that is made for entertainment purposes only!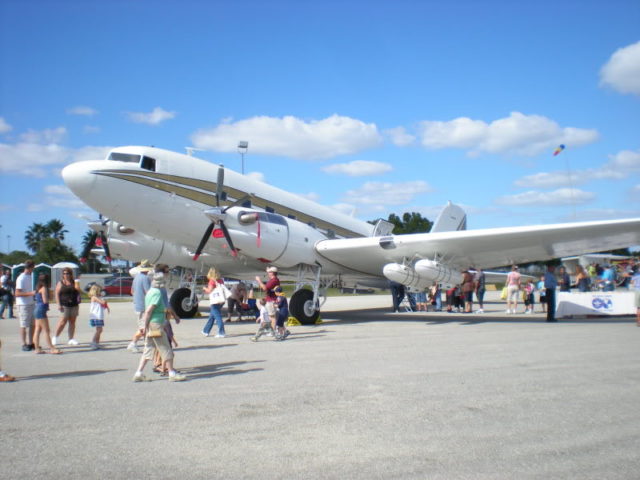 Photo above depicts the more "modern" form of Mosquito-Fighting against the now rapidly expanding ZIKA Mosquito populations in Florida. Of the nearly half a dozen DC-3s registered to the Lee County Mosquito Control District in Florida, all were to be refitted with Pratt & Whitney PT6A-65AR turboprops driving Hartzell five-bladed propellers. That Turbo conversion adds power, speed, reliability, and more payload. The fuselage is stretched approximately 42 inches from its original length, with all-new electrics, and extended fuel storage with an additional 200 gallons of fuel carried in the engine nacelle-mounted fuel tanks. Turbo engines are smaller, lighter and positioned much more forward of wings' leading edges. Lee County Mosquito Control District acquired the aircraft in 2008 after which it went through an extensive inspection atDodson Aviation, Ottawa, Kansas. The wing sports internal hardpoints and an under-wing mounting system for the 4 Micronair spray pods. Not bad for this Old Granny doing a Zika Kill Job at the age of 70! Survivor of 3 wars, almost retired and now back in combat/ kill missions against Alien Creeps that pop up in Florida! Is this a Mad Max movie? No, it is a reality!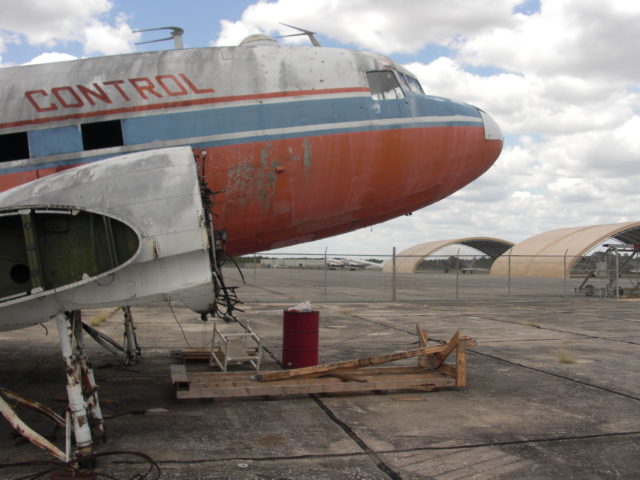 Photo above shows how I encountered the Mosquito Control Sprayer DC-3 Reg. Nr. N-10005 for the first time. With 4 more operational Mosquito Sprayer DC-3s in the backdrop, I bought this one (in front) in a derelict state, no wheels, no engines, now wings, but with near complete cockpit interior with an authentic instrument layout. On top, this aircraft has a Wartime History that made it so special, worth to save it from the scrapper/ smelting oven where so many war veteran aircraft ended for the recycling of their aluminum. The value of bare Aluminum makes it worth to chop up the total plane in chunks. But sometimes the Historical value prevails over the Recycling value, as was the case with this one, at least for the cockpit! Note 4 more C-47's in this photo, all still operational as Mosquito Control Sprayers. Photos following: Hans Wiesman , 2009, Lee County Fl. Municipal Airport.
My Museum customer could only afford the transport to Eindhoven of one 40 feet container. With that limited budget, we saved at least the soul of this War Hero. This aircraft flew over Bastogne on Christmas Eve, 24 December 1944, dropping relief parcels and letters/ presents for the 101st Airborne troops, which were trapped during the Bastogne Siege. That valor should not be forgotten and the stunning story can only survive with the salvage of at least a part of this aircraft, so our mission became to bring the cockpit over to The Netherlands. What came next can be seen in the photos below. How to separate a Cockpit from a C-47 with only a toy grinder, a shabby reciprocal saw that ran hot, a borrowed forklift truck and a pick-up truck that quit on the Highway. It was about time for me to take a few lessons in simple but efficient wrenching and separation of an airframe without a cutting torch.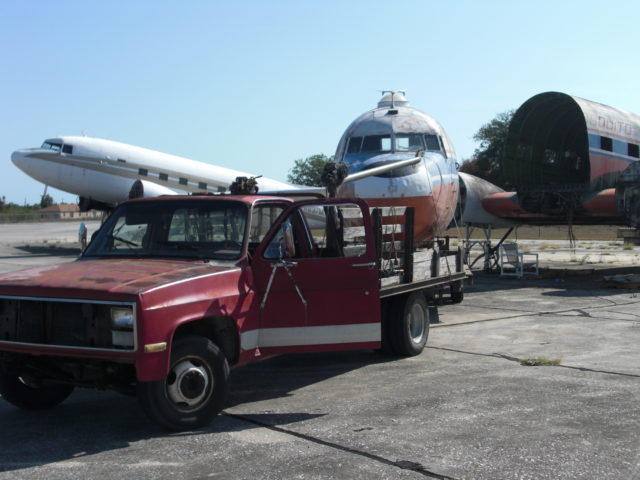 Photo above shows the result, as the cockpit was taken apart with only basic domestic tools as a small diameter grinder and a reciprocal saw. That's all, Folks. Oh yes, we had a Forklift truck to support the cockpit as it came loose, avoiding a sudden "Kabang" drop on the platform. And that old pickup truck, for the transport over the Highway to Kenny's place where a 40-foot container waited to get loaded. It was all done by Kenny and his son Josh in about 2-3 hours, wow!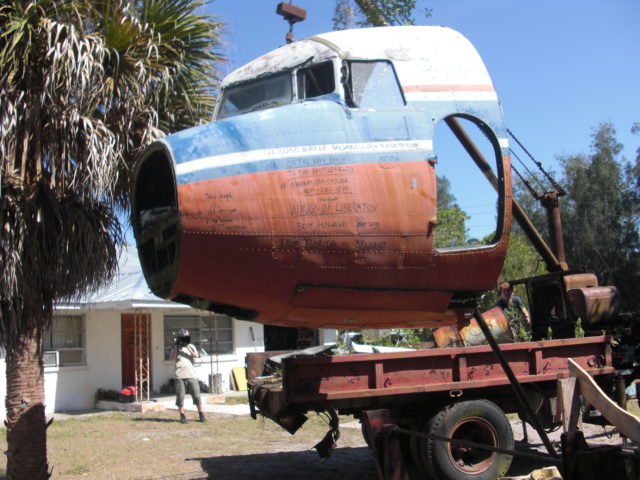 Photo above, the cockpit has arrived on Kenny's yard. The slicing of the extended cockpit in 5 parts took place right there, with the nose/ cockpit section in one part as seen in this photo. This section fits exactly in a container, so all instruments, handles, yoke, pedals , seats, overhead panels, etc could be left in place. We needed a hoist to get this largest single piece from the pickup truck into the container. Kenny had such hoist in his yard, driven by an old ivy-covered V-8 engine. Removal of the weeds was not needed, the engine started after some wrenching and ground all Ivy to a Campbell V-8 veggie juice that leaked from the trailer bed!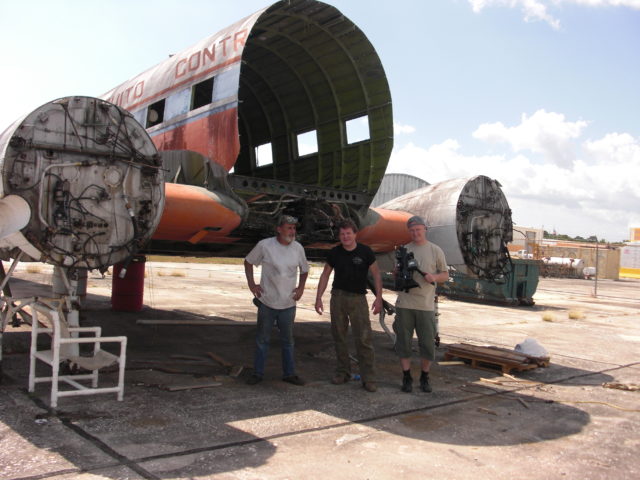 Photo above depicts the Master Mechanic Kenny, myself and Axel Ebermann, our Film Director/ Cameraman in front of the decapitated C-47 which had to be left behind due the budget constraints of my Museum customer in Eindhoven, The Netherlands. My Blog posting/ reporting and filming will be soon be continued with yet another astounding "Barn Find" DC-3 , of which you will soon get a lot more exciting News via this Dakota Hunter Blog. Next week's Blog is about the transport of this cockpit to the Eindhoven Museum and how it fared in its final Role as a Museum Display with great historical value!
Commercial section: Selected from my lifetime adventures and encounters with vintage aircraft as DC-3/ C-47, the Curtiss Commando C-46, and the Catalina PBY-5A, I have collected the best stories in my book of 320 pages, engagingly written and illustrated with 250 unique photos. Meet the pilots, the remote communities, and the planes. Twenty years of expeditions, in search of the legendary DC-3/C-47. I found them in the High Andes, The Yukon, Alaska, Honduras, Madagascar and the Jungles of the Amazon, where the Dakota still reigns as the only transport to bring you in and out of the dense forests of the Green Hell. The very last Frontiers of this world are out there, in Colombia, Honduras, Guatemala, and Bolivia.
For ordering this book, you can go directly to the Amazon page by clicking here at Ordering at Amazon The Dakota Hunter Book, in the print version or as E-book. For 5-star reviews of my book, scroll down on that Amazon page. More Previews and an array of my earlier Dakota Hunter Blogs are to be found at dc3dakotahunter.com. Also, you can order one or both books (in the print- version or as an e-book) via my publisher's website. Click here for Casemate's site.
If interested, Follow or Friend me on Facebook. Soon, I will come out with new Blogs, one is about an exciting new expedition and a web shop that will offer you some stunning & unique pieces of a C-47/ DC-3 for sale, made in Oklahoma in 1944. Finally, you can own your own genuine piece of a C-47, found, made and certified by The Dakota Hunter. You can click here and Contact me directly for remarks, suggestions, and for news to come about the New Products , out soon!