War History online proudly presents this Guest Piece from Jeremy P. Ämick, who is a military historian and writes on behalf of the Silver Star Families of America.
March 30 of each year is designated in Missouri law as Vietnam Veterans Day. A brief moment in time "designed to encourage Missourians to observe the day with appropriate events, activities, and remembrances of those who served during the Vietnam conflict," as noted in a press release available on the website of Missouri Gov. Jay Nixon.
Most profound among these efforts, however, are instances spent in reflection of the more than 1,400 Missourians who lost their lives during that war, as families and friends strive to ensure the sacrifices of their loved ones never fade from public awareness.
"We grew up in a family of 10 kids—five boys and five girls," recalled Tony Bamvakais, while discussing the life of his older brother, John Bamvakais, Jr. "Our father had served during World War II, and John (Jr.) wanted to follow in his footsteps," he added.
The Bamvakais family moved to Jefferson City from St. Louis in 1963, where their father served as a staff officer with the Missouri National Guard's 35th Command Headquarters.
"My brother (John Bamvakais, Jr.) attended Jefferson City High School and enlisted in the Army after he graduated in 1965," said Tony. "What's interesting is that for the brief time he was in the service, he actually followed in our father's footsteps because he went on to serve in the same unit that our father had served in during World War II."
Completing his basic training at nearby Ft. Leonard Wood in early 1966, Bamvakais then traveled to Ft. Benning, Ga., for his advanced and airborne training.
Assigned to 4th Battalion, 503rd Infantry, 173rd Airborne Brigade, Bamvakais soon received the opportunity to put into practice the skills he had acquired during his training. He deployed to Vietnam in July 1966 and joined the paratroopers of the 173rd Airborne Brigade who had earned the distinction as the first US Army ground combat unit committed to the war upon their arrival the previous year.
Bamvakais and his fellow soldiers made history once again when participating in an offensive known as Operation Cedar Falls—which, has since been recognized as one of the most extensive American ground operations of the war.
During the operation, nearly 16,000 US soldiers from the 1st and 25th Infantry Divisions, 173rd Airborne Brigade and 11th Armored Cavalry Regiment, joined 14,000 South Vietnamese troops. Their job was to disrupt insurgent operations in the area of Thanh Dien Forest Preserve and the Iron Triangle; a 60-square-mile area of jungle believed to contain communist base camps and supply dumps in the vicinity of Saigon.
Beginning January 8, 1967, the operation lasted for 18 days and led to the wounding of Bamvakais on January 12 when he was "hit on the right foot by hostile arms fire while on a combat operation," as noted in The Daily Capital News, January 14, 1967, edition. The injury resulted in his treatment at a forward medical area and receipt of his first Purple Heart.
Later that summer, after finishing his one-year tour, Bamvakais briefly returned to Jefferson City to visit his family. However, demonstrating the zeal of determination forged in the fellowship of combat, he volunteered to serve an additional six months in the Southeast Asian country he had just recently departed.
Shortly after his return overseas, the September 29, 1967, edition of the Jefferson City Post-Tribune reported that the 20-year-old soldier went "missing in action Thursday after a search and destroy mission …." His father, then a lieutenant colonel in the National Guard, received the disheartening news in a report from a senior Army advisor at Ft. Leonard Wood.
His brother explained, "(On September 28) he was on patrol with his unit. They were crossing a river on a rope bridge when he was shot, fell down into the river and disappeared," Tony Bamvakais solemnly noted.
Days later, the fallen soldier's remains were recovered and returned to Jefferson City. Following the funeral service held at St. Joseph's Catholic Church on October 10, 1967, he was temporarily laid to rest at Resurrection Cemetery with military honors provided by the Missouri National Guard.
In 1968, Bamvakais' parents returned to their hometown of St. Louis, at which time they had their son reinterred at Jefferson Barracks National Cemetery.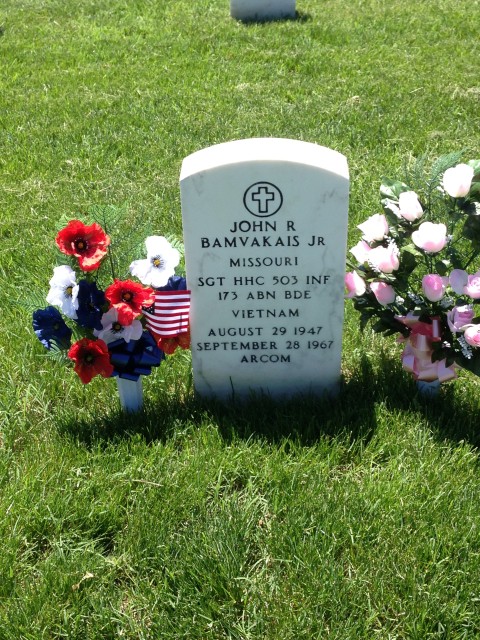 "I still have those memories of us growing up in St. Louis when me and John played Army in some alley and would use 2x4s for bazookas," Tony laughed. "It just seemed as if he was just meant to be a soldier someday."
Tony explained that although his older brother's dedication to his country resulted in the forfeiture of his life, one of the most enduring tributes was the support that poured forth from their Mid-Missouri community.
"The funeral was packed," he said. "I remember that it was so busy that people were still leaving the church even after the funeral service at the cemetery had already ended.
"But what was most profound," he paused, "was that even at a time when so many Vietnam vets returned home only to be unfairly judged and called horrible names like 'baby killers,' that never happened in Jefferson City. Everyone in the community was wonderful; they were very supportive and recognized that he had made the ultimate sacrifice."
Bamvakais was awarded a second Purple Heart, Army Commendation Medal, and Armed Forces Honor Medal posthumously, and is recognized on Panel 27E/Line 23 of the Vietnam Memorial in Washington, D.C.