War History online proudly presents this Guest Piece from Jeremy P. Ämick, who is a military historian and writes on behalf of the Silver Star Families of America.
While growing up in the community of Columbia, James Noah established at an early age the goal to someday enter two public service professions—to become a soldier and also a firefighter. Years later, he discovered the means by which to achieve both of these aspirations in tandem.
A 2000 graduate of Columbia's Hickman High School, Noah explained that he made the decision to enlist in the delayed entry program with the Army Reserve during his junior year.
"When I spoke with a recruiter, he kind of encouraged me to try the reserve route first because I could begin accumulating retirement points and go on active duty at a later date, if I wanted to," said Noah.
As part of the delayed entry program, the young recruit completed his basic training at Ft. Leonard Wood the summer between his junior and senior year of high school. He returned to the Missouri fort the following summer to attend his advanced training to become a military truck driver.
"I knew some guys who were truck drivers in the reserves and it sounded like something that I would like to do," said Noah. "It also seemed like it would provide me with a set of skills that would be transferable into a civilian job someday," he added.
Following completion of his military training in late summer of 2000, he settled into the routine of his duties as a reservist by attending the monthly drills  with his Army Reserve unit—the 428th Transportation Company in Jefferson City. However, as the events of September 11, 2001 unfolded, he discovered firsthand the active role the reserve components would soon play with regard to national defense.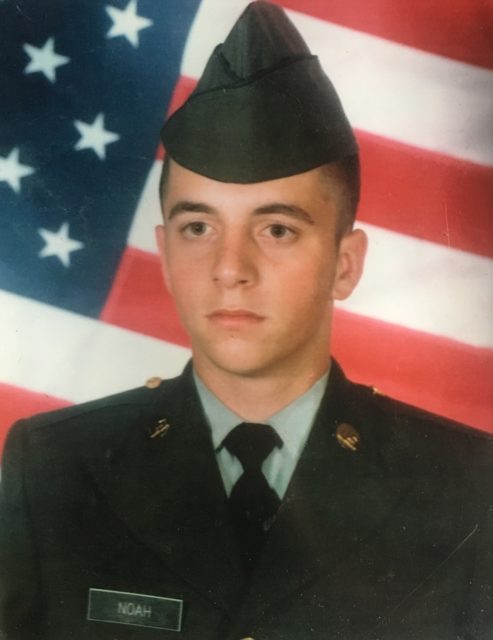 "In 2003 they placed our unit on standby for mobilization but we were soon stood down," Noah said. "But in (early) 2004, we got our mobilization orders and were sent to Ft. Riley (Kansas) for two months of training to practice convoy operations and route defense."
As the veteran noted, his unit was then sent to a disbanded Iraqi military post in Taji, Iraq, where they began running route security missions. This assignment consisted of his unit operating "gun trucks" that were staggered within convoys of 10 to 15 vehicles.
"When we first arrived in Iraq, we used 5-tons with mounted guns to protect the convoys," Noah said. "Later in the deployment, we began to get the uparmored HMMWVs (known as the 'Humvee')."
Their convoys would travel to different locations throughout Iraq to deliver supplies such as fuel and vehicle parts. Many of the missions,  he futher explained, were to provide defense to transport trucks being operated by contracted Iraqi drivers.
"We ran both day and night missions while we were there," he said. "I was front gun truck commander and operated 200-300 meters ahead of the convoy to scan the route and make sure we were going the right direction." He added, "We encountered some IEDs (improvised exlosive devices) and took some small arms fire, but we luckily never lost anyone in our unit over there."
The unit returned to Ft. Riley for demobilization in February 2005 and Noah again entered a routine cycle of attending weekend drills and summer training exercises, until he was again activated for service in the Middle East in 2008.
Attached to the 129th Transportation Company out of Gardner, Kansas, Noah arrived with the company in Arifjan, Kuwait, in the summer of 2008, where he again helped escort supply convoys.
"I stayed in Kuwait until May 2009 helping provide security for contracted supply loads that were being hauled from the ports in Kuwait to locations in Iraq and then from locations in Iraq back to the ports in Kuwait," Noah said.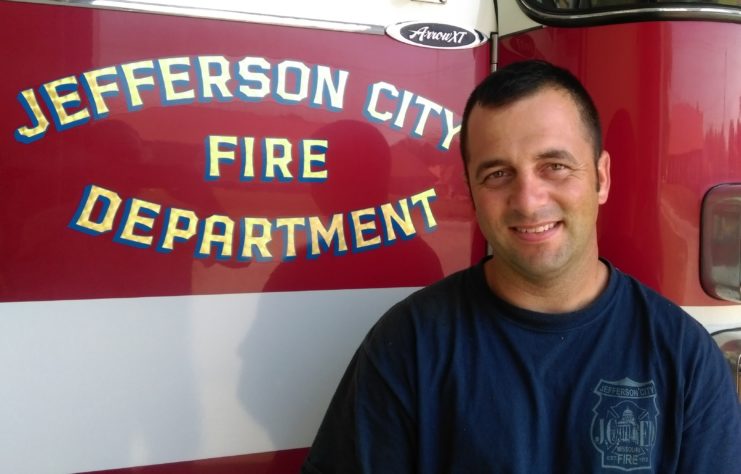 Following his return to the United States, the young veteran continued to drill with his previous unit in Jefferson City until making the decision to leave the service in 2011. He then traveled to Virginia to attend Thomas Nelson Community College , where he received the education that offered him the opportunity to embark upon his secondary goal of becoming a firefighter.
"I lived in Virginia until I graduated with my paramedics license," Noah said. "I then moved back to Missouri and worked for the Fulton Fire Department, where I earned my firefighter certification.  I was then hired by the Jefferson City Fire Department in December 2015."
With his firefighter training completed, the veteran made the decision to reenlist in the Army Reserve earlier this year, rejoining his unit in Jefferson City and affirming that he is still "young enough, willing and eager to serve."
Looking back on a rich career stuffed into a small number of years, Noah explained that he is pleased to have been able to accomplish professionally what he set forth to do several years ago, while also embracing many proud moments that unfolded along the way.
"I pretty much always wanted to be a firefighter and a soldier … and I have been able to accomplish both," he enthusiastically explained. "And both careers have come with many important experiences and lessons."
He concluded, "Iraq was probably the best year that I have spent in the service because of the friendships and bonds that we made over there. Most importantly," he added, "we were proficient at our jobs, we never knew what to expect day to day, and we ended up bringing everyone home. For me, that is success."