"William Tecumseh Sherman: In the Service of My Country: A Life"- By James Lee McDonough
Reviewed By Guest Blogger David D. Kindy
Marching through history with William Tecumseh Sherman
The cover of James Lee McDonough's recent biography gives a glimpse of what is inside. Staring back is the fierce gaze of an intense warrior. The colorized photograph of William Tecumseh Sherman, one of America's greatest generals, shows a man ready for war, one who knows the terrible cost of battle and is prepared to pay the price.
"William Tecumseh Sherman: In the Service of My Country: A Life" is a comprehensive look at the complex man who famously said "War is all hell." McDonough plumbs the depths of this great leader – peerless as a tactician and strategist – who understood there was no glory in combat, only sacrifice. The ultimate goal was not necessarily victory on the battlefield, but the destruction of your enemy's ability to conduct war.
McDonough provides a clear perspective into the mind of Sherman, a complicated person who was full of contradictions. He identified deeply with the South, yet he was determined to bring the Secessionists back into the Union. He reviled Catholicism, yet he married a Catholic and was deeply in love with her despite a flawed marriage. He was overwhelmingly racist, yet could be extremely magnanimous with the freed slaves who flocked to his army as it marched through the South.
Through meticulous research and with stark prose, McDonough details Sherman's path from orphan in Ohio to hero of the Union. His austere march through history began simply but would culminate in a flourish. By the end of the Civil War, he was so highly regarded and admired by the nation's citizens that he could have easily removed his general's stars and walked into the Oval Office. Though highly opinionated about the government, he abhorred politics and wanted nothing more than to remain a soldier.
Sherman is often remembered for his "March to the Sea" through Georgia, yet he himself believed it was the following campaigns through South and North Carolina that brought ultimate victory to the North. By attacking these "breadbasket" states previously sheltered from the ravages of war, he snapped the back of the Confederacy and made even the most recalcitrant Rebel citizen realize they could not escape paying the cost of their transgressions. Sherman and his troops would exact a frightful price in destroyed infrastructure, pillaged farmland and leveled towns that would leave the South bowed and broken – and ready for peace.
McDonough even offers an interesting insight into one of Sherman's most difficult moments. At the beginning of the Civil War, he suffered a mental breakdown and was believed to be completely incapacitated by his superior officers. The author shows how Sherman – at the time military commander of Kentucky, a position he did not want – gave way to his demons and succumbed to darker notions of the war. As McDonough carefully points out, the general was so consumed with the defense of his command that he had foregone eating, sleeping, and exercise to the point where complete emotional and mental collapse was inevitable.
Of course, Sherman rebounded, thanks in a great deal to the compassionate care of his wife, and would resume his role as an effective and eventually victorious leader. McDonough's thorough research and critical analysis detail the events that led to his breakdown and offer an insightful explanation of the episode.
If nothing else, Sherman learned his lesson by better understanding his own shortcomings. His fierceness as a leader and determination to succeed had to be tempered by the reality of his physical and mental limitations. He was asthmatic and prone to an intense spirit that could run wild at times. To endure the grueling pace of a horrible war, the general would need to take care of himself.
McDonough's biography is a wonderful introspective into the mind of one of America's greatest military leaders. It does not bog down in details of battles and campaigns but rather provides a better understanding of what Sherman was thinking as he made the crucial decisions that would leave an indelible mark on our nation's history. "William Tecumseh Sherman: In the Service of My Country: A Life" is well worth the read!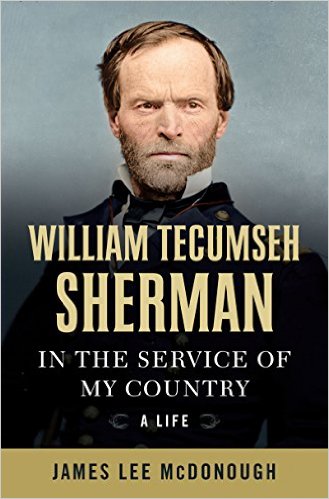 "William Tecumseh Sherman: In the Service of My Country: A Life"
By James Lee McDonough
W. Norton & Company
ISBN: 978-0393354201
Now available in paperback.
David Kindy is lifelong lover of history. He has read, studied and researched a wide range of historical topics all of his life. Currently, he is a part-owner of a small advertising agency/PR firm in Plymouth, Mass. Previously, he was general manager for Associated Newspapers, a group of community newspapers south of Boston, and features editor for Mirror Publications, another group of community newspapers on the South Shore of Massachusetts. He has had history articles published in the Mayflower Descendant, the quarterly research journal of the Mayflower Society of Mayflower Descendants, and in the Old Colony Memorial, a twice-weekly newspaper in Plymouth, Mass. He is a former vice president of the Pilgrim Society, which operates Pilgrim Hall Museum, the oldest continuously operating public museum in the country. He is a winner of a 1980 Penney-Missouri Journalism Award and several writing awards from the Publicity Club of Boston and the New England Chapter of the International Association of Business Communicators. His firm has received two Supplier of the Year Awards for communication projects from Ocean Spray Cranberries, Inc. He lives a stone's throw from Plymouth Rock in, of course, Plymouth with his wife Elynor.