War History online proudly presents this Guest Piece from Jeremy P. Ämick, who is a military historian and writes on behalf of the Silver Star Families of America.
In December 1968, Russellville, Mo., veteran Roger Thompson had been in the Navy for more than three years and was serving on a Tango boat—a smaller vessel used to deliver troops via inland waterways in Vietnam. He would soon spend yet another Christmas away from his fiancée and family but in the midst of war, received a reminder of the holidays and the significance of thoughts from home.
"Our home base was a place called Dong Tam," said Thompson, discussing the location that was used as a major staging area for the mobile riverine forces. "The boat was really our home because we would sometimes spend two to three weeks out on the water (picking up and delivering troops)," Thompson recalled.
Coming off of several intense missions that carried them along Mekong Delta, the sailor and his Tango boat crew had witnessed their share of hostile action and welcomed an opportunity to experience the joys of a quiet, uneventful Christmas.
However, their combat environment was not one which encouraged a celebratory mood. Aside from the war going on around them, the radio airwaves were flooded with discouraging messages intended to demoralize the Americans living in an unforgiving environment far from the comforts of home.
"Hanoi Hannah would play some Christmas songs and then come on the radio and say that is for all of you GIs out there whose brothers are at home with your wives and girlfriends," said Thompson, recalling the propaganda programming by the North Vietnamese radio personality.
"The music (Hanoi Hannah) played was good stuff from back in the states, but then she would always throw in some junk that was supposed to make us feel homesick," he said. "But you didn't let any of that get to you because you knew what it was all about."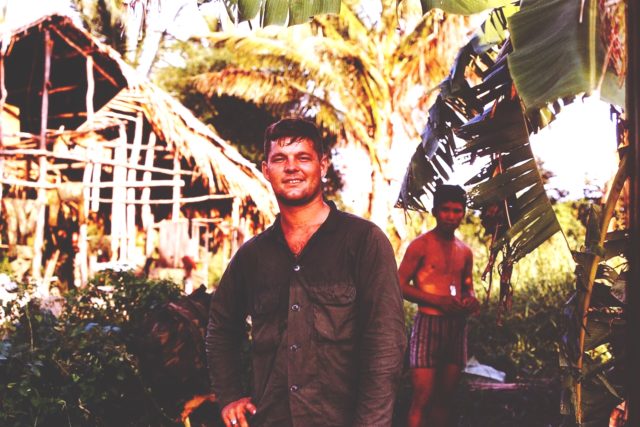 Returning from a mission in December 1968, Thompson recalls going to the enlisted club on Dong Tam to "enjoy a beer," when he unexpectedly encountered a celebrity visiting from the United States.
"When I walked into the club I looked over and saw that there was a lady sitting all by herself," noted the veteran. "I noticed it was Martha Raye—a famous comedian from back in the day who did commercials for Polident," he laughed.
He continued, "I figured she was there for a USO show or something so I walked over and asked her if I could sit down and buy her a drink." In blissful reflection, Thompson added, "We had a beer together and talked a little while; she was really a nice lady and thanked me for my service to the country."
Elated by the opportunity to have met a celebrity, he explained that it paled in comparison to the reminders of home that he soon received in the mail. As packages began to arrive in the mail, the Tango boat that served as living quarters began to resonate with a sliver of the holiday joy present in the living rooms of their families back in the states.
"I received packages from my mother and Nancy (fiancée)," recalled Thompson. "One of the gifts was a radio that we used on the boat and another was a little fake Christmas tree. We put the Christmas tree up along the railing on the boat and put the presents we received under it."
Pausing, Thompson emitted a wide grin and added, "On Christmas Day, we drank a little beer we had picked up when we were in back in Dong Tam and opened all of the presents that had been sent to us from home. That was our little celebration on the boat there in the middle of the Vietnam War."
But it was not just the notes and gifts from those he knew that elicited feelings of gratefulness from the the former sailor, the Christmas of 1968 also included a message from more than two decades previous that still resounded with relevance.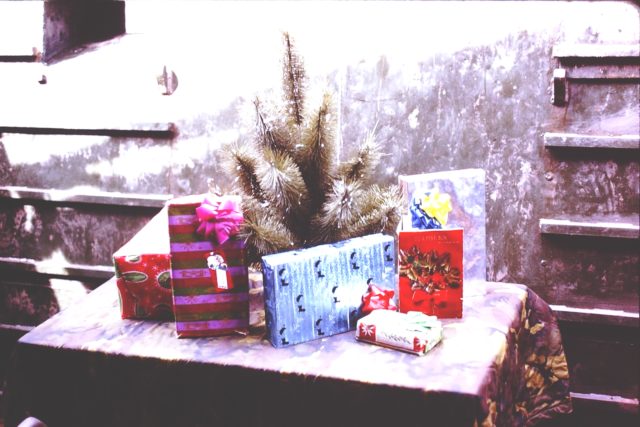 While eating their C-Rations—a type of canned, pre-cooked food once issued to troops operating in environments where mobile kitchens or food preparation facilities were not readily available—Thompson discovered a secret note of appreciation packed away inside one of the meals.
"I had opened a box of C-Rations, which is about all we had to eat on the boats; it had been packed sometime during the latter part of World War II," said Thompson.
"Inside the box it looked like a lady had taken a piece of grocery sack and wrote on it 'Merry Christmas, Love Mary.' The lady who had done that thought enough of the troops to take the time to scribble that message; it was one of those little gestures I still think about every time Chrismas comes around."
Following his discharge in 1969, Thompson returned home, married Nancy, and the couple went on to build their own Christmas memories with their three children. Though many years have passed since the Christmas he spent on a Tango boat in the hostile waterways of Vietnam, Thompson affirms that his time overseas has provided him a unique perspective on the true meaning of the holiday.
"Christmas has an altogether different meaning when you come home to your family after being away from home," said Thompson. Gazing at a photograph of himself, he noted, "We were just kids … kids probably somewhere we shouldn't have been."
Softly , he concluded, " This time of year, you realize how lucky you are because you begin to think of all of those guys who never came home from the war … all of those men who will never have another Christmas with their families.
– By Jeremy P. Ämick. All photos provided by the author.