Flying In Ernest
A few days prior to No. 1 (Fighter) Squadron, R.C.A.F. was declared operational, Squadron Leader McNab had been attached to the R.A.F.'s No. 111 (F) Squadron at R.A.F. Station Northolt, Middlesex for operational experience.
Continues from …. Part 1 – By Guest Blogger Chris Charland
While there, he scored the first R.C.A.F. victory of the Battle of Britain after he shot down a Luftwaffe Dornier Do 17 Z-2 of 6 Staffel / Kampfgeschwader 3 'Blitz-Geschwader'.
During its second patrol on the 26th of August, while temporarily operating from R.A.F. Station North Weald, Essex located north-east of London, the squadron tangled with a formation of 25-30 Dornier Do 17 Z-2/3's.
The score at the end of the bout was No.1 Fighter Squadron, R.C.A.F. with three enemy aircraft destroyed and three damaged. On the Luftwaffe's side, it was three precious Hurricanes downed.
Flying Officer R.L. Edwards of Cobourg, Ontario was killed in action, while the Commanding Officer and Flying Officer J.P.J. Desloges of Ottawa were forced to land their crippled aircraft.
Both of their Hurricanes were subsequently written off due to the extensive damage.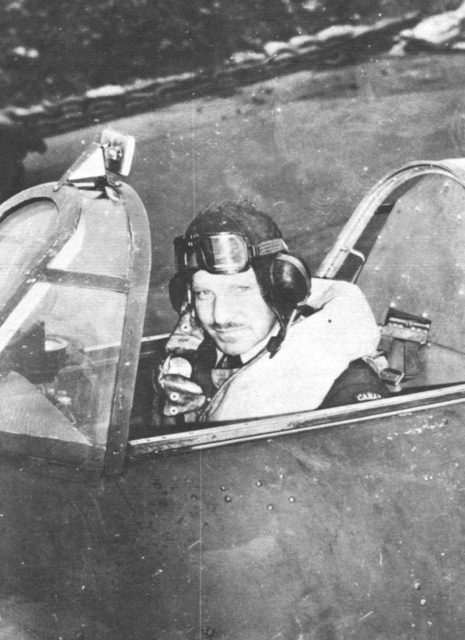 The Big Day
Engagements were numerous and often ferocious with the inevitable loss of man and machine. No.1 (Fighter) Squadron, R.C.A.F. was actively involved on the 15th of September, which has already been described earlier as the turning point in the battle.
The score at the end of the day's fighting was: the Luftwaffe downing Flying Officer A.D. Nesbitt of Westmount, Quebec. Despite suffering a head injury, he successfully bailed out.
Earlier that day, while flying Hurricane Mk. I s/n P3080, Nesbitt shot down a Luftwaffe Me 109. Flying Officer R. Smither of London, Ontario was killed in combat while flying Hurricane Mk. I s/n P3876 over Turnbridge.
He too was shot down by a Luftwaffe Me 109. Flying Officer A. Yuille of Montreal, Quebec suffered a wound to the shoulder but managed to bring back his Hurricane safely after exchanging gunfire with a Heinkel He 111 bomber over Turnbridge.
The day's score for No.1 (Fighter) Squadron, R.C.A.F. – One Heinkel He 111 destroyed, one shared with another pilot, two as probable, a pair damaged along with one Me 109 probably destroyed.
On the 21st of September, 1940, the R.A.F.'s Polish manned No. 303 'Kusciusco' (F) Squadron along with No. 229 (F) Squadron and No.1 (F) Squadron, R.C.A.F. all based at R.A.F. Station Northolt, commenced operations as a wing of No. 11 Group, Fighter Command.
On the 22nd of September, an invasion alert was sounded but nothing came of it.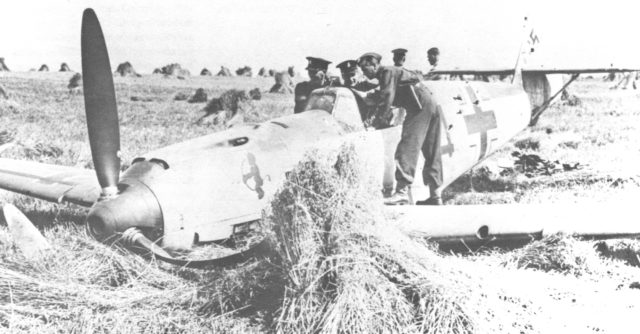 Welcome Reprieve
The routine continued with further victories and losses. Badly mauled, the daily ordeal of battle was very taxing on the pilots and ground crew. Fatigue plagued the squadron as they were almost continuously airborne.
On the 27th of September 1940, Lloydminster, Saskatchewan native Flying Officer O. J. 'Pete' Peterson was killed after he and his squadron engaged a superior force of an estimated 30 Junkers Ju 88's and a large fighter escort of Me-109's and Me 110's.
Peterson bailed out of his stricken Hawker Hurricane Mk. I (s/n P3647 ) near Hever, Kent at 09:15 hours, but was unfortunately killed during his parachute descent.
Mercifully, on the 7th of October, 1940, the squadron engaged the enemy for the last time during the Battle of Britain. They headed north to Prestwick Scotland for a rest and re-grouping. While there, the only operational unit activities were coastal patrols of the Clyde River approaches.
Just before the departure of No.1 (Fighter) Squadron, R.C.A..F from Northolt, the King awarded the Distinguished Flying Cross to Squadron Leader Ernie McNab, Flight Lieutenant G.R. McGregor, and Flying Officer B.D. Russel.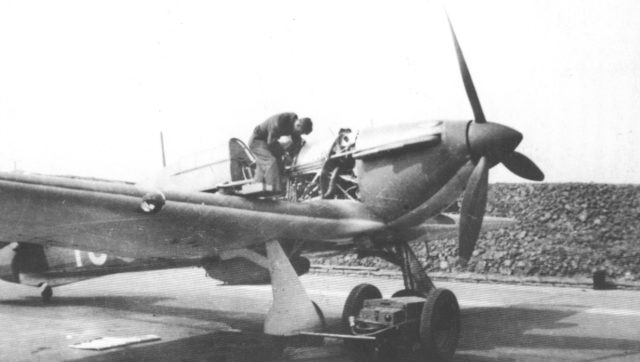 Kentski and the Cowboy
Other Canadians who became household names were:
Johnnie Kent of Winnipeg Manitoba. The legendary pilot who had been a pre-war test pilot at Farnborough, Hampshire, England, was an R.A.F flight commander with the Polish manned No.303 'Kosciusko' (Fighter) Squadron flying Hawker Hurricanes.
He single-handedly took on 40 Germans on the 1st of October 1940, for which he was awarded a Distinguished Flying Cross. No.303 (F) Squadron was the highest scoring unit of the Royal Air Force during the Battle of Britain. 'Kentski' as his Polish friends called him, went on to become Wing Commander of three Polish manned fighter squadrons.
He is credited with 13 confirmed kills, two probable and three damaged. Kent stayed in the R.A.F. until 1952, retiring as a Group Captain. He went on to become a renowned test pilot in the British aircraft industry.
Kent's decorations include the Distinguished Flying Cross and Bar and the Polish Virtuti Militari.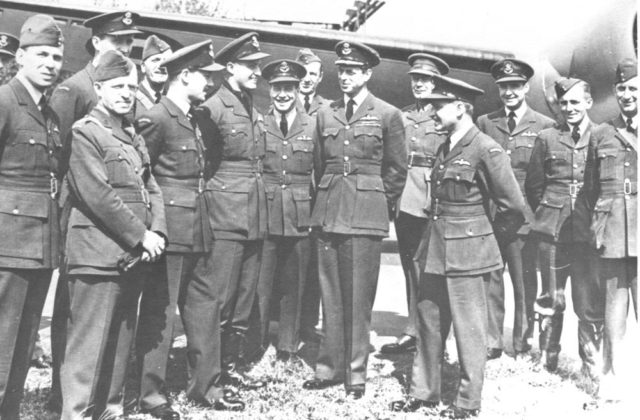 Cowboy Antics
When you're on the tail of an enemy aircraft in the heat of battle, and you find the guns are out of ammunition, what do you do? That is the dilemma that faced Flight Lieutenant Howard Peter 'Cowboy' Blatchford of Edmonton Alberta as he lined up his sights on an Italian Fiat CR.42 'Falco' bi-plane of the Corpo Aero Italiano.
Benito Mussolini had convinced Adolf Hitler that the Regia Aeronautica (Italian Air Force) could help with the final victory for fascism in Europe, despite the express misgivings of the Luftwaffe's Commander-in-Chief Hermann Goering.
On the 11th of November, 1940, as a retaliatory measure for the Royal Navy Fleet Air Arm's attack on the Italian fleet at Taranto, the Regia Aeronautica set out to bomb the English port of Harwich. A small number of Luftwaffe Bf-109s accompanied the formation.
They were intercepted by Hurricanes of No.s 17, 46 'Uganda' and 257 'China-British' (F) Squadrons. While 'Cowboy' Blatchford of No.257 'Burma' (F) Squadron was flying Hurricane s/n V6962, he discovered much to his shock that he was out of ammo.
He instinctively rammed the CR.42 with his propeller. It subsequently chewed up the enemy's top wing, sending the fabric bi-plane tumbling earthwards.
For his daring escapades, 'Cowboy' was presented the Distinguished Flying Cross on the 6th of December 1940. Sadly, as with so many fine young men, Wing Commander H.P. 'Cowboy' Blatchford DFC MiD and only 31 years old, was killed in action.
On the 3rd of May 1943, now the Coltishall Wing Leader, 'Cowboy' was taking part in a Ramrod 16 escorting Royal New Zealand Air Force Lockheed Ventura Mk. II bombers to Ijmuiden, Netherlands.
He was engaged by Luftwaffe Fw-190's of JG 1 and was forced to ditch his aircraft in the North Sea. His body was never recovered. 'Cowboy's' record was six destroyed, three probable and two damaged.
By Chris Charland
Senior Associate Air Force Historian
"The gratitude of every home in our island, in our Empire, and indeed throughout the world, except in the abodes of the guilty, goes out to the British airmen, who undaunted by odds, unwearied in their constant challenge and mortal danger, are turning the tide of world war by their prowess and devotion.
Never in the field of human conflict was so much owed by so many to so few."
British Prime Minister, Sir Winston Churchill