War History online proudly presents this Guest Piece from Jeremy P. Ämick, who is a military historian and writes on behalf of the Silver Star Families of America.
Raised on a farm south of Russellville, Missouri, Gene Steenbergen recalls the many years he studied at Valley Home—a one-room schoolhouse that no longer exists. After completing the eighth grade, he transferred to Russellville High School in the fall of 1945, around the time that the Japanese surrendered aboard the USS Missouri in Tokyo Bay, heralding the end of World War II.
With the worldwide conflict now in hindsight, life in his rural community began to return to a level of normalcy as Steenbergen went on to graduate in 1949. However, the Korean War exploded the following year, placing many recent high school graduates in a position to make a critical decision.
"I did some work locally until they began drafting everybody in Cole County in 1951—that's when the war was really getting pretty bad," Steenbergen said. "I heard that every fourth person they were drafting was being put in the Marines and I didn't like those odds."
Certain it was only a matter of time before he was drafted into military service; he chose to exercise a little choice in his destiny and enlisted in the U.S. Navy on September 1, 1951. Days later, he was at Great Lakes, Illinois to undergo several weeks of basic training.
"They gave us a bunch of tests whenever we enlisted and I guess they decided from the results that I would make a good machinist mate," he explained. "I stayed at Great Lakes for sixteen weeks of additional training and learned a little bit of everything, such as how to use lathes and other tools for machine shop type of work," he added.
In early April 1952, the newly trained sailor was assigned to the USS Sperry—a submarine tender that had been commissioned during World War II. At the time, it was anchored in San Diego to provide refit and repairs for submarines.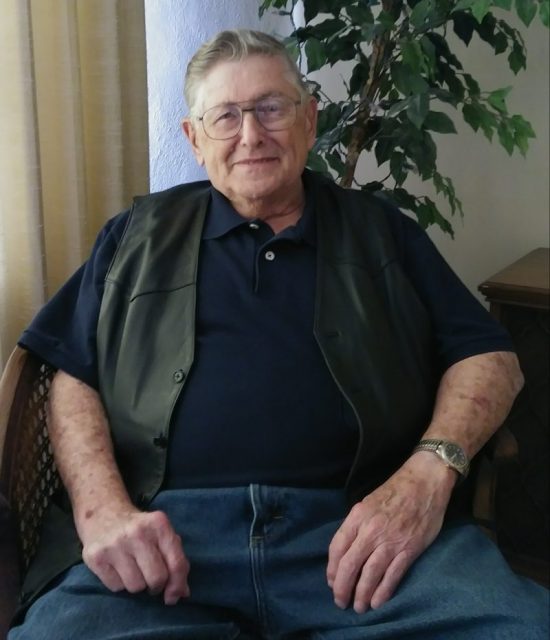 "There were several hundred sailors assigned to the ship and we all lived on board," said Steenbergen. "It had a huge machine shop and foundry; basically we could reproduce any mechanical part that might be needed to repair a submarine."
The former sailor went on to explain that the USS Sperry was essentially a floating repair platform that could support ten types of U.S. Navy submarines and they maintained detailed blueprints and schematics for all of them.
"My job was that of a mechanic—if a certain part needed to be repaired or replaced, we'd go and remove it; when it was repaired, we'd go and put it back on," he said.
Steenbergen further noted that unlike the more recent submarines, which are powered by a nuclear reactor, the vessels they worked on utilized diesel engines for propulsion, which required that overhauls of the engines be conducted on a routine basis.
"In 1953, we sailed to Pearl Harbor and put the USS Sperry in dry-dock for several weeks," recalled the veteran. "While the ship was being blasted and repainted, we really didn't have anything to do but pull guard duty." Grinning, he added, "That was kind of like a big vacation for us."
With their repairs completed in late September 1953, the crew sailed for the island of Chi Chi Jima located approximately 150 miles north of Iwo Jima. It was here, Steenbergen noted, the U.S. Navy planned to establish a submarine base but the actual implementation never occurred.
"We spent about two weeks on the island and had the opportunity to do some exploring," he said. "The Japanese had worked for years preparing the island for World War II battles and there were tunnels from one end of the island to the other. There were still boats sunk just off the shore and torpedoes laying on the beach … all left over from World War II."
Several days later, the USS Sperry departed the island and returned to San Diego, arriving in harbor in late October 1953. After having spent nearly 3-1/2 years assigned to the ship, he received his discharge from active duty service with the U.S. Navy in August 1955.
"I had a reserve obligation for another four years but since the Korean War had ended by that time, I was never called back up," Steenbergen said.
Returning to Mid-Missouri, he married Lina Scrivner in 1956 and went on to attend Jefferson City Community College for two years, becoming a member of the school's final graduating class prior to its closure in 1958. He then used his GI Bill benefits at Lincoln University before transferring to the University of Missouri-Columbia, graduating with a degree in civil engineering in 1962.
"I went to work for the Missouri Highway Department and retired in 1989 after 27 years with them." With a chuckle, he added, "Now, I have been retired from the state longer than I worked there."
A member of the American Legion, VFW and Disabled American Veterans, Steenbergen enjoys playing music with several groups and provides entertainment at local senior living facilities. Though now far removed from circumstances that first inspired his entry into the military, he insists his service on a submarine tender provided him with benefits of decades-long impact.
"I grew up on a farm, so that's about all that I knew as a young man," he said. "It was quite an experience for me to see a lot of the country and places overseas, and to even cross the International Date Line."
In conclusion, he added, "The experience was also beneficial considering the educational benefits it provided because without them, I would have never been able to afford college, which then helped me with the career I pursued. But most importantly, it was really an enjoyable experience."