War History online proudly presents this Guest Piece from Jeremy P. Ämick, who is a military historian and writes on behalf of the Silver Star Families of America.
With an estimated 2.75 millions soldiers fighting in the Civil War, there was little that could have distinguished Jefferson City, Mo., veteran Charles Gustav "Gus" Loesch from his brothers in arms. However, his mere endurance to nearly 101 years of age would ensure that his story of service in the Union Army would be preserved for generations to come.
A first-generation American, Loesch's father, Gustav Wilhelm, immigrated to the United States in 1838 after having served six years in a cavalry regiment of the German military under Prince John VIII. He later chose to lay down roots in Cole County, Mo., and embarked upon a career as a farmer.
"Gustav was especially anxious (to immigrate) as he did not wish to be called into the military services again," wrote Alvina Erhardt Gottschamer in the book "The Loesch Family in America: 1838-1910." As troubles continued to develop in their home country, the recently married Gustav Wilhelm also sought a better life in America for his children yet to be born.
Born March 26, 1843, Charles "Gus" Loesch was raised on a farm south of Jefferson City near the Zion community and soon followed in the military tradition of his father. Family records show he became a member of the Union Army on August 12, 1862, while the March 26, 1933 edition of the Daily Capital News noted he "joined up under Major W.H. Lusk, also a Jefferson City man."
In later years, as Loesch reached the age of ninety years and beyond, several Mid-Missouri newspapers began to chronicle his military service as one of the few, if only, surviving veterans of the Civil War in the community.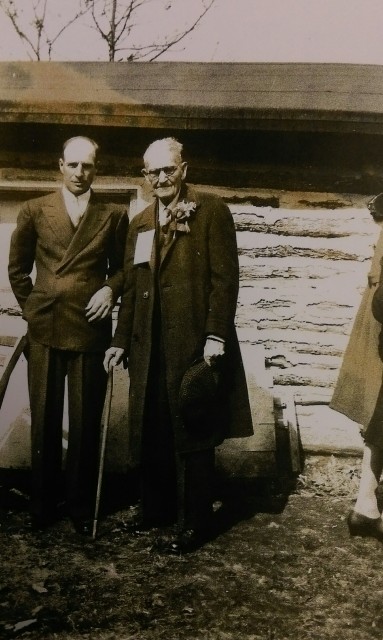 His military career began with training in St. Louis and assignment to Company G, 10th Missouri Cavalry under the command of Captain Henry G. Bruns of Jefferson City. (Bruns was later wounded during the Battle of Iuka, Miss., and died from his injuries on July 9, 1863, thus earning him the unfortunate distinction as being the first Jefferson City resident killed in the war.)
Private Loesch remained with the regiment and preceded General William T. Sherman in his drive through the South during the war, participating in several major campaigns that he modestly described in the March 21, 1943 edition of Jefferson City Post-Tribune as, "We just started things and let the infantry finish them up."
"(On) February 26, 1864, Rebels captured Gus in Canton, Mississippi and imprisoned him in Andersonville, Georgia," wrote Gottschamer, describing the service of her great uncle. "He was released one year, to the day, later, February 26, 1965, and admitted to Hospital Division One in Maryland," she added.
Mustered out of the service on June 24, 1865, Loesch married Sophia Kingery three years later and the couple went on to raise six children while living on a farm near the rural Cole County community of Hickory Hill.
On his 90th birthday on March 26, 1933, the Daily Capital News printed an interview with Loesch in which he described walking as his "life and health." In the same article, he also noted that in the previous month he had traveled more than 137 miles by foot and that he "would pine away in a week" if he were unable to continue with his beloved exercise.
The Civil War veteran remained a prominent fixture in Cole County for many years following his 90th birthday, participating in Memorial Day services at the National Cemetery and frequently a distinguished guest at local events in the community.
During a meeting of the Brazito Republicans in the summer of 1940, when Loesch was 97 years old, he told candidate Forrest Donnell that if were elected as the state's governor in the upcoming election, he wished to be present for his inauguration. Early the next year, Governor Donnell followed through on his promise by reserving a special spot for the Civil War veteran in his inaugural parade.
Weeks later, Loesch's family held a birthday party for the 98-year-old veteran near the community of Brazito with 300 guests in attendance, including the new governor.
The Sedalia Democrat reported on November 3, 1942, that the 99-year-old Loesch, "perhaps Missouri's oldest voter," had traveled "to the polls at nearby Brazito early this morning to keep intact his record of voting in every election since he cast his first ballot for U.S. Grant for President in 1868."
The veteran clarified his voting history by explaining that he "would have voted for Lincoln when he ran for re-election, but I was in a Confederate war prison at the time."
With all the accolades and notoriety afforded a local hero, Loesch lived to witness more than 800 persons in attendance at his 100th birthday party held in Brazito on March 29, 1943. Sadly, on March 22, 1944, just four days before his 101st birthday, the veteran passed away, two weeks following the death of his son-in-law, Ira Mulvaney.
Maintaining a vivid recollection of the man she enjoyed visiting as a young girl, Loesch's great niece stated, "While my grandmother was still living (Loesch's sister), she would take me to go and visit Uncle Gus," recalled Gottschamer. "I can remember, as a little girl, attending his 100th birthday party when the governor came."
Softly, she added, "He was always such a gentle person who never got too worked up about anything … which I always attributed to everything he saw and experienced during the war."
Jeremy P. Ämick writes on behalf of the Silver Star Families of America.