WHITE SANDS MISSILE RANGE, N.M. – The 75th anniversary of WWII's infamous Bataan Death March was commemorated by 7,200 participants who gathered in the wee morning hours for the 28th Bataan Memorial Death March, Sunday, March 19. Once again, retired U.S. Army Col. Ben Skardon, 99 years young, was the oldest participant and the only survivor of the real Bataan Death March who walked in the event.
He walked eight and a half miles through the unforgiving New Mexico desert, with temperatures reaching 90 degrees, refusing to quit until he'd finished the same distance he covered in his previous nine walks in the march. Skardon is a beloved alumnus and professor emeritus of Clemson University so Clemson orange was the color of choice for the 64 members of "Ben's Brigade" – his die-hard support group made up of friends, family, former Clemson University students of his, and relatives of his fellow prisoners of war – who accompanied him. The swarm of orange T-shirts was only given competition as Skardon crossed through several bright yellow fields of blooming California poppies between the four and six-mile markers.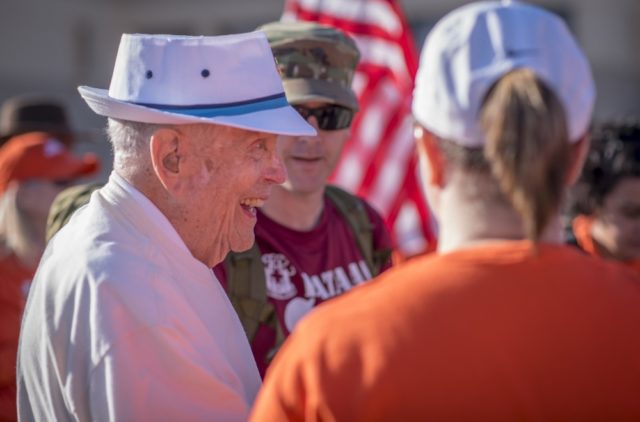 The Bataan Memorial Death March honors a special group of World War II heroes responsible for the defense of the islands of Luzon, Corregidor and the harbor defense forts of the Philippines. On April 9, 1942, tens of thousands of American and Filipino Soldiers were forced to surrender to Japanese forces.
The Americans were Army, Army Air Corps, Navy and Marines. Among those seized were large numbers of the 200th Coast Artillery, New Mexico National Guard – the reason the memorial march is held in New Mexico.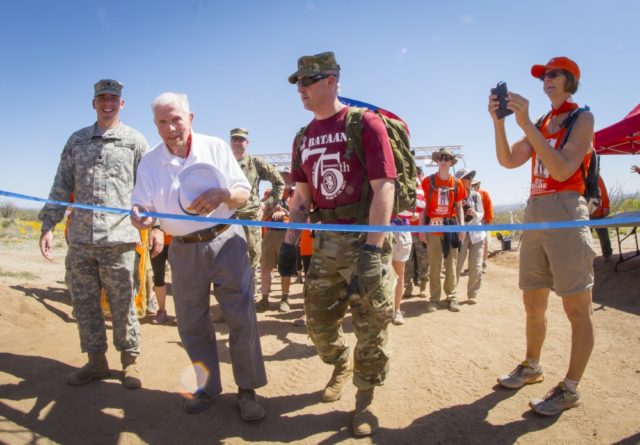 Retired U.S. Army Col. Ben Skardon, 99, a survivor of the Bataan Death March, crosses the eight-and-a-half mile finish line of the 28th annualBataan Memorial Death March at White Sands Missile Range, March 19, 2017. (U.S. Army Reserve photo by Staff Sgt. Ken Scar).
Often overlooked are the four months of fierce fighting that took place before the American and Filipino forces surrendered. For instance, Skardon earned two Silver Stars and four Bronze stars during that short time span.
This was Skardon's tenth and, he insists, not his last time walking in the march, which he considers a personal pilgrimage. He says it is his obligation to attend every year and walk with the thousands of others who come to honor his brothers-in-arms who didn't survive the real Bataan Death March or the years of confinement in prisoner of war camps that followed.
Article by Staff Sgt. Ken Scar