When we think of World War 2 we think of black and white images and movies, however some of the cameramen were equipped with color film and shot the most amazing pictures.
These pictures were all collected and shared on Facebook on the excellent group "World War II in Original Color". We present some of the best!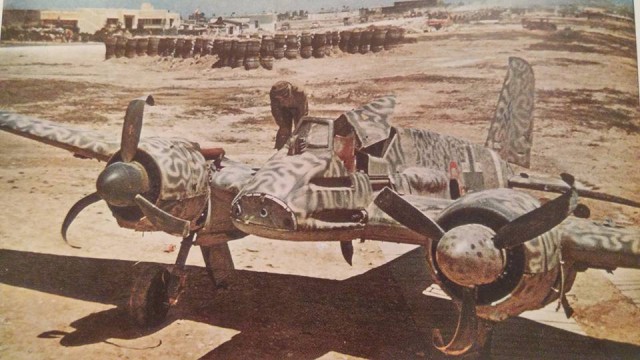 Captured German Henschel 129 in Tunisia being examined. notice the plane's Desert Camouflage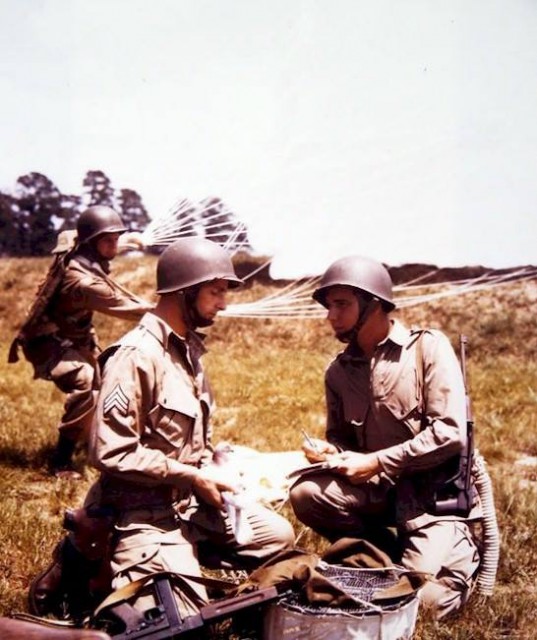 American Paratroopers training, the basket in front is for carrier pigeons!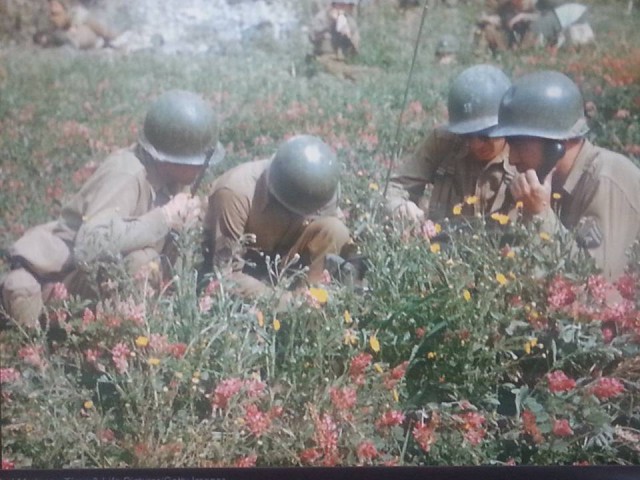 US Ground troops in Italy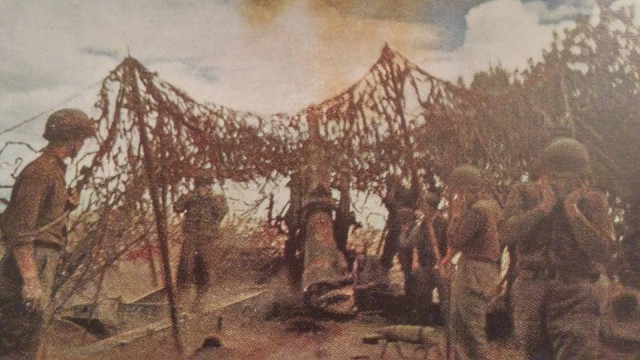 US 155mm firing at maximum range in Tunisia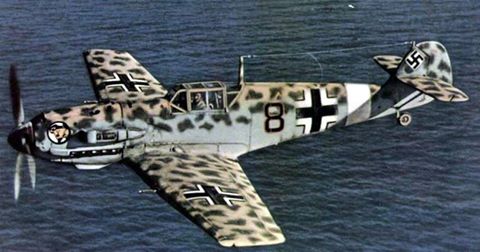 Messerschmitt Bf 109 E-4/Trop "Schwarze 8" of Oberfeldwebel Werner Schroer  above the North African coast of Ain el Gazala/Libya, April 1941. The aircraft is wearing a short-lived leopard camo scheme.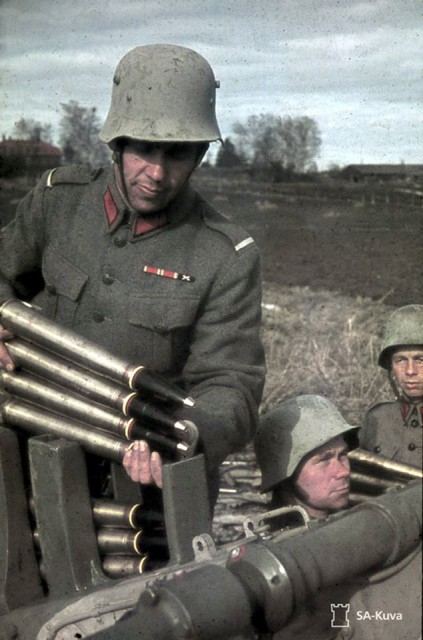 A Lance-Corporal from Finnish 43rd light anti-aircraft divison reloading 40mm Bofors AA-gun already in position near the township of Nokia/Finland, 25 April 1944, during Continuation War.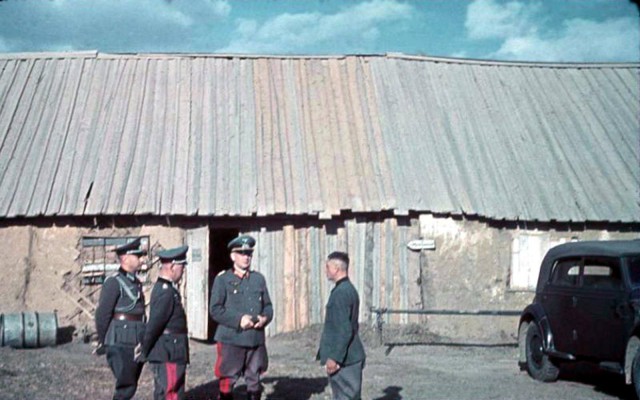 Generalfeldmarschall Walther von Reichenau (commander of the 6. army) with his staff officers in the Russian Front during operation Barbarossa, August 1941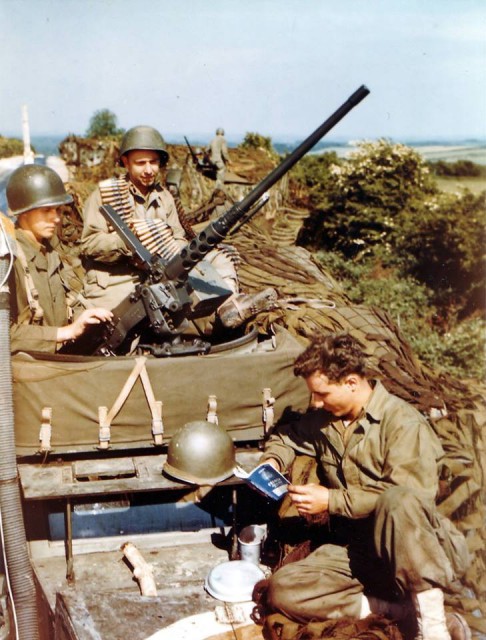 Loading Browning 50 cal. Machine Gun on an US Army Half Track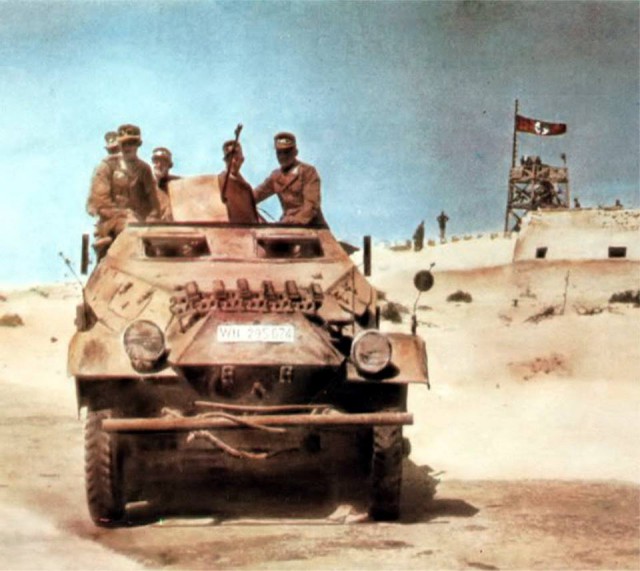 German Afrikakorps soldiers in an armored personnel carrier Sd.Kfz.251/1 (Sonderkraftfahrzeug 251) Ausf.B advances past the fortified Fort Mechili in Cyrenaica/Libya, Western Desert, North Africa, 8 April 1941.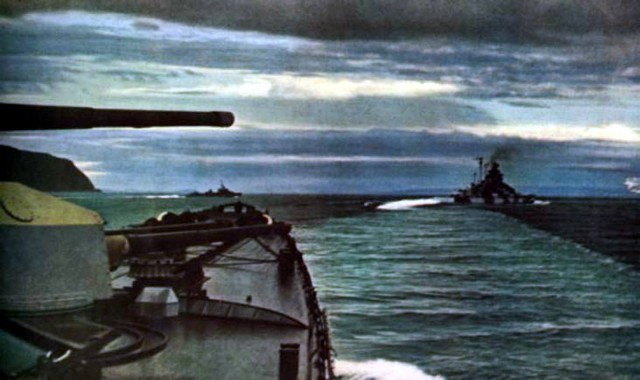 This photo is apparently taken from the heavy cruiser Admiral Hipper and is showing the Tirpitz to the right and to the left of the Tirpitz a German destroyer can be seen. The photo is taken in Norway. The combination of the paint scheme used on the Tirpitz and that she is together with Admiral Hipper in Norway indicates that the photo is taken in 1942 and most likely during Operation "Rösselsprung" which took place 2-6 July 1942.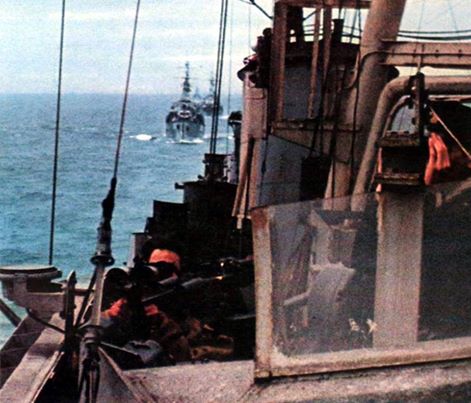 The Allied invasion fleet crossing from England to Normandy on D-Day kept to twelve narrow lanes in order to avoid minefields. From the starboard bridge wing of HMS Belfast, flagship of Force E, a line of three Royal Navy cruisers can be seen in the morning gloom. The picture was taken by George Stevens.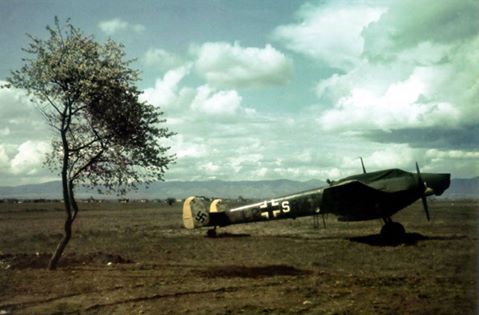 L2+SR, a Messerschmitt Bf 110 E-3 of 7.Staffel (Fern) / Lehrgeschwader 2 (LG 2), photographed at Sofia-Vrazdebna at the beginning of April 1941 as German forces were preparing to invade Greece and Yugoslavia.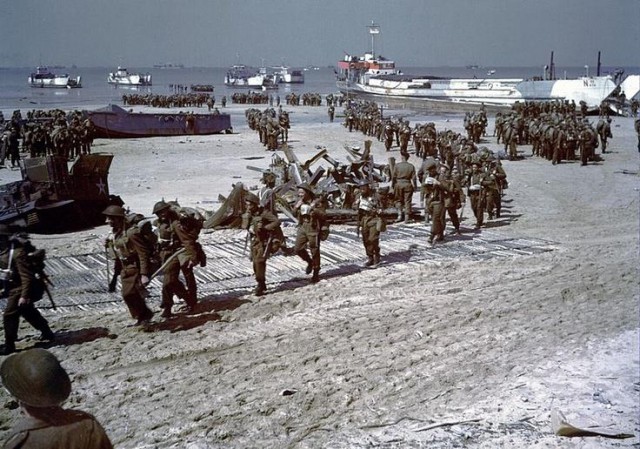 Canadian Reinforcements Juno Beach, Normandy 1944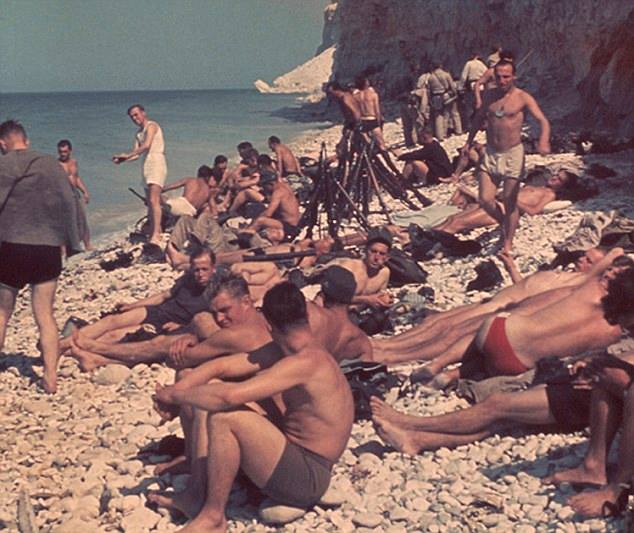 German soldiers relax on a beach at Boulogne, France in 1940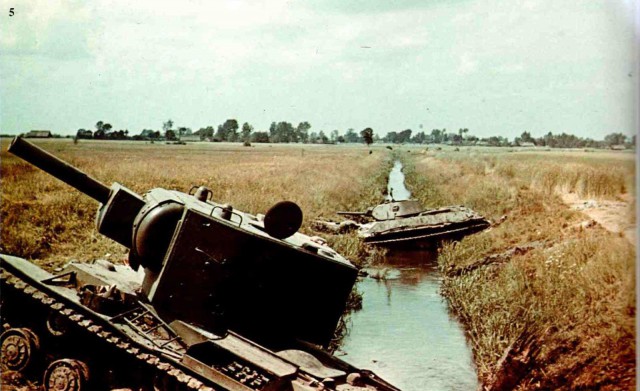 Shot-up tanks and the result of artillery in action at Radzikhov-Koloyov area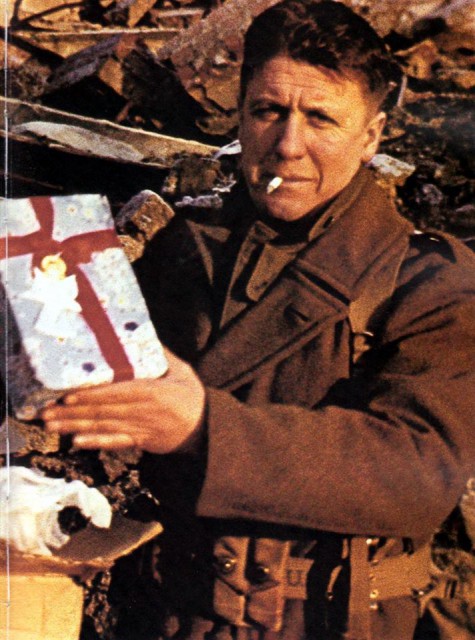 Christmas 1944, near Bastogne. George Stevens with a present from his son. He left his former job as a film director in Hollywood in 1942 to serve overseas in the American Army for three years in North Africa and Europe.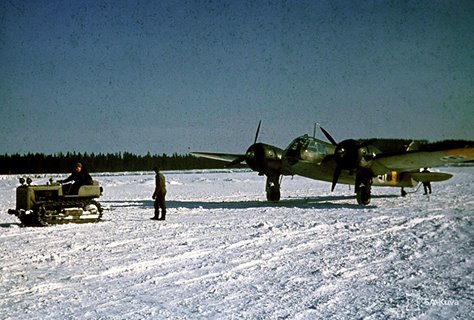 A Finnish Air Force Bristol Blenheim bomber of Nr.17 Squadron on snowy airfield in Luonetjärvi, Finland, 31 March 1944.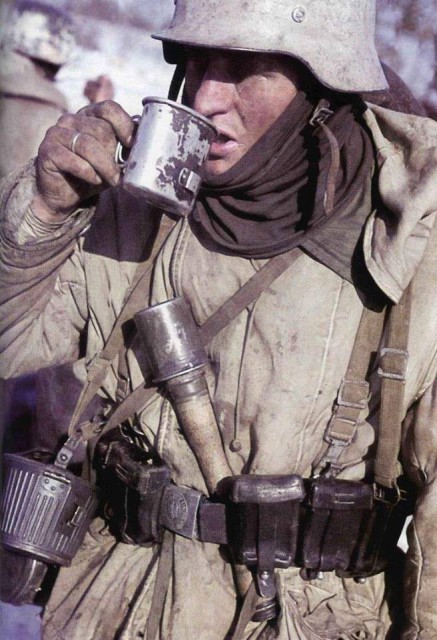 Heer Wehrmacht Soldier, Russia, Operation Barbarossa, carrying K-98 Mauser pouches and MG 34/42 magazine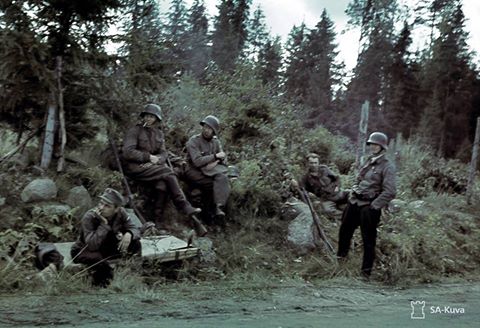 Finnish soldiers taking a break besides a road during the attack phase of the Continuation war in 1941.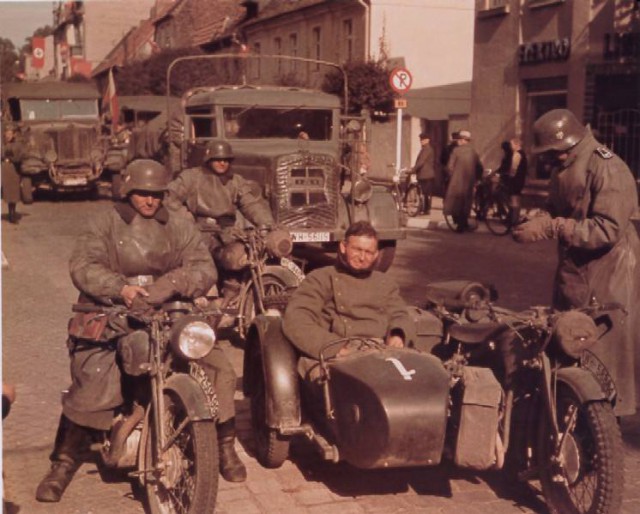 Troops enter Austria on 12 March,1938 to cement the Anschluss of Germany and Austria.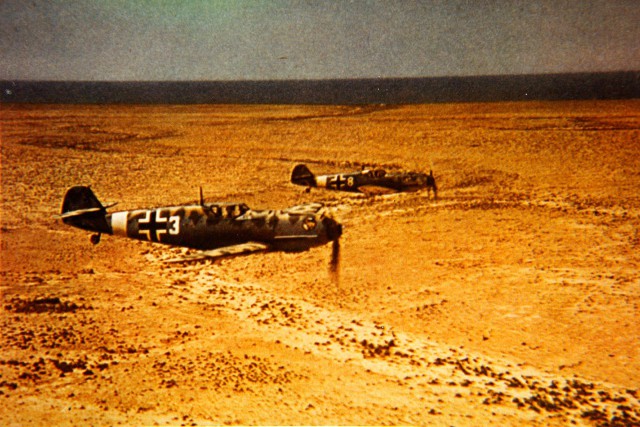 This photo, that was taken from a propaganda film from 1941, showing a pair of Messerschmitt Bf 109 E-4/Trop fighters flying over the Cyrenaica/Libya in April 1941,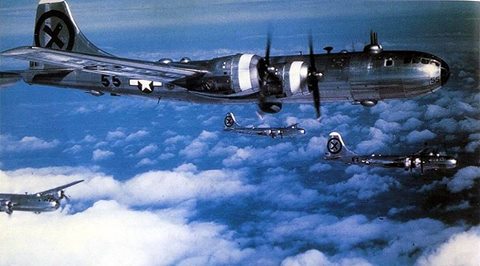 Boeing B-29 Superfortress X-55 "Limber Richard" (factory number 44-70072) of the 99th Bombardment Squadron / 9th Bombardment Group flying toward Japan with other squadron bombers, 1945.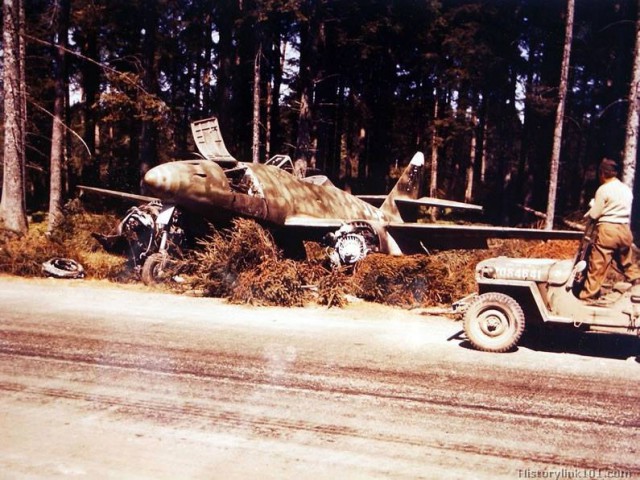 An Abandoned ME262 found in Germany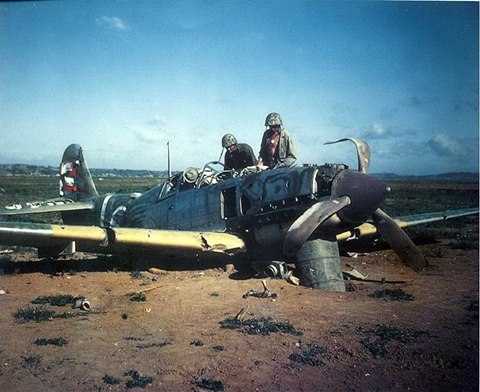 This sad Kawasaki Ki-61-I KAIc Hien, code-named 'Tony', had suffered several indignities during its short life. These marines were practicing the age old American art of "chicken plucking" for souvenirs.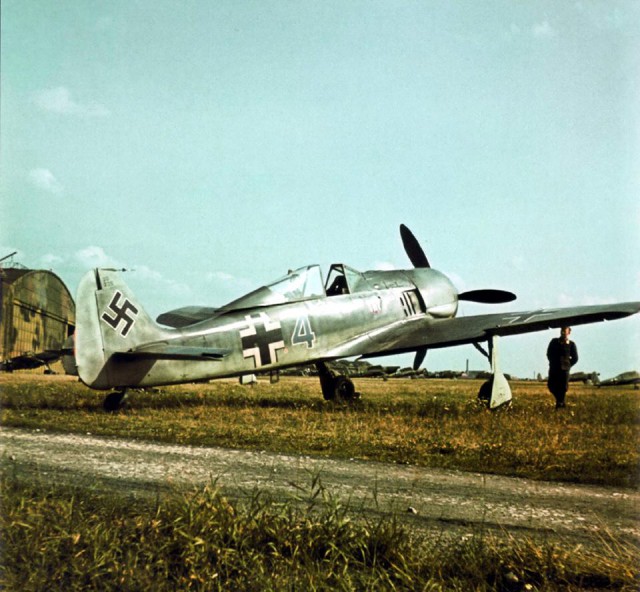 This highly polished Focke-Wulf Fw 190 A-2 "Blaue 4" was photographed while serving with Jagdfliegerschule 2 or 4.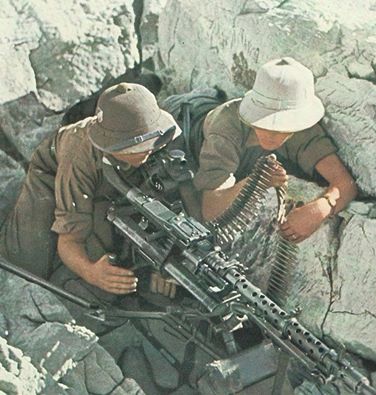 Wehrmacht Machine gun crew take up positions in the rocky terrain. They're wearing tropenhemd (tropical shirt) with 1st patttern (right) and 2nd pattern tropenhelm (pith helmet). The Maschinengewehr 34 (MG 34) mounted on its tripod with long range sights for sustained fire role, as used by the Wehrmacht, still dressed in colonial garb from the campaign in the Western Desert, in their defense of southern Italy, summer 1943.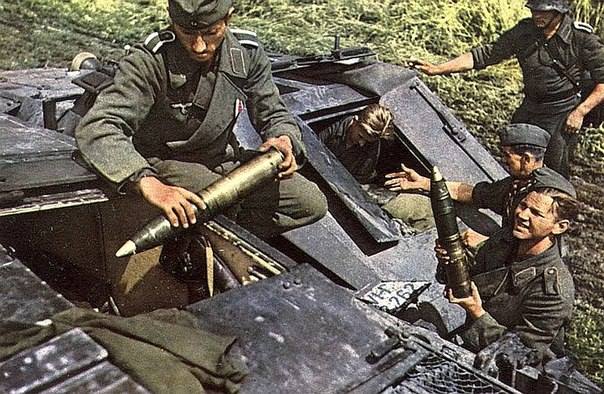 The German gunners load ammunition in the ACS StuGIII. Presumably Italy, 1943.
All images: Facebook / World War II in Original Color