Elizabeth Strohfus, a pilot who flew military planes across the country during WWII, died on March 6, 2016, at the age of 96. The recipient of two Congressional Gold Medals, for her service, passed on at an assisted-living center in Faribault, Minnesota, from complications related to a fall, according to her son, Art Roberts.
She was one of the last surviving members of the Women Airforce Service Pilots (WASP). In 1943 and 1944 she and other female pilots helped move military planes across the country. She also helped train air and infantry gunners at the Las Vegas Army Airfield in Nevada.
Strohfus flew in noncombat roles during the war to free up the male pilots to fly in combat. Women were not allowed to fight during WW II. She was one of 1,074 women who earned silver wings in the WASP program. The women were considered civilians until Congress retroactively granted them veteran status in 1977.
Born Elizabeth Bridget ("Betty") Wall in Faribault on November 15, 1919, Strohfus was a tomboy always looking for adventure. After graduating from high school in 1937, she worked at the register of deeds office in the county courthouse, but found it to be stifling work.
In school, the course selection was limited for women. "I couldn't take any classes except home economics or classes for working in an office – like shorthand, typing and that sort of thing." Strohfus was not interested in those things.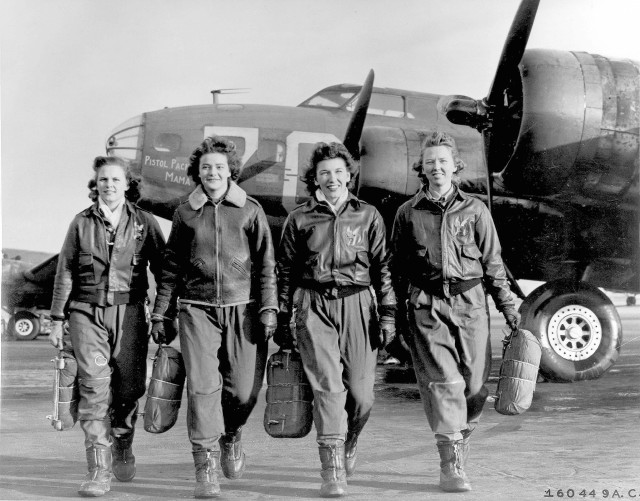 One day, she overheard someone discussing flying. She became intrigued, and when offered a chance to learn to fly, she jumped at it.
She spent her afternoons after work at the Faribault airport and learned from pilots in the local flying club. She got so good that she was asked to replace a male pilot when he left for military service. She needed to take out a loan to cover the $100 it cost her to join.
When the WASP program was disbanded in 1944, Strohfus applied to be a pilot with Northwest Airlines, but didn't get the job. She worked as an air traffic controller in Wyoming before settling down back in Faribault with her husband, Arthur Roberts.
She worked for the American Cancer Society in New York after becoming widowed in 1972. She married Francis Langeslag in 1979, but he passed away in 1988.
Strohfus was a member of the Minnesota Aviation Hall of Fame. She received the Congressional Gold Medals for her service in the WASP program and for her service in the Civil Air Patrol.
Images from https://en.wikipedia.org/wiki/Women_Airforce_Service_Pilots.