"Old Ironsides", the USS Constitution, has been through it all and lived to tell about it – as her nickname suggests. Built of a study oak, pine, and hardware forged by Paul Revere himself, she was built to withstand and hold back enemy ships that, by her careful design, would be inferior to her.
The Constitution endured hard battles, led chases that went at only 15 miles per hour, fought against Barbary pirates and more, but the hardest battle she's one was against time. At the turn of the 20th century, the Navy had already built a hideous house like structure on her decks and left her to nearly rot in a shipyard, but far worse, they proposed sending her out to sea to be used as target practice.
When the people of Boston caught wind of it, they were enraged, and their rage spread coast to coast. The American people raised money and railed at Congress to provide funding to restore her. Congress gave 100,000 and her restoration began. She is now the second oldest military ship in the world still in active service, only the HMS Victory is older.
The wooden-hulled lady of the sea has a draft of 23 feet and soars to a mast height of 204 feet and was built in Boston by designer Joshua Humphreys, who had been commissioned to build her as part of the Naval Act of 1794. Six frigates were built, and The USS Constitution, in particular, was designed to be bigger, faster, and more impenetrable than other ships of her day. Our first president, George Washington, had the honor of naming the ship and chose to name her after the U.S. Constitution.
Humphreys did such a good job adhering to his design standards that at her first launching in 1797 she was too heavy to launch. They had to wait several months to try again. President John Adams was there for the event.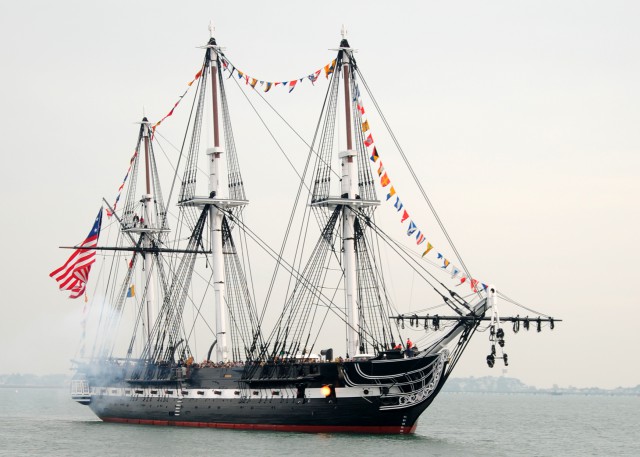 On her first mission in the Quasi-War with France, the Constitution was not engaged in any direct battle. Three years later, however, she saw action in the Barbary War – a conflict for which her and her five sister ships had been built.
The Western world had been suffering the attacks of Barbary pirates for centuries, and it was time to take a stand. Barbary pirates sailed from North Africa and were infamous for kidnapping and for trading in the sex slave market. They'd been at it for centuries and had become so prolific that it was such a common thing to be kidnapped that the United States alone paid tributes to the Barbary Nations (equal to 20% of the fledgling nation's annual budget) to ransom victims and release them from such slavery.
So off to Algiers and Tripoli the Constitution sailed. The 500 man, 55-gun, ship crossed the Atlantic, the men sleeping in shifts in 250 hammocks hanging below decks. It must have been quite crowded.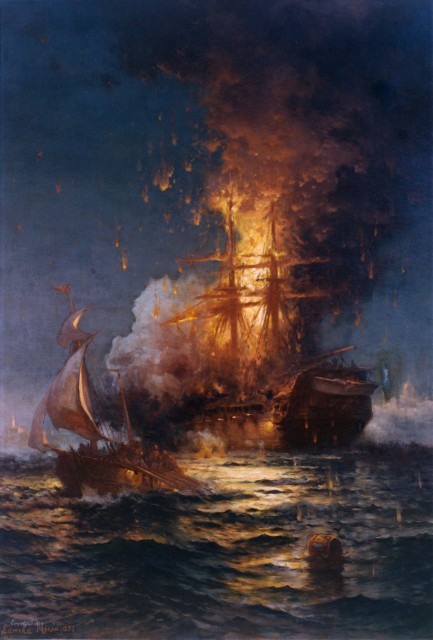 When they arrived, they watched as the USS Philadelphia ran aground in Tripoli harbor and besieged by Barbary corsairs boarding and ransacking the ship. The Constitution held back to avoid running aground herself, and provided cover for other ships. Again, her crew watched another sister ship fall when the USS Intrepid, attempting to get explosives closer to the city by entering the harbor exploded due to enemy fire and lost her crew and captain.
The Constitution's first victories came years later when she became one of the stars of the War of 1812. She defeated five British warships, captured several vessels, and from 1:00 in the afternoon to 1:00 in the morning she battled with the Guerriere whence she earned her nickname, "Old Ironsides". The oak with which she was built was so hard that British cannonballs actually bounced off her sides.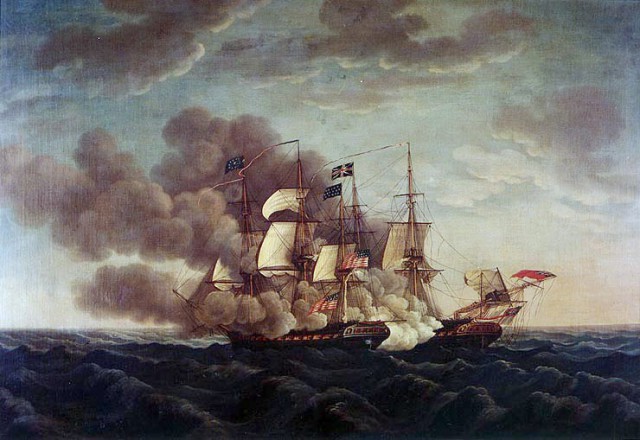 After the war, she circumnavigated the world, was a training ship during the American Civil War, and sailed to the Paris Exhibition of 1878.
Sadly, one of America's most beloved and famous ships was decommissioned in 1891 and was nearly forgotten in a naval shipyard in Boston. Since the 1870s, she had run aground, collided with a ship at the exposition, suffered damage in storms at sea and was in poor shape. She was seen as unfit for use. Her greatest degradation came in the form of a housing unit built on her top deck, but that wasn't her lowest point.
A few well-meaning people remembered the Constitution and tried to help with fundraising, appeals to Congress, and more, but none of it was quite successful enough to save the ship. That is until the Secretary of the Navy, Charles Joseph Bonaparte, caused a public outrage.
Bonaparte suggested that the Constitution be taken out to sea for target practice and sunk. Moses Gulesian of Worcester read about it in the Boston paper and was so upset he offered to buy her. When the government refused to sell, he started a public campaign to spread the word and save Old Ironsides. It worked. Congress put up $100,000 for her restoration in 1906.
She was restored again in the 1920s through the donations and efforts of the Elks Lodge, Hollywood, private citizens, merchandise, and $148,000 came from the pennies of school children who wanted to save "Old Ironsides".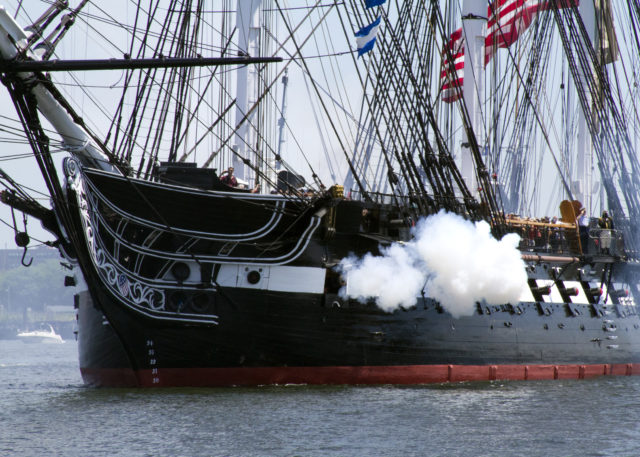 At first, she was a museum ship, but she eventually returned to active duty. She has since sailed through the Panama Canal, served as a brig for those awaiting court martial, and participated in the United States Bicentennial.
She is currently located at Dry Dock 1 in the Boston Harbor and is manned by six officers and 46 enlisted active duty Navy personnel. It is a special honor to be assigned to the USS Constitution and the crewmen treasure the opportunity. Some of them say the ship talks to them and one former commander says "she's alive."
Google Maps provides a 360 degree, two-deck virtual tour of the Constitution, so you can see the USS Constitution without traveling to Boston, although it would be more edifying if you did.