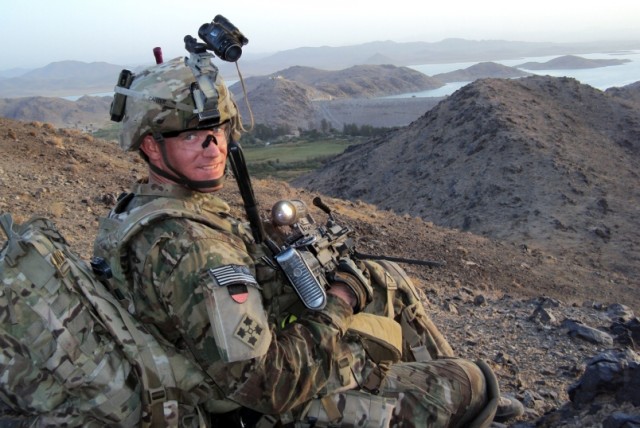 The Battle of Kamdesh would be one of the costliest battles for the Americans of the entire Afghanistan conflict and see an American outpost partially overrun after an attack by over 300 Taliban fighters. When the battle was over, eight American soldiers were dead and over 20 wounded from the relentless attack on Combat Outpost Keating that took place on October 3rd, 2009.
Four American officers were disciplined for failing to provide an adequate defense of COP Keating, but any shortcomings in the plan for defense were more than made up for by the gallantry displayed by the 50+ men who defended this remote outpost near the Pakistani border.
For the first time since the Vietnam War, two living American soldiers would receive the Medal of Honor for their actions in the same battle. One of whom was Staff Sergeant Ty Carter who simply refused to quit during the 10-hour long struggle and braved multiple runs over open ground under heavy to ensure the Taliban were taking it as good as they were giving it.
From Jarhead to Soldier
Ty Carter was born in 1980 in Spokane Washington. And while he would eventually enter the esteemed ranks of fellow Army Medal of Honor recipients, he would actually begin his military career as a United States Marine. Carter enlisted in the Marine Corps in October 1998 and served as both a combat engineer and intelligence clerk in various locations.
However, serving primarily before the 9/11 era he would not see combat with the Marine Corps and was honorably discharged in 2002. The years after military service were spent with a mix of college, work and traveling, but as the global wars on terror continued to drag on he came to the belief that military service was worth another shot.
Carter enlisted in the United States Army in January 2008 and received training as a cavalry scout. With his prior military service in the Marine Corps, Carter came into the Army with some rank and by 2009 was a Staff Sergeant with Bravo Troop, 3rd Squadron, 61st Cavalry Regiment. When his unit deployed to Afghanistan in 2009, he likely knew he would be in the fight, but had no idea the fight that awaited him in a remote Afghan valley approximately 20 miles from Pakistan.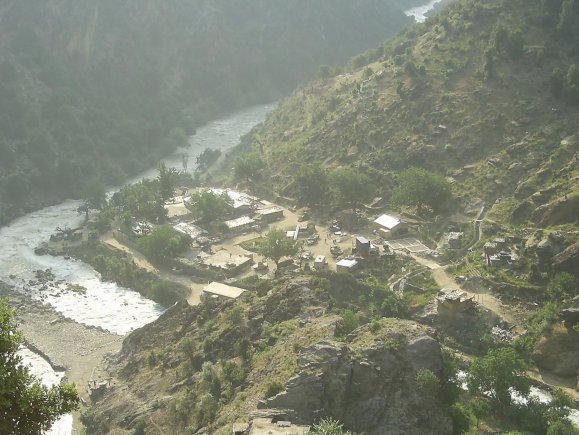 The war in Afghanistan in 2009 was a mix of successes and setbacks for the coalition forces fighting the Taliban. American forces could easily take and hold any position they desired, but could not seemingly root out the Taliban resistance deep within the mountains and flowing in and out of the Pakistani border.
The strategy was to place forward operating bases and combat outposts deep in the mountains near Kamdesh to cut off smuggling lines and the flow of arms and man back and forth across the border. Surrounded on all sides by mountains, one such location was COP Keating.
Combat Outpost Keating
COP Keating was surrounded by mountains and all sides and supported by COP Fritsche approximately 2 km up in higher terrain. Keating was the scene of almost daily attacks from insurgent forces for which the American forces defending Keating had grown quite accustomed. With approximately 50 men at Keating supported by 20 Afghan national Army troops, COP Keating was appropriately defended for every threat they had faced up to date. However, on October 3, 2009, their morning began with an attack that was unlike anything they had experienced.
At a proximally 6 AM in the morning as many of the troops were still sleeping, over 300 Taliban unleashed a coordinated assault of small arms fire, RPG's, antiaircraft guns, and a recoilless rifle. Instantly as the thousands of rounds began to pour down upon their location, the Americans knew they were in for a fight not yet seen.
Still in his PT gear, Staff Sergeant Carter threw on his boots and body armor and picked up his rifle and ammunition to join the fight. Part of the defense of Keating relied upon Humvees equipped with heavy machine guns that required a constant resupply during the fight elongated fight. Staff Sergeant Keating ran over 100 meters across open ground under intense enemy fire to bring ammunition to the defensive positions.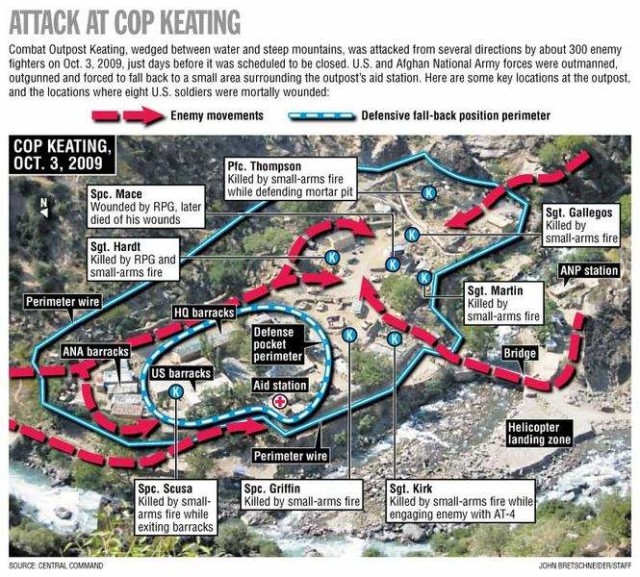 Despite being wounded approximately 30 minutes in the battle, Carter would repeat this feat multiple times while continuing to engage the enemy with accurate fire at every opportunity. Within the first hour of the battle, the outer perimeter of COP Keating had been overrun and the Afghan National Army forces were fleeing.
During this time, Carter crawled over 30 meters of open space under heavy fire to provide emergency first aid to a wounded soldier and carried him back under the same intense fire. Carter then braved the heavy fire again to recover the squad radio so that they could coordinate their withdrawal to the inner perimeter. Over half of the base was burning and the heavy smoke obscured efforts to provide close air support.
A Close Call till the End
Several hours into the battle, artillery and air power began to be brought to bear with more effect and the American soldiers began to clear the partially overrun compound. Several attack helicopters had to withdraw due to receiving heavy fire and it would be over 10 hours before the quick reaction forces were able to make their way to COP Keating and relieve the beleaguered troops.
Over 150 Taliban were killed in the Battle of Kamdesh before they eventually withdrew the assault. Scheduled for withdrawal anyway due to a shift in battle plans, COP Keating was evacuated earlier just two days after the attack and what had not already burned down during the battle was destroyed by American air power to prevent any munitions left behind from falling into enemy hands.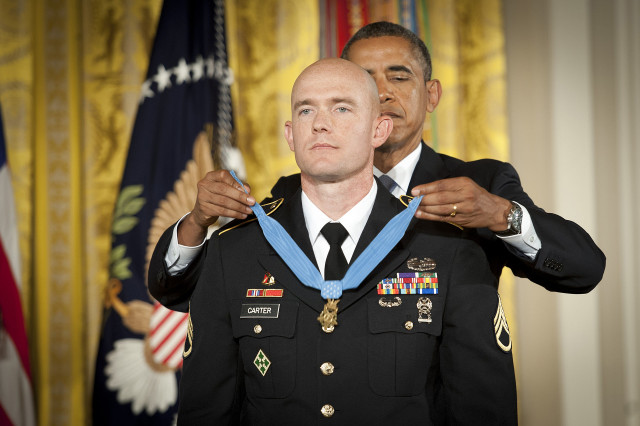 For his actions on October 3, 2009, Staff Sergeant Carter was awarded the Medal of Honor. During the battle at COP Keating, there would be 27 Purple Hearts awarded, 37 Army Commendation Medals with a "V", 3 Bronze Stars and 9 Silver Stars awarded apart from the 2 Medals of Honor.
Every one of the 50+ soldiers who endure that battle required unspeakable gallantry, and it is worth noting that they believed Keating's actions were so inexplicable that they were of above the call of duty required of them all. Staff Sergeant Keating would remain in Army until 2014 and become an outspoken advocate for the needs of his fellow soldiers struggling with PTSD.
And although COP Keating was nearly burned to the ground and partially overrun, men like Staff Sergeant Carter proved that the fight is not as long as men like him and the rest of the defenders have anything to say about it.