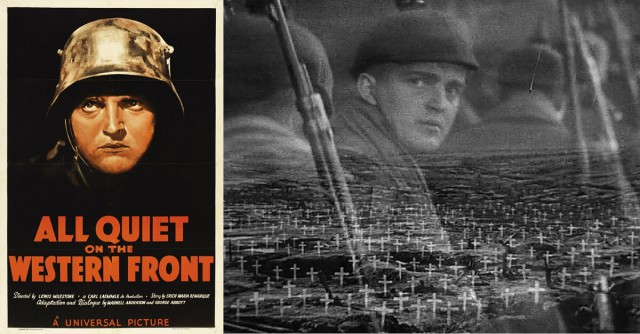 We are in the 100th anniversary of the World War I. What better time than this to look back at the most memorable depictions of the horrors, triumphs, and humanity of WWI on film.
Here are 10 of the best, not ranked as they all have their merits!
Lawrence of Arabia (1962)
Follows a brilliant, flamboyant and controversial British military figure and his conflicted loyalties during wartime service.
All Quiet on the Western Front (1979)
A young soldier faces profound disillusionment in the soul-destroying horror of World War I.
Paths of Glory (1957)
Based on the 1935 novel of the same name, it tells the story of an ill-fated assault on German forces by French soldiers, and the grippling consequences those soldiers face when they refuse to follow through with it.
The African Queen (1951)
In Africa during WWI, a gin-swilling riverboat captain is persuaded by a strait-laced missionary to use his boat to attack an enemy warship.
Legends of the Fall (1994)
Epic tale of three brothers and their father living in the remote wilderness of 1900s USA and how their lives are affected by nature, history, war, and love.
A Very Long Engagement (2004)
Tells the story of a young woman's relentless search for her fiancee, who has disappeared from the trenches of the Somme during World War One
https://www.youtube.com/watch?v=oViFyQgzk_I
A Farewell to Arms (1932)
A tale of the love between ambulance driver Lt. Henry and Nurse Catherine Barkley during World War I. The action takes place in Italy and the two fall in love during the war and will stop at nothing to be together. The film also analyses Lt. Henry's feelings on war and the purpose of fighting.
Aces High (1976)
In WW1 the high casualty rate among the rookie pilots of the Royal Flying Corps puts an enormous strain on the survivors.
Gallipoli (1981)
Two Australian sprinters face the brutal realities of war when they are sent to fight in the Gallipoli campaign in Turkey during World War I.
The Lost Battalion (2001)
Fact-based war drama about an American battalion of over 500 men which gets trapped behind enemy lines in the Argonne Forest in October 1918 France during the closing weeks of World War I.
What have we missed? Let us know in the Facebook Comments!