Mark Barnes recalls a glorious weekend at the Tank Museum with Jack Beckett and a cast of several. Saturday was gloriously sunny while Sunday reverted to default English setting. Luckily Mark chose the right day to do the photography.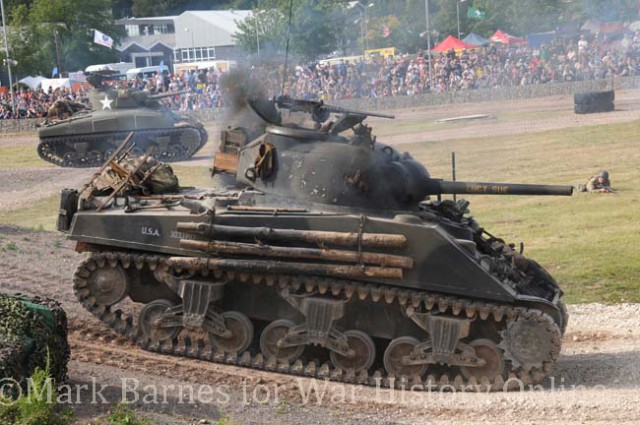 Three Shermans were strutting their stuff at Tankfest and here are two of them. We will see 'Fury' later.
I've been an observer of the show scene for over two decades and have seen what my colleague Jack calls 'the hobby' add and subtract events on a consistent basis during that time. Military shows are like Marmite (Google it you non-Brits!) and at the bigger events there are places, people and features that all excite emotions both positive and negative.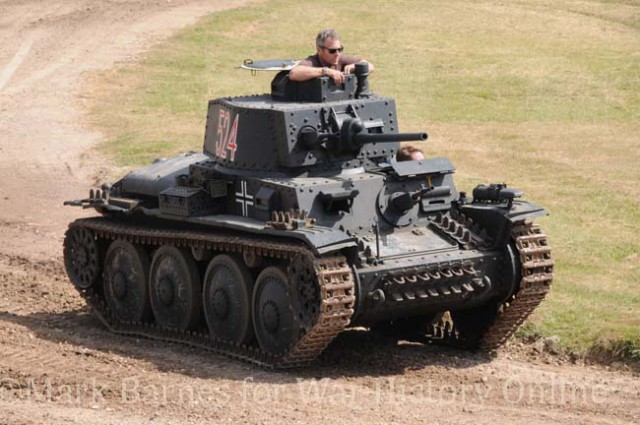 This venerable 38(T) is a rare runner and always nice to see. It is interesting to compare it with the Hetzers we featured earlier in the year.
In all my years I had never been to Tankfest. I was told it was 'boring' and it was 'same old, same old'. Nothing really happened and the press snappers spot in the new set up was awful because they were shooting directly into the sun. The dust was 'terrible' and so on ad infinitum.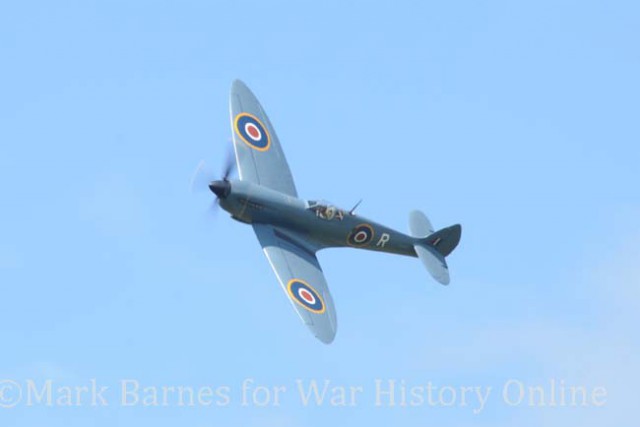 This gorgeous PR MkIX Spitfire operated by Hangar 11 at North Weald spent many years on display at Overloon before being put back in the air. I think we all agree that the sky is the best place for her.
Conversely it was the best/friendliest/coolest/most relaxed show of the year where the stars are the tanks. The clue is in the name: Tankfest. People come from miles to see this show. This year quite a few Americans flew over for it and when we chatted with some of them in a Dorchester pub they were all very happy with how things had turned out. My day on the press mound proved to be most acceptable. I helped a few people out and I met a most dignified, elderly Japanese photographer I wish I had known all my life. There was camaraderie and there were smiles everywhere, even when it rained. I met bikers and veterans, serving soldiers and all manner of games fanatics, re-enactors, real generals and a few celebs.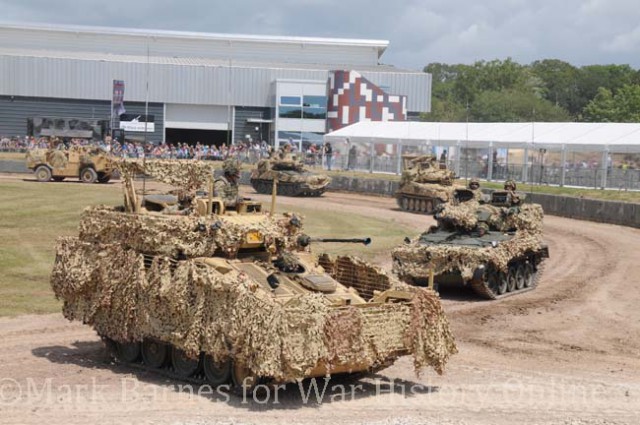 All things great and small at Tankfest: The huge Trojan AVRE and a selection of the Alvis family
of armoured vehicles plus a Jackal for good measure.
On top of all this, there were tanks.
I'll be honest and say there were moments when things seemed a little slow and I guess there may have been glitches in some of the timings. The UK's Health and safety laws are followed at Bovington with a religious zeal I had not encountered at other events. Some seemed over the top. But I have my scars from other shows and there are always two sides to a story. The point is the people who run it make or follow the rules and it is their train set and there is the end to it. The fact is these people are practiced at what they do and it shows. There is so much enthusiasm it is infectious.
Tankfest was brilliant. Jack and I split up on the Saturday. He strolled off to network and chew the fat with anyone in earshot and I was on the snapping away at all and sundry. Jack thought I wasn't enjoying myself, but the truth is I was really chilled letting the thing wash over me. I've seen faster, hotter and crazier shows where things go wild or slide into mediocrity at every turn. But I do like things that say what they are, nothing more, nothing less; and just crack on with it. Such is Tankfest.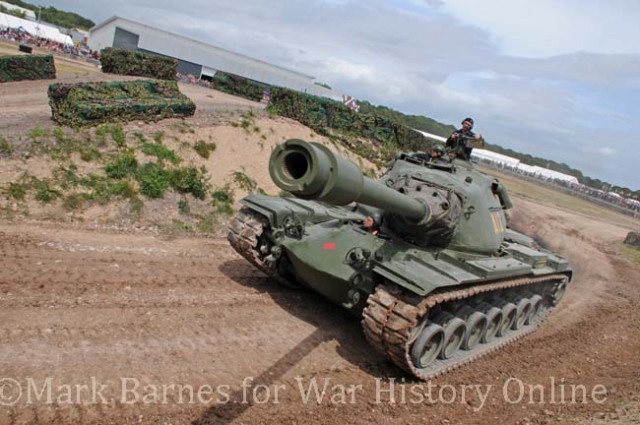 This massive M103 heavy tank impressed some US Army officers watching it on the Sunday.
All the old favourites were rolled out along with modern British kit, some of which were immensely impressive. Three Leopards made the ground tremble and the venerable Challenger 1 is just as awesome even in the company of its younger derivative. The biggest brutes, or so it seemed, were an M60 and an M103A2 with a cast turret as big as St Paul's cathedral and a gun like a telephone pole. The thing gunned round like a monster making the ground shake. I loved it.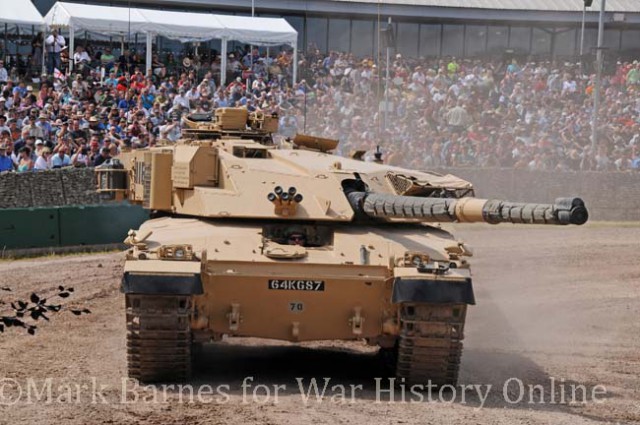 Heavy metal – A Centurion gun tank comes round behind a Centurion BARV. The magnificent Challenger 1 still looks fantastic. Hard to think it is nearly twenty five years since the Chally was king of the battlefield during Desert Storm.
A T72 made lots of smoke and the modern Chally 2 along with Titan bridge layer and Trojan engineer variants thundered round wowing the crowd. A Spitfire, Hurricane and soon to be retired Westland Sea King dropped in for odd moments of joy. My colleague Phil Hodges and his chums put on a superb Afrika Korps display and our friends Rob Langham and Trevor Poole looked fantastic in Great War Tank Corps rig with a superb Male tank replica and a group of their mates.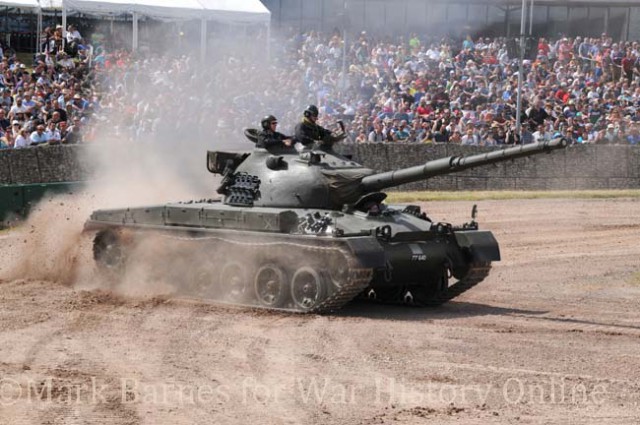 The smart looking Panzer 61 served with the Swiss Army for nearly thirty years.
There was so much to see, the occasional gaps and the sedate pace of some exhibits hardly mattered in the wider scheme of things. Seeing a Matilda I and a succession of other British tanks was always going to be fun. The superstars of Fury! added to things and although the battle re-enactment finale was not my favourite moment, even with three Shermans and that Tiger, it all seemed to mesh into the bigger picture. I never found time to see all the living history or set foot in the museum.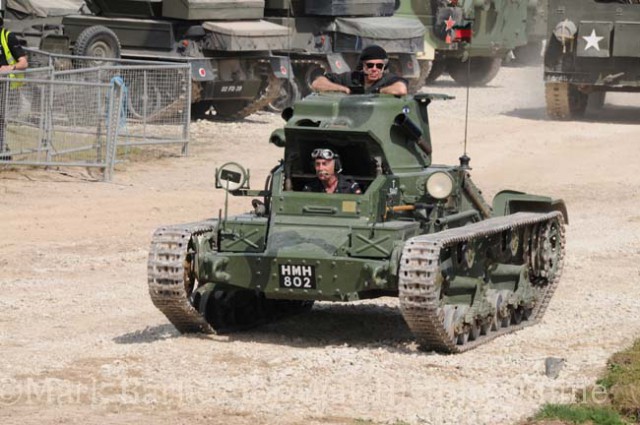 There are three examples of the Infantry Tank Mk1 Matilda at Bovington. This one put on a good
display and seems much happier after its failure to start on Tiger Day back in May.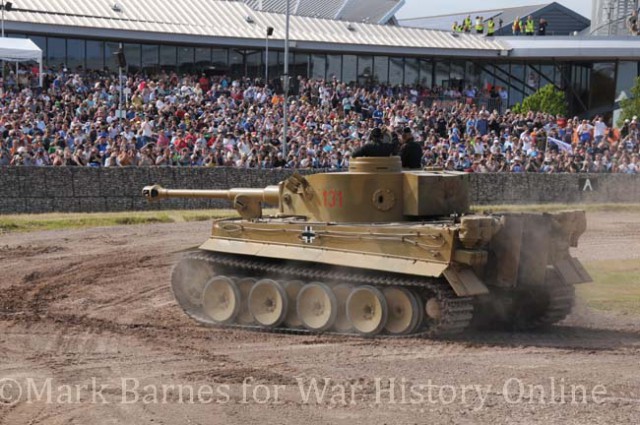 Bovington was a sell out and one of the beasts people came to see was the world famous Tiger 131.
On Sunday Jack and I did the corporate bit. I have never worn a jacket and tie and sipped champagne at a tank show. It was a little surreal. I got to meet old friends and made a few new ones. I left my camera kit in the car and made do with my phone. It was a sound decision. The sky had clouded over and there was a little rain. But when it left things came to life and the Leopards seemed louder and faster and that M103 was just out of this world. The Challies were outstanding.
It all ended in coffee and then a bit of banter with the guys from Wargaming. Jack and I went for a third night of beers in Dorchester and that was that. I am still tired.
I'd go back for another Tankfest. I think I got it and Jack, fear naught, the tanks and the people were cool and I really did enjoy myself.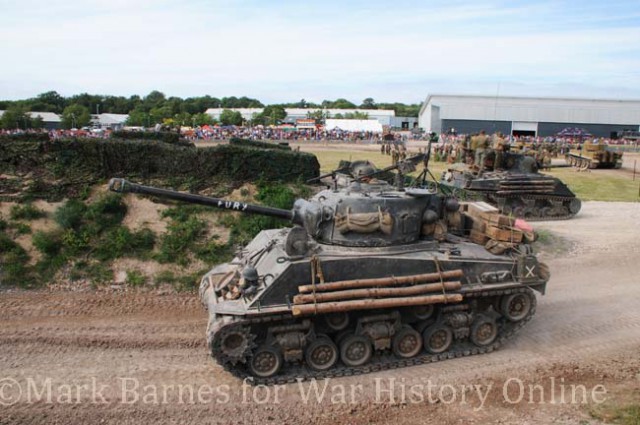 'Fury" does a lap of honour at the end of a great day.