Military veterans are being given a new option to travel to their final resting place. Military enthusiast, Nick Mead, has spent half a year on renovating a military armored personnel carrier into a funeral hearse for veterans.
The tracked vehicle is a FV432 armored personnel carrier (APC), which Nick purchased for around £3000 as a shell. Nick, who is 54, has spent months renovating the vehicle, fitting it with armored glass and a Ford Granada Cardinal hearse interior so that it can hold caskets.
Nick has now found a partner in a local funeral director who is going to offer the transport option to the families of military veterans. Nick says that he not only expects the service to be popular with ex-military personnel, but also with war and tank enthusiasts.
The FV432 APC is iconic in the British Army and has been deployed throughout the recent Afghanistan and Iraq campaigns.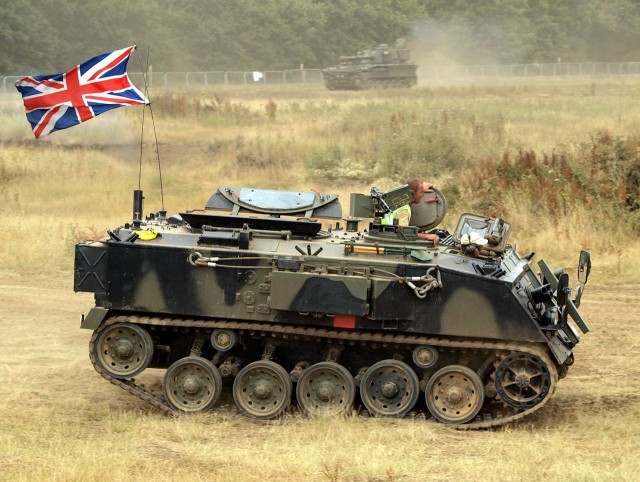 Nick had the idea to convert a tank into a hearse about three years ago, based on the fact that he himself wants to make his final journey to the grave in an APC, the Mirror reports.
The converted FV432 was used for the first time for the funeral of Graham Collins, who was a close family friend of Nick's. Graham had also taught Nick to drive tanks. When Graham became ill with cancer, Nick sped up his renovations so that the APC/hearse would be ready for Graham, who died when he was 70 years old.
Nick has started up his own company to coordinate the tank funeral journeys, and has called it 'Tanks-A-Lot'. So far Nick has used the APC for six funerals. He charges £1500 for each funeral. Nick even used the APC to bury his mother, who died when she was 90 years old.
The FV432 was first deployed in the 1960s by the British Army. In the 1980s, over 2,500 were being used by the Army, but now that number is in decline and around 1,500 remain in operation.
Their relatively low purchase price has made them popular with tank and military enthusiasts.