In the 1970s the Soviet Union developed a vertical take-off amphibious aircraft called the VVA-14, which could take off from water or land, and fly at great speed for prolonged distances. The design also allowed the aircraft to fly just above the water's surface by means of an 'aerodynamic cushion'. It was designed by Italian-born designer Robert Bartini. The primary purpose of the VVA-14 was to destroy the United States Navy's Polaris missile submarines.
The first VVA-14 prototype was completed in 1972, after extensive research, including the development of a fixed wing 'ground effect' aircraft; the small prototype Be-1. From a conventional runway, the VVA-14's first flight was on 4 September 1972.
Inflatable pontoons were added as part of the aircraft's equipment in 1974, although they caused many problems. Water speed trials and flotation tests followed, which concluded with the beginning of final flight testing of the VVA-14 on 11 June 1975.
Subsequently, there were a few design changes such as replacing the inflatable pontoons with rigid ones, lengthening the fuselage, and a new engine was added. This model of the amphibious aircraft was given the name 14M1P. However, the unit that was supposed to supply the battery for the 12 RD-36-35PR lift engines did not deliver, which made vertical take-off and landing tests impossible.

Source
The last survivor
When Bartini died in 1974, the project slowed and eventually came to a stop. The VVA-14 aircraft completed 07 flights that culminated in103 hours of total flight time. The only remaining VVA-14, designated as No. 19172, was disassembled and retired in 1987. It was sent to the Russian Federation Central Air Force Museum at Monino. The aircraft is still in a dismantled state and can still be seen at the museum, where it is identified with the museum number '10687' and the name 'Aeroflot'.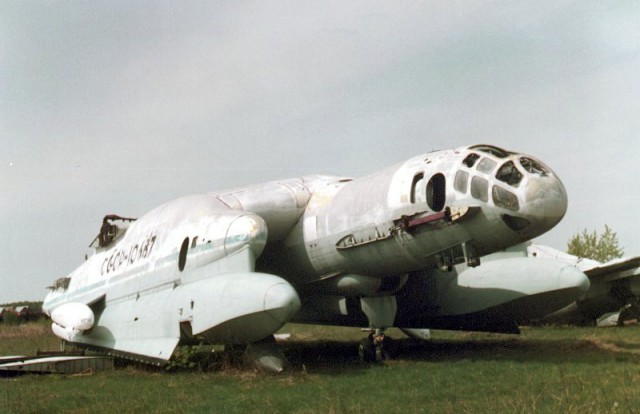 Partial remnants of the VVA-14, a ground effect in aircraft, in Monino airfield, Moscow – Wikipedia
Source
Video