Soviet women played a major role in World War II on the Eastern Front. While most women worked in the industry, agriculture, transport, and other civilian roles. They often had to work double shifts so they could free up enlisted men to fight and increase military production. A large number of women also served in the army, the majority of those were in medical units as nurses.
800,000 women served in the Soviet Armed Forces during the great patriotic war, as it is called in the Soviet Union. Of those, almost 200,000 were decorated, and 89 eventually received the Hero of the Soviet Union, Soviet Union's highest award. Some served as snipers, pilots, machine gunners, tank crew members and partisans, as well as in all other auxiliary roles.
So let's take a look at some of the Female Soviet Fighters!
Irina Feodorovna Sebrova
She graduated from the Moscow Aeroclub in 1938 and started training in military aviation 2 years later.
she completed her military aviation studies after joining the Red Army in October 1941, and in 1942 she was assigned to the 588th Night Bomber Regiment, which became known as the Night Witches. Sebrova took part in 1008 bombing missions against Nazi German forces and their allies.
Sebrova was awarded the Hero of Soviet Union with a Gold Star and the Order of Lenin, on February 23, 1945.
Lydia Litvyak
Lydia Vladimirovna Litvyak fought as a fighter pilot in the Soviet Air Force during World War II. She was the first female fighter pilot to shoot down an enemy plane and managed at least 12 solo victories and another four shared kills in a total of 66 combat missions flown in two years.
She was the first female fighter pilot to earn the title fighter ace and was the holder of the record for the greatest number of female fighter pilot kills. During the Battle of Kursk she was shot down and killed near Orel as she attacked a formation of German planes.
Marina Mikhailovna Raskova
Raskova is credited with using her personal connections with Joseph Stalin to convince the military to form three combat regiments of women. After Raskova gave a speech on 8 September 1941 in which she called for female pilots to be allowed to fight, Stalin ordered the formation of the Aviation Group 122, the first to be all female. Not only would the women be pilots, but also support staff and engineers.
Raskovae died on January 4, 1943, when her aircraft crashed as she attempted to make a forced landing on the banks of the Volga river, while leading two other Pe-2s to the first operative airfield near Stalingrad. The entire crew was killed in the crash, after the war she was the first to received a first state funeral.
Natalya Krasova Meklin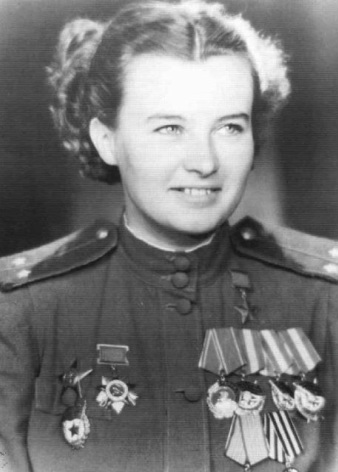 Being just nineteen when she joined the Night Witches, she had previously been a member of a glider school in Kiev, at war's end Meklin had flown 980 combat missions.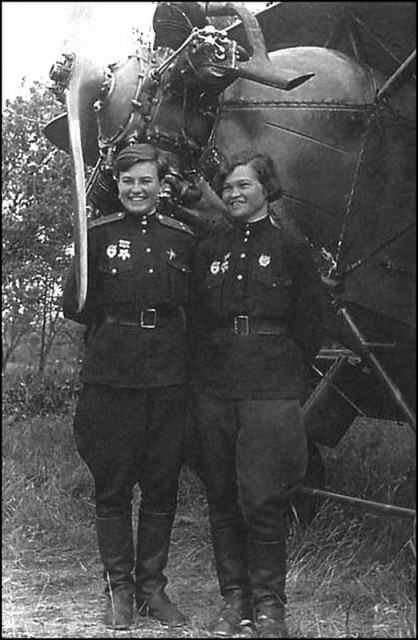 Other Soviet Female Fighters