Travelling around one of the world's few Sultanates it is hard not to notice the many forts and watchtowers that populate the landscape.
Its defensive buildings number over 500 forts, castles and the watchtowers seem to be so numerous as impossible to count as you tour the mountainous country of Oman.
Lying at the southeastern corner of the Arabian peninsula and with nearly 20% of its land covered in craggy mountains these forts castles and towers were needed to protect tribal lands and later as the country united together the nation too.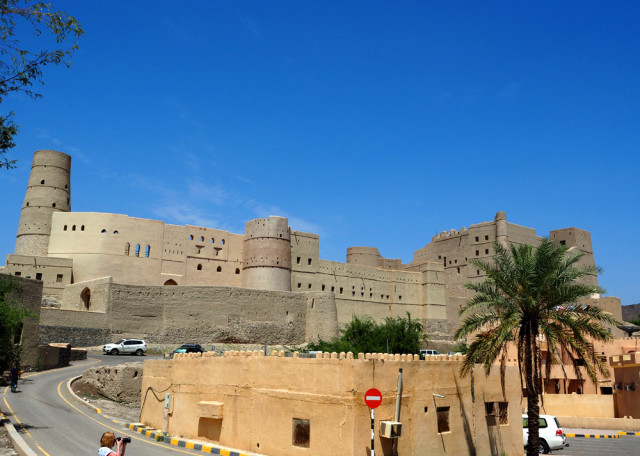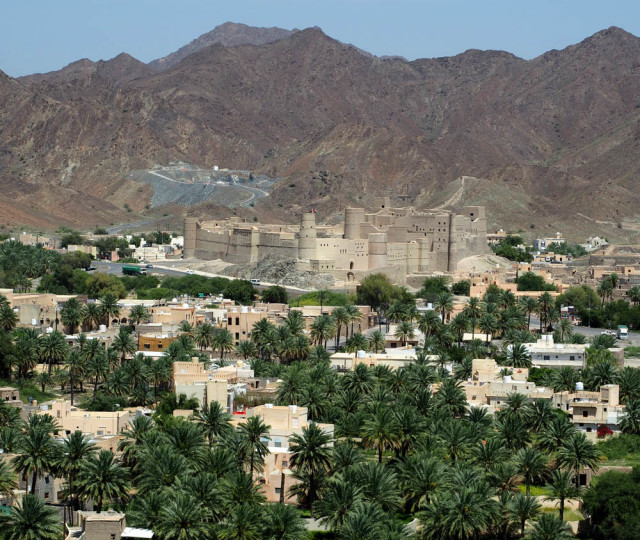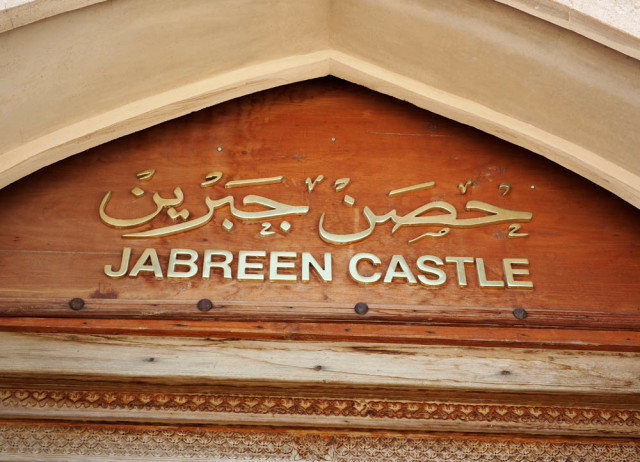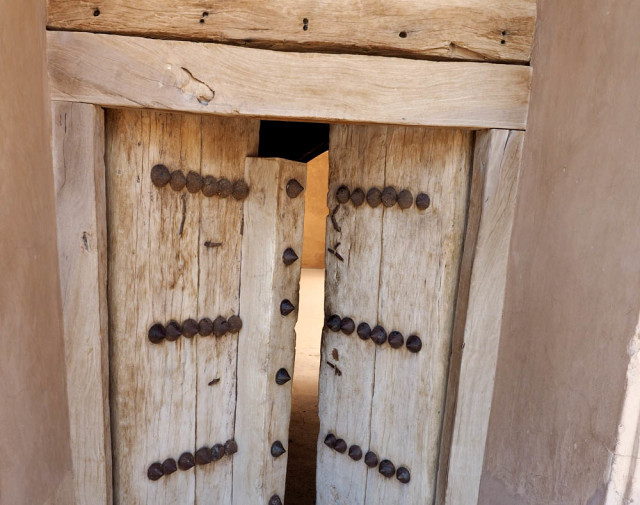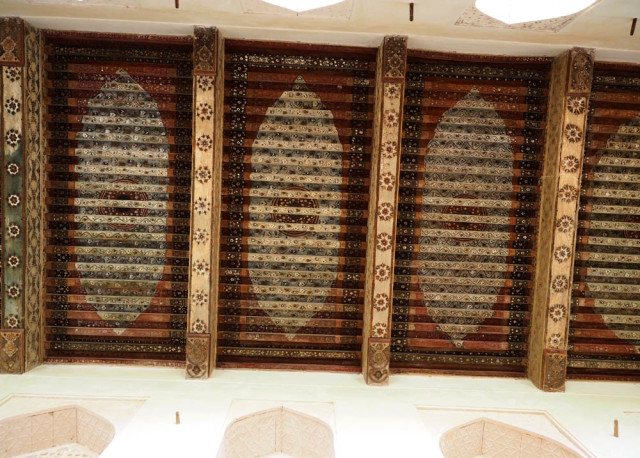 Now ruled by Sultan Qaboos bin Said Al Busaidi, the country has developed under his leadership after he wrested power from his father in 1970.
The modernisation of the country that followed using the huge oil and gas revenue that the country was lucky to find deep below it in the 60's and 70's helped greatly. With tourism promoted actively by the government visitor growth throughout the country means that those defensive assets that drew attackers are now drawing in tourists.
Many of the larger more accessible forts have undergone restoration and some that were in danger of literally washing away by the infrequent yet heavy rains that fall during the country's rainy season, like 'Bahla', have been brought back from the brink.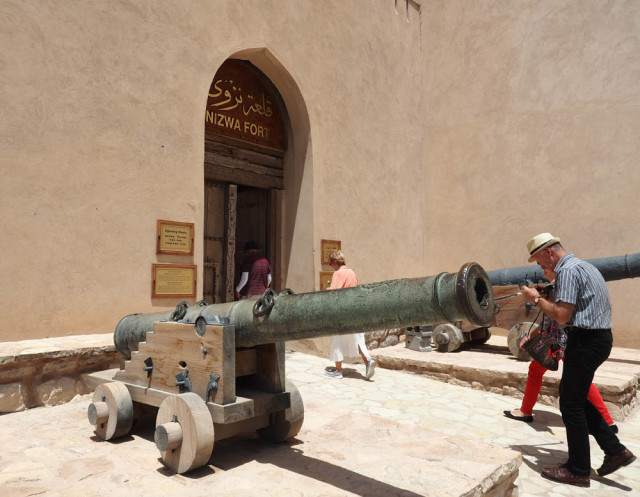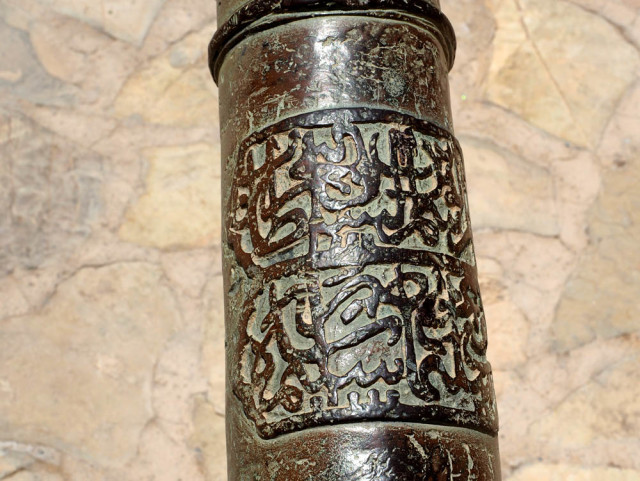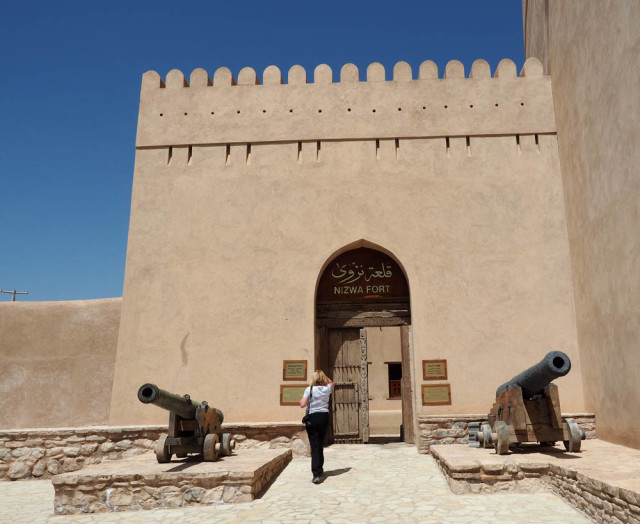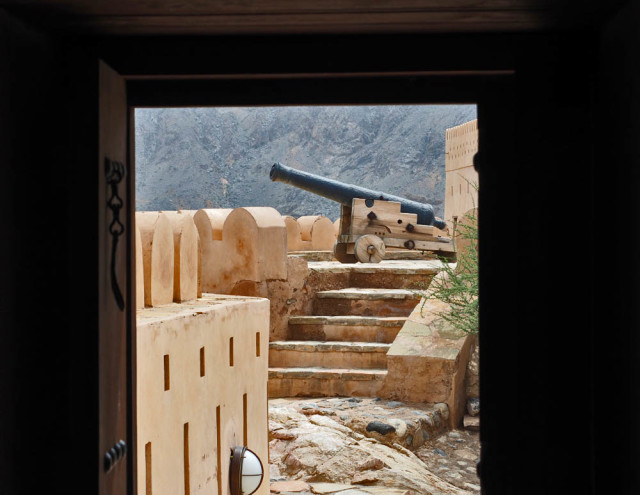 Bahla, is the largest of the forts in Oman it was extended from the original 12-century Persian fort complex on the site into a huge fortification that dominates this town known for its potters. An extensive mud brick wall running around this oasis town also helped to protect it in the past.
The castle and palace at Jabrin is a very short drive away the square layout of Jabreen has a practical yet comfortable and safe accommodation for its residents in the past. The castle also had an Islamic school included within it. The palace is now completely restored and its builder who died in 1692, Bilarab bin Sultan is buried within. The detailed ceilings offer some of the finest examples of such painting in all of Oman.
One fort that has received some more recent royal approval is that of Nizwa. In a straight line over the mountains just 15 miles away from Bahla, but driving rather longer yet much, much quicker by the circular road route in 20 minutes you will are there.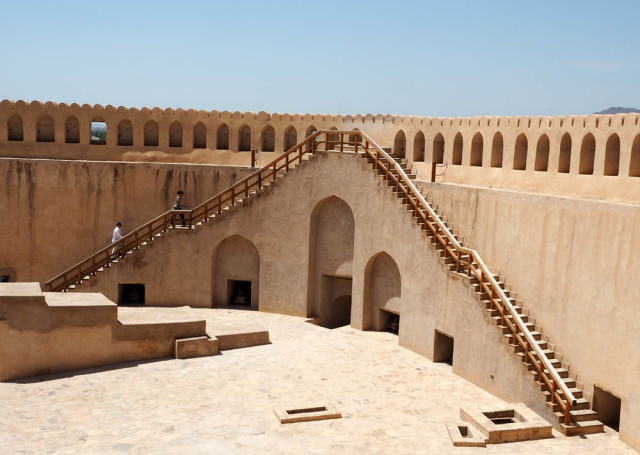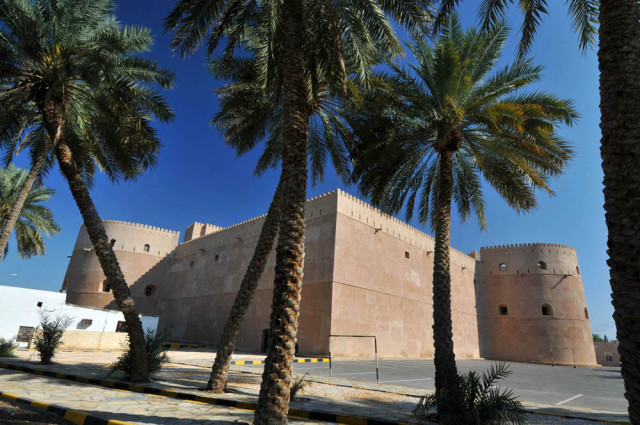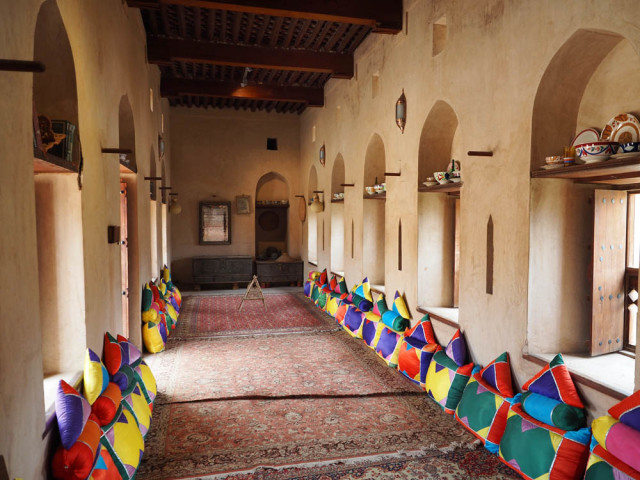 Prince Harry visited the fort in 2014 and his father Prince Charles was there the year before. This is the most visited fort in the country and was built in 1650's by Imam Sultan Bin Saif Al Ya'rubi who ruled this region of the country in those days.
It has a huge 36-metre diameter tower rising 30metres into the air has another 30 metres below ground supporting it all. 24 cannons would have once been able to provide a 360-degree arc of fire for their defenders. With narrow twisting stairs and corridors, many doors had hidden shafts above them where the defenders could launch from above-boiling oil or throw spikes at their attackers.
Heading back north there are two more fine examples the forts of Ar Rustaq and Nakhal.
Ar Rustaq was once the capital of Oman as was Nizwa at one time too. The fort Ar Rustaq has also undergone renovation work making it well worth visiting. With four round towers it was built on three levels some parts of the building are 3metres thick so it could withstand a severe bombardment in its time.
Nakhal Fort about a 30-mile drive from Ar Rustaq is surrounded by date palms and lies close to the Western Hajar Mountain range. Built on a rocky outcrop where several earlier fortifications had stood in the past. This current building was mainly from the 17th century with some more modern sections of an extra tower and gateway added in 1834 by Imam Said bin Sultan.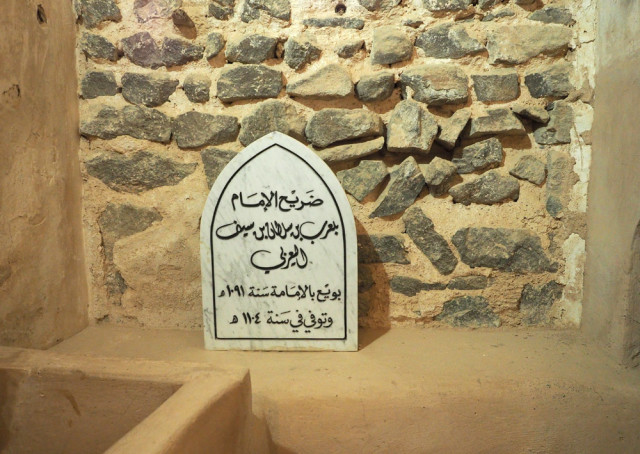 Oman offers tourists a unique, friendly and safe Arab cultural experience. It is modern with amazing road systems making it quick and easy to get to the main and most popular tourism sites that also include its wadi's, vast dunes and beaches washed by the Indian Ocean.
Diving and sailing are very much sought after too. The country is extensive and more fortifications can be found around the city of Salalah, which is just under 1,000 kilometres south of the capital.
Oman with its rugged and high mountains provides a stunning and colourful backdrop to much of the country, it's rich Omani culture that has had influences from parts of Africa and the Arabian peninsula, means that there is much to learn from it.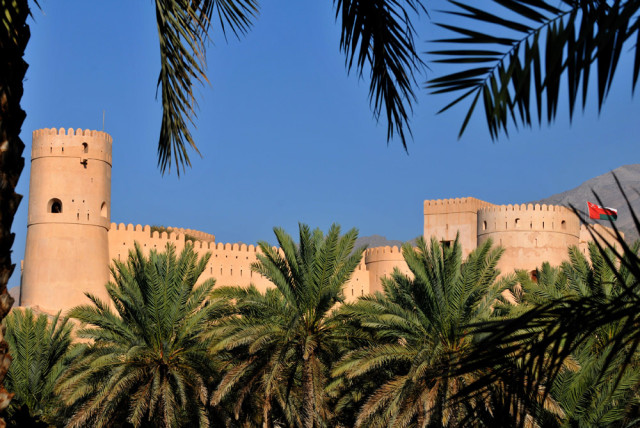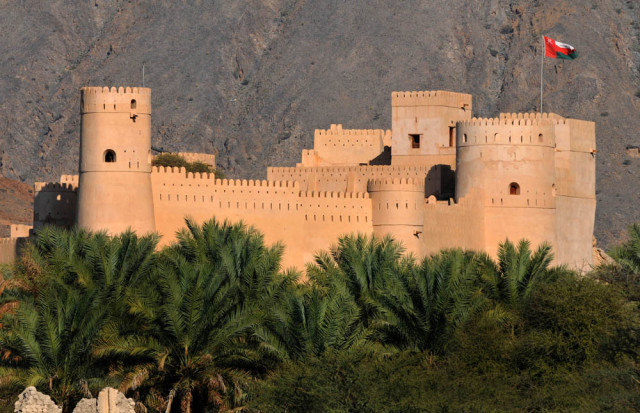 Fact Box:
Hotels many of five-star quality are to be found around its capital of Muscat, The Chedi hotel would be my choice.
Oman Air fly from many destinations from within Europe allowing access via their partners from destinations much further afield!
Links: