In the 1930s Nazi Germany developed a twin-engine heavy fighter and fighter-bomber which became known as the Bf 110.
Armed with four MG 17 machine guns, two MG FF 20 mm cannons, and either one MG 15 machine gun or a twin-barrel MG 81Z. It saw considerable success in the early campaigns of the second world war until it was faced with the Royal Airforce during the Battle of Britain.
Lacking agility in the air when flying bomber escort missions over Britain it proved no match for the British Spitfire and Hurricane fighters, to a point where, it is said, Bf 109 fighters had to fly as escorts for the Bf 110.
After the Battle of Britain, it was redeployed as an air superiority fighter and as a ground attack aircraft in which it successful for a period. Being able to render valuable ground support to the German Army in the Balkans, North Africa and on the Eastern front.
The best use of the BF 110 came later in the war when it was being used as a night fighter. When the Germans were able to equip it with radar, it became the prime night-fighter of the Luftwaffe.
Virtually all German night fighter aces flew the Bf 110 in their combat career. Major Heinz-Wolfgang Schnaufer, the Luftwaffe top night fighter ace of all time, flew it exclusively and claimed 121 victories in 164 combat missions.
Source for all images: Bundesarchiv / federal archives.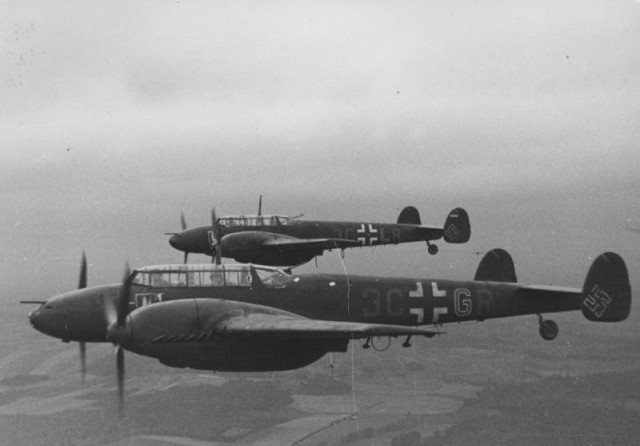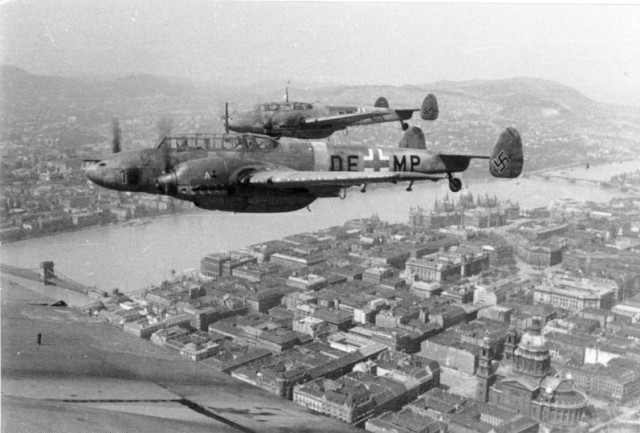 BF-110 in flight
November 1940, over France – a look inside the cockpit; you can see the pilot's face in the little mirror.
Russia, 1941, the radio operator, gunner in the BF-110 cockpit
France, 1942, Pilot in the cockpit of a BF-110
A Bf 110D-0 with an early "dachshund's belly" fuel tank
BF-110 night fighters (Nachtjagdgeschwader 4) on an airfield in France, 1944
In 1943, on an airfield in the west, BF-110s on an airfield (Nachtjagdgeschwader 3)
Interesting picture from 1941, it was taken over North Africa and we see an Italian Fiat G.50 and a BF-110 (Zerstörergeschwader 26) in flight.
May 1940, a BF-110 (Zerstörergeschwader 76) with the engines running
France, October 1940, servicing a BF 110 (Zerstörer-Geschwaders ZG 26)
North Africa, April 1941, BF-110 (Nachtjagdgeschwader 3) flying along the coast
France, 21 March 1943 a BF-110 forced to make an emergency landing after it was hit by an Allied fighter
1943, A Junkers Ju 88 flies over a BF-110
France 21 June 1942, The BF 110 flown by Staffelkapitän Oberleutnant Hans-Karl Kamp (Nachtjagdgeschwader 4)
Captured
FuG 220 and FuG 202 (center) "Lichtenstein" SN-2 VHF band, and B/C UHF band night fighter radar antennas on the nose of a Bf 110 G-4 being serviced by Luftwaffe ground crew on Grove airfield, Denmark postwar in August 1945, before the aircraft was sent to the UK for research.
A captured Bf 110C-4 in the service of No. 1426 Flight RAF
Captured Bf 110 G-4 in RAF markings