Every two years the U.S. Navy is involved in an exercise in the Arctic called ICEX or Ice Exercise.
ICEX offers valuable training for naval vessels. Conditions in the Arctic are harsh, and since the Navy could be called to go anywhere in the world, it needs to know how to cope with such conditions. The Navy also conducted scientific missions, collecting information about ice thickness and the natural environment.
ICEX is very useful for submarines. After all, they have to travel underneath the ice and negotiate icebergs, among other things. Submarines have been on the mission in Arctic waters for more than 50 years. The first mission was conducted by the USS Nautilus (SSN 571). USS Skate (SSN578) broke through the ice at the North Pole for the first time, in 1959. In 1960 USS Sargo (SSN 583) was the first submarine to cross the Bering Strait during winter. The Bering Strait is the narrow body of water between Alaska and Siberia.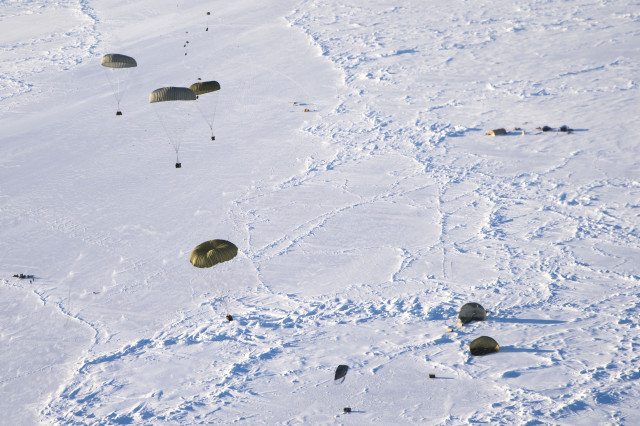 Supplies for the sailors and vessels were flown in by a large military transport aircraft, the C-17 Globemaster. The Globemaster can carry 170,900 lb (77,520 kg) of supplies.
The U.S. Submarine Force has been to the Arctic more than 26 times. This video shows the USS Hartford breaking through ice during the 2016 ICEX. During the exercise, the Hartford, which is based in Groton, Connecticut, was collecting scientific information in addition to its other duties.
https://www.youtube.com/watch?v=RFHq9IHs6d4