When Shawn Nelson wandered into the California National Guard Armory in San Diego, no one expected him to leave with an M60A3 Patton tank, nor the rampage that followed. The unemployed plumber and US Army veteran was recovering from injuries sustained in a motorcycle accident, the latest in a string of events that likely drove him to the armory on May 17, 1995. A divorcee drowning in debt, he was unable to find work, and his home had been foreclosed upon.
At the time, Nelson had also lost both of his parents to cancer, and his then-girlfriend had moved out. Facing homelessness, he was at his breaking point. This led him to park his van at the armory on Mesa College Boulevard and emerge with a tank.
Shawn Nelson served in the US Army
Shawn Nelson was born in Utah in 1959 and grew up in San Diego, California. After graduating from Madison High School, he enlisted in the US Army and was honorably discharged two years later. Soon after, his life took a turn, starting with his mother's death in 1988 and his father's four years later.
In 1990, Nelson's wife of six years filed for divorce. That same year, he was hospitalized for neck and back injuries, following a motorcycle accident. He later sued the hospital for $1.6 million, claiming those charged with his care had neglected, assaulted and falsely imprisoned him. The case was ultimately dismissed by a superior court judge, only for the hospital to countersue Nelson for over $6,000 in medical and legal fees.
On this day:
17 May

1995 – Shawn Nelson steals an M60 tank from the California Army National Guard Armory in San Diego and proceeds to go on a rampage.
.
.
.#ShawnNelson #M60 #Tank #California #armory #SanDiego #history #onthisday pic.twitter.com/qdmEH3vTDC

— Alexander Smutko (@smutkoalex) May 17, 2020
According to his brother, Nelson became addicted to illicit substances and began to behave strangely. One night, he dug a 15-foot hole in his backyard, hoping to mine for gold. With his prolonged injuries from the accident and the theft of most of his plumbing equipment in 1994, he had next to no income and soon lost the only personal property he had left: his home. This prompted his live-in girlfriend to move out.
Prior to his M60A3 tank rampage, Nelson confided in a friend that he was contemplating ending his life.
It's surprisingly easy to steal an M60A3 Patton tank
Once Shawn Nelson entered the seemingly unguarded California National Guard Armory around 6:30 PM on May 17, 1995, he tried to start two tanks, as those housed there featured a push start and didn't need keys. After those failed to start, he turned to the 57-ton M60A3 Patton tank, which roared to life, thus beginning his rampage.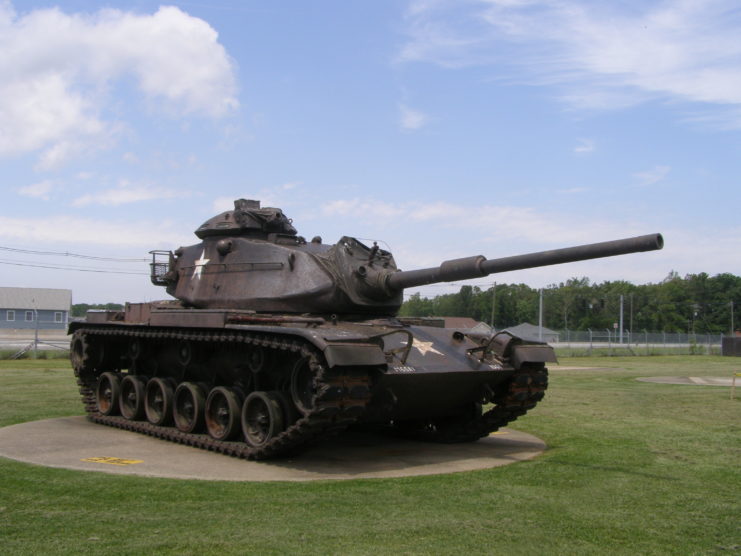 Two guards spotted Nelson, prompting him to speed off while they called police. Luckily, the tank's ammunition was kept in a different building, so its armaments – a 105 mm M68E1 tank gun, a 12.7 mm anti-aircraft gun and a 7.62 mm M240 machine gun – were not loaded.
Even though the M60A3 Patton tank could only travel at speeds of up to 30 MPH, Nelson led police on a 23-minute rampage through the streets of San Diego's Clairemont Neighborhood. Plowing through stop lights and streets, he crushed 40 parked vehicles, including an RV, and knocked out countless hydro poles, leaving 5,100 residents without power.
M60A3 tank rampage – 23 minutes of terror
Shawn Nelson drove onto Interstate 805, where he tried to take out a pedestrian bridge by ramming its columns, in an attempt to block the authorities from following him. This failed. He then made it onto California State Route 163, closing everything down and trapping thousands of motorists in the process.
The M60A3 Patton lost one of its tracks after Nelson tried to cross the concrete median dividing the freeway, immobilizing the tank, stopping the rampage and allowing officers to climb on top while police officer and US Marine Corps Reserve Gunnery Sgt. Paul Paxton opened the hatch with bolt cutters.
Once inside, the officers told Nelson to stand down, but he ignored their requests, rocking the tank back and forth in an attempt to free it from the median. When he wouldn't surrender, Paxton's partner, Richard Piner, shot Nelson in the neck. He later died at the same hospital he'd sued several years earlier.
Was lethal force really necessary?
After the M60A3 Patton tank rampage was over, police and staff at the California National Guard Armory faced public scrutiny. Many believed the use of lethal force to be unnecessary, but officers maintained it was the safest way to disarm Shawn Nelson. If the Army veteran had gotten the tank free, he could have crushed countless cars on the freeway and caused untold injuries.
Police at the scene contemplated using tear gas to incapacitate Nelson, but that meant they wouldn't be able to enter the tank if it remained mobile.
Twenty years ago today I chased the #Tank Guy as he went on a #rampage in #SanDiego! #Surreal pic.twitter.com/Ew420OF5Ol

— Eduardo UTphoto (@contreras_ed) May 17, 2015
As for the armory, no one understood why there was next to no security around the vehicle lot. The gate was unguarded and the fence was missing barbed wire in some places. This meant that, even if the gate had been locked, Nelson could have easily climbed over the fence and into the lot, where he had his pick of tanks.
More from us: David Larsen Took On 50 Enemy Troops With Just An M60 Machine Gun
Nelson's family later addressed their complicated relationship with him and the person he'd become, with his brother telling PEOPLE Magazine, "The man who died was only a shell of the person we loved. The real Shawn died two years ago at the hands of drugs and alcohol."
Shawn Nelson's story is as tragic as it is unbelievable and has been referenced in several pop culture productions, including an episode of The Simpsons (1989-present) and the music video for Megadeath's single, "The Right to Go Insane."