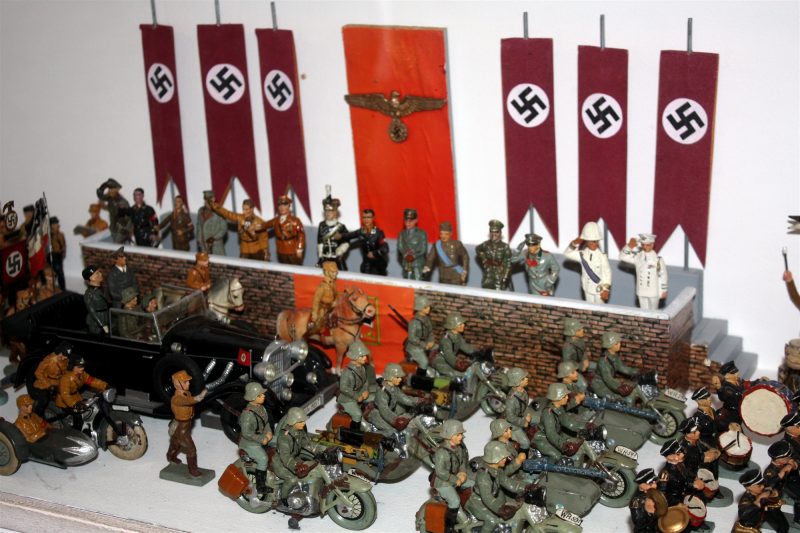 There are few things that affect actors quite like the toy action figures that are sometimes made in their image. One actress, Hallie Berry, displays all her action figures with pride, except for the one from Sin City which she has hidden from sight. While some might find it a weird honor, for one man toys of himself only helped fuel his megalomania.
If one Hitler weren't bad enough, imagine thousands, perhaps millions, of toy Hitler's around, and little boys playing with them. To understand why Hitler was honored by such a popular toy despite his pure evil, a modern example will help explain this phenomena. To these boys, Hitler was the equivalent of Superman, Captain America, or the Wolverine. He was a champion of order and prosperity, with his watchwords justice and strength. To them he was no evil maniac; he was a living god that brought strength through unity. In short, he was everything these boys wanted for a role model.
So it was no hard task for U.S. Private Jerome Beaulier to enter a toy shop in Germany with a few cigarettes and chocolate bars to exchange for a model of the Fuhrer in a Nazi-filled car. This was only one piece of a rather large set of toys that Private Beaulier sent back to his son, Jerry, in 1945. Other pieces of the set included several field guns, a searchlight placed on the back of a truck, a German half-track, a WWI bi-plane, and an anti-aircraft cannon, the Mail Online reports.
Beaulier was a half-track driver for the Allies, a dangerous job since a half-track was very lightly-armored against enemy fire. Afterwards, he rarely talked of the war, except in light-hearted tones on rare occasions.
His son Jerry joined the Navy in Vietnam as a fighter pilot and achieved the rank of Lieutenant Commander before retiring and later moving to Scotland.  Originally there were six Hitler toys in Beaulier's collection, but Jerry and his brother had used five of them for marksmanship practice.  Sixty years later the last surviving Hitler toy was on display with the rest of the collection on BBC's Antiques Roadshow in October 2012, in Scotland.  The collection was donated by Beaulier's son, the now 72 year-old Lieutenant Commander Jerry Beaulier, who resides in St Andrews, Scotland.