When E.C. Segar began his career as a cartoonist, he took inspiration from those around him. His most popular character, Popeye the Sailor Man, was no exception. His creation was inspired by a man named Frank Fiegel, with whom he shared the same appearance and personality. However, not everything about Popeye was in line with Fiegel's life – the real-life individual wasn't a sailor!
E.C. Segar took inspiration from his hometown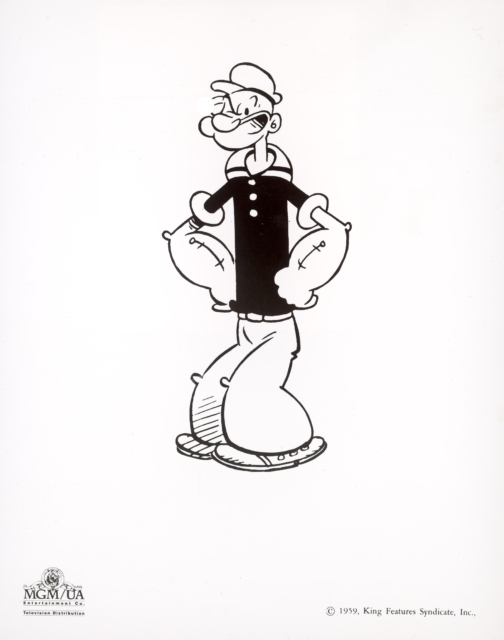 Multiple characters in E.C. Segar's Thimble Theatre took inspiration from his upbringing in Chester, Illinois. After taking a correspondence course in cartooning in Cleveland, Ohio, he created a set of unique and memorable characters, many of whom continue to be popular nearly 100 years later.
In Chester, the local grocery store was owned by a tall, thin woman who had a tendency to wear her hair in a loose, low bun. Her name was Dora Paskel, and it's believed she was the inspiration for Olive Oyl. Similarly, it's believed Wimpy, the burger-loving mooch from the comic strip, was inspired by Segar's boss at the local movie theater, J. William Shuchert. The cartoonist worked there as a projectionist, and when he wasn't running films, he was grabbing Schuchert a burger.
However, the cartoon character who gained the most popularity was none other than Popeye the Sailor Man. It's well-known he's based on a real person, but with unusually strong forearms and an affinity to spinach, it's hard to understand how. However, Frank Fiegel was the real, one-eyed, pipe-smoking man who was happy to join in fisticuffs.
In the book, Popeye: An Illustrated Cultural History, author Fred Grandinetti explains, "The lore of Chester, Illinois, holds that the character of Popeye was inspired by town resident Frank 'Rocky' Fiegel. Lee Huffstutler, herself a Chester local, makes and well supports this argument. According to Huffstutler, Rocky Fiegel was of Polish descent and lived with his mother in a house near the Evergreen Cemetery. Mrs. Huffstutler describes him as 'tall, strong, always ready for a fight and always a winner.'"
Frank Fiegel was no sailor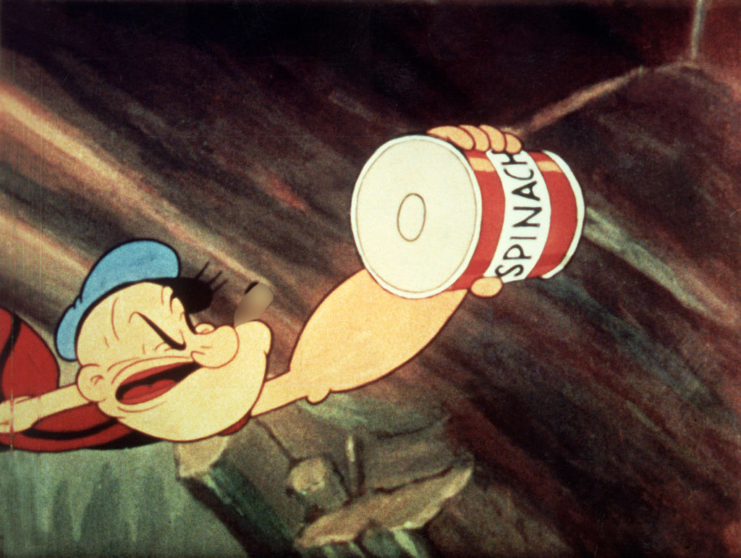 Frank "Rocky" Fiegel was born on January 27, 1868. Considering E.C. Segar made Popeye the Sailor Man a caricature of him, the pair's features were very similar.
Fiegel had the same prominent chin as Popeye, and always had a corncob pipe in his mouth. However, he was no sailor. Instead, he struggled to hold down a job and worked at a saloon as a barkeep. When his shift was over, he'd have a few drinks (liquor was more his thing, as opposed to spinach) and head outside with a chair to smoke his pipe.
He often fell asleep in this position, much to the fun of the local children, whom he loved. The youngsters loved to play pranks on Fiegel. They'd scare him awake by shouting, and he was known to jump up and wave his fists in the air, ready for a fight. Not only this, he loved to impress them with his feats of strength, and earned a reputation as a tough guy with a good heart.
Fiegel was prone to getting into fistfights, usually in the saloon, but there were times when he'd use his strength to stand up for those who were in danger. He often protected the children from adults who caused them harm. His own nephew recalled a time his uncle dealt with someone who was bullying him, saying, "When Rocky started coming after him, he pulled a knife, but Rocky kept coming."
Fearless himself, Popeye was certainly inspired by Fiegel.
A case of mistaken identity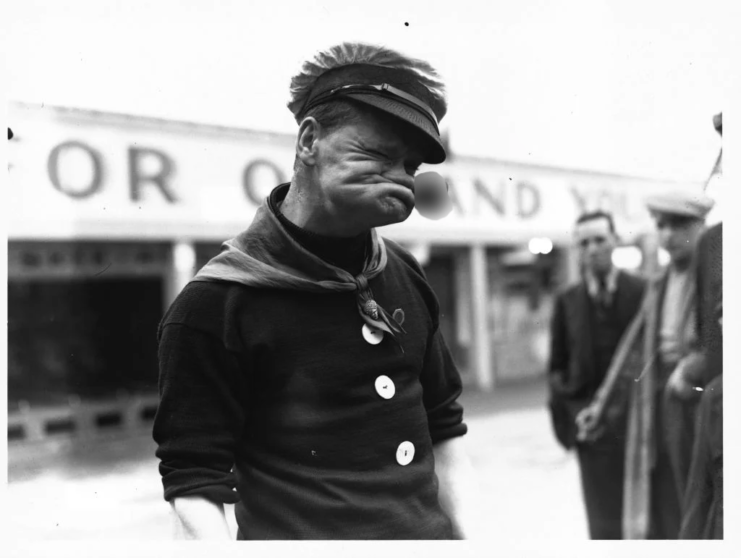 A famous photo from 1940 has circulated across the internet time and time again, and many have suggested the man pictured was Frank Fiegel. However, this has been disproven. While the man in the photo does look like the closest any single person could get to Popeye the Sailor Man, the date on which it was taken immediately clears things up.
In September 1940, Frank Fiegel would have been 72 years old – very clearly not the age of the man pictured. Additionally, this individual really was a sailor with the British Royal Navy. The photo comes from the Imperial War Museums, which states the man served for 21 years and was a crewman aboard the HMS Rodney (29).
An image of the real-life Frank Fiegel was run in a April 1979 article in the Southern Illinoisan.
Frank Fiegel understood his caricature's popularity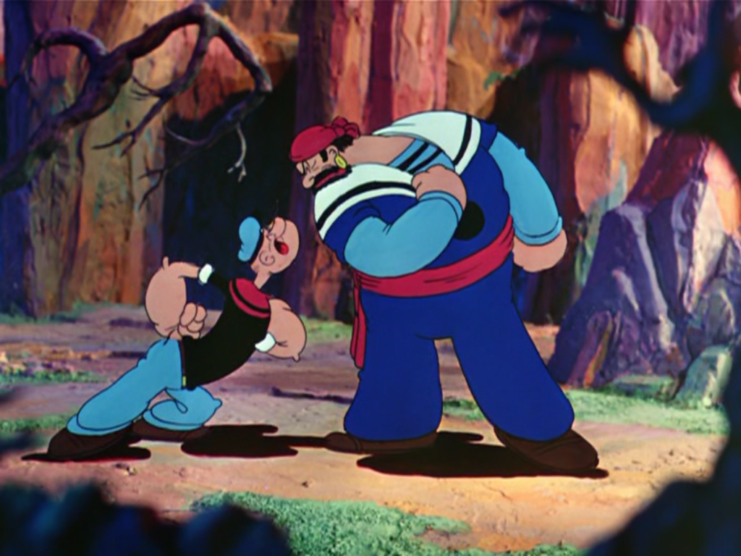 Frank Fiegel wasn't aware of Popeye the Sailor Man until nine years before his death. It was 1938, the same year E.C. Segar died. However, Fiegel was able to see just how popular his caricature was, as it was featured in approximately 500 newspapers.
More from us: Where Is Hacksaw Ridge, the Site Where Desmond Doss Saved the Lives of 75 US Soldiers?
Fiegel died on March 24, 1947, at the age of 79. When he was buried, he was given an unmarked grave next to where his mother was buried. In 1996, an effort was made to remedy this, with a headstone featuring a depiction of Popeye from 1929 carved into it.