A rare opportunity to own one of the most pristine P51D's in the world!
Red Dog with the high polish and glossy red nose was unveiled at Oshkosh Airventure 2006 where it won Reserve Grand Champion and Midwest Aero's Sixth Snap on Tools Corporation Golden Wrench Award.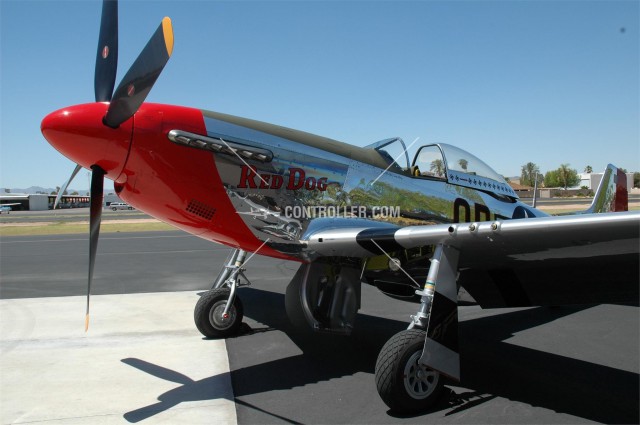 P-51 Red Dog was brought to Midwest Aero in 2002 for a full restoration by Classic American Aircraft based in Ohio. Red Dog was given the normal treatment for restoration by Midwest Aero however the owner wanted to have a perfectly smooth wing with high gloss finish to go along with the high polish of the aluminum and the high gloss red paint on the nose. Much work was accomplished to block sand the wing for a perfect finish. – midwestaero.com
Red Dog now in the Ron Pratte Collection in Chandler AZ and is being offered for sale.
The airplane has been flown 1983 hours and has the serial number 44-74469.
More information and price on Controller.com!
Amazing color images of the P-51 During WWII:
About the Mustang:
The P-51 Mustang Fighter Jet, a North American Aviation jet, is one of the most iconic fighter jet / fighter bombers that is single-seated and was used during World War 2. In total over 15,000 of these were manufactured.
The Mustang was designed originally to be used with the Allison V-1710 engine – making it a very good aircraft. When the B & C models were made of the P-51, they added a Rolls Royce Merlin engine and this completely transformed its performance at high altitude (15,000+ feet) which meant it matched or even bettered that of the Luftwaffe's fighter jets.
The final version of the P-51 was the P-51D, and this was powered by yet another engine, the Packard V-1650-7, and was fully armed with .50 caliber M2 machine guns (6 in total on each jet).
From late in 1943 P-51's were exclusively used to escort other bombers in raids that happened above Germany. The P-51's with the Merlin engines were then used as fighter-bombers which made sure that the Allied ruled supreme in the air in 1944.
The P-51 was also used in service with Allied air forces in Italian, Mediterranean and North African areas of service and also saw action in the Pacific War against the Japanese. Within World War 2, P-51 pilots laid claim to 4,950 enemy aircraft being shot down by them.