During the Battle of the Argonne, in October 1918, 'Cher Ami', a female homing pigeon, which means "dear friend" in French, helped save the Lost Battalion of the 77th Infantry Division. 'Cher Ami' was a homing pigeon used in World War I by the U.S. Army Signal Corps in France.
Trapped behind enemy lines without food or ammunition, Major Whittlesey and more than 500 men were hunkered down in a small depression on the side of a hill. And they were also taking friendly fire from allied artillery that had no idea they were behind enemy lines. This event was on October 3, 1918.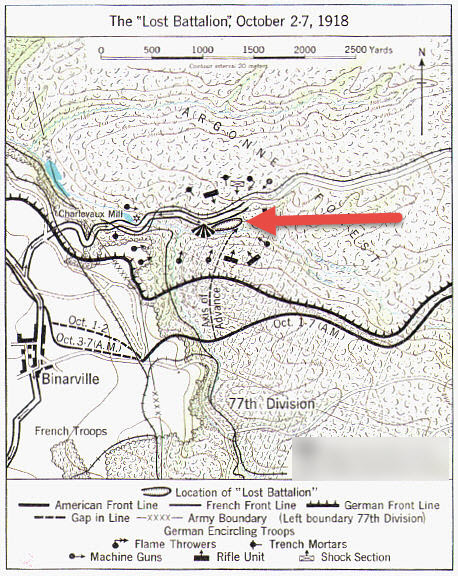 As the Germans troops were surrounding them on the first day, many were killed and wounded, and as the second day was drawing to an end, just over 190 men were still alive. Major Whittlesey was dispatching messages by carrier pigeons. As they were dispatched two pigeons were shot down and only one carrier pigeon was left, "Cher Ami".
The message she carried in a container on her left leg read as follows:
"We are alongside the road parallel to location 276.4. We are taking friendly fire; from our own artillery, directly on us. For heaven's sake, you must stop."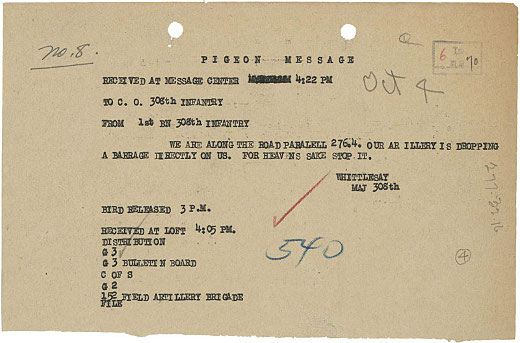 As 'Cher Ami' was sent to fly back home, she rose out of the bushes. But the Germans saw her and opened fire. 'Cher Ami' was flying through a hail of bullets for several moments. 'Cher Ami' eventually was wounded and shot down, but managed to take off again. The loft she was so desperately trying to get back to was at division headquarters 25 miles to the rear.
She made it in an astonishing 25 minutes; a mile a minute while wounded! As this turned out to be the last mission, 'Cher Ami' delivered the message helping to save the lives of the 194 survivors, despite being covered in blood, blinded in one eye, having been shot through the breast, and with a leg hanging only by a tendon.
'Cher Ami' instantly became the hero of the 77th Infantry Division. Army doctors worked desperately to save her life. They couldn't save her leg, so a small wooden one was made for her.
When her wounds healed and she recuperated enough to travel, 'Cher Ami', now only with one leg was put on a ship leaving France headed to the United States and General John J. Pershing was present to personally see 'Cher Ami' off, as she departed from France.