An original Normandy C-47 flew over the same beaches and villages it passed 70 years ago, with the help of the 37th Airlift Squadron's C-130.
In 2014, celebrating the 70th anniversary of the Normandy landings, the plane left its home at the National Warplane Museum in Geneseo, New York, to attend the historic event. It took approximately fourteen days to complete its trek across the Atlantic, but the participation of Whiskey 7 in the anniversary ceremonies went through without a hitch.
During the war, Whiskey 7 was assigned to the 37th Troop Carrier Squadron, from which the 37th Airlift Squadron, now based at Ramstein Germany, descends. The Dakota is believed to be the only remaining airworthy C-47 from the original carrier squadron, a distinctive status that sparked the bold idea for the plane's return to Normandy.
In 1944, Whiskey 7 took off from RAF Cottesmore in England as the lead aircraft of the second wave it dropped her stick of paratroops from the 82nd Airborne Division on Drop Zone '0' near St.-Mere Eglise, France, shortly past 2am on June 6th.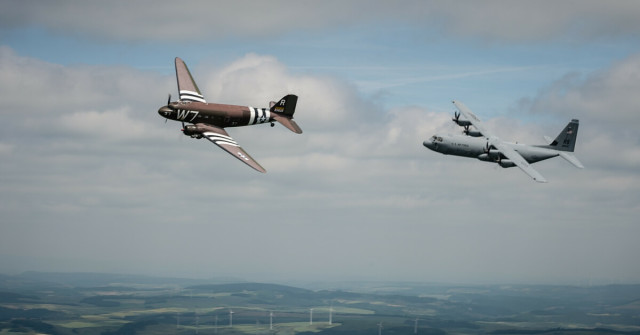 "It was one of a handful of airplanes that actually put its troops directly on the drop zone … it was one of the very successful drops," Polhemus said to the Stars and Stripes.
Whiskey 7 was only built one year before its use during the D-Day landings, but it has outlived many of its fellow aircraft. It has been given some modern equipment, such as GPS systems, to make the flight easier.
Two WWII vets, Bill Prindible and Bud Rice, watch from inside the newer plane as the plane they flew glides through the sky.
Video by Senior Airman Nicholas Crisp | 86th Airlift Wing
Main image: U.S. Air Force photo/Staff Sgt. Sara Keller