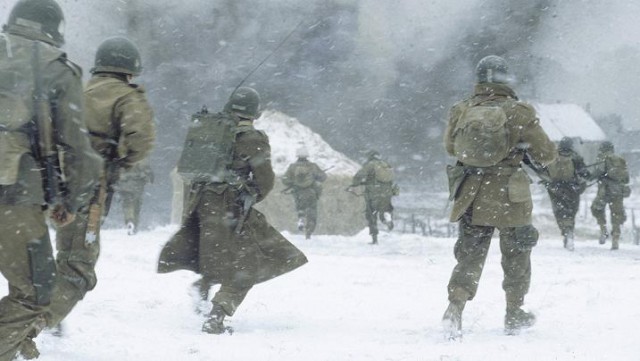 Battlefield guide Reg Jans takes us to Foy (near Bastogne) and tells us about the January 13th, 1945 attack. Reg shows us the locations where the events happened that were made famous by the Band of Brothers episode "The Breaking Point".
Foy was a small village occupied by the Germans in the early stages of the Battle of the Bulge. It's just 4 kilometers to the north of Bastogne on the road to Houffalize.
The American 101st Airborne Division held the Bois Jacques or Jacques Woods, up a slight rise outside Foy. Stephen Ambrose's Band of Brothers describes how its Easy Company of the 2nd Battalion, 506th Parachute Infantry Regiment led the assault to capture the town in January 1945. The 506th, including E Company, commanded by Lieutenant Norman Dike, attacked Foy. They lost several men in the initial charge.
In one account of the attack, Dike ordered the company to take cover after coming under fire. With the unit unable to proceed, his subordinates informed him they were going to get killed because they were sitting ducks.
At the same time, Captain Richard Winters, former commander of Easy Company and now the Battalion Executive Officer, tried radioing him to tell him the same thing. Having no idea how to control the situation, Dike froze. As Carwood Lipton, at that time the company's first sergeant, later put it: "He fell apart."
In another account, Dike stopped because he had been wounded in the right shoulder, not because he had panicked.
Dike was immediately relieved by First Lieutenant Ronald Speirs under orders from Captain Winters. However, they were still able to take the town despite the losses. Taking Foy was just another brick in the wall of battles and reasons to the Allied Victory in the Battle of Bastogne.
The company captured several German prisoners. A remaining, hidden German sniper killed some of the men after the assault but was quickly discovered and neutralized.