There are a lot of strange things that end up on the auction block. A slice of Prince Charles and Lady Diana Spencer's wedding cake was auctioned off in 2015, thirty four years after the wedding for just over $1,300. In 2015 Sotheby's sold a lock of hair from the head of Wolfgang Amadeus Mozart for more than $50,000. Another slice of wedding cake, this time from the wedding of Queen Elizabeth II and the Duke of Edinburgh in 1947 sold in 2015 for a little over $700. Winston Churchill's dentures sold for $23,000 in 2010.
Recently, Indianapolis resident David Charles was arrested for allegedly selling stolen brains from the Indiana Medical History Museum on eBay's auction site for about $100 each. The sale of Adolph Hitler's underwear for over $5,000 may be one of the strangest things of all.
Auctioneers believe this is the first pair of Hitler's underwear to come to the attention of the public. Articles of clothing and jewelry that had belonged to Hitler's wife of a day and a half, Eva Braun, including a pair of lacy purple panties were sold at auction by Philip Serrell Auctions in November of 2016 fetching nearly $4,000. A tube of red lipstick, a silver box and a gold ring belonging to Braun were also sold.
In April of 1938, Adolph Hitler stayed a few days at the exclusive Parkhotel Graz in Austria which would be occupied by Nazi Germany just a month later. Apparently when his luggage was packed upon his departure someone forgot his undies. The linen shorts have a thirty nine inch waist, several button closures and Hitler's initials embroidered into the fabric just near the top of the fly opening. Bill Panagopoulos, auctioneer at Alexander Historical Auctions in Maryland called the boxers "surprisingly large" but the dictator's former valet, Karl Wilhelm Krause confirmed that Hitler wore loose clothing. The maker was the Schüler Company based in Belin, Germany.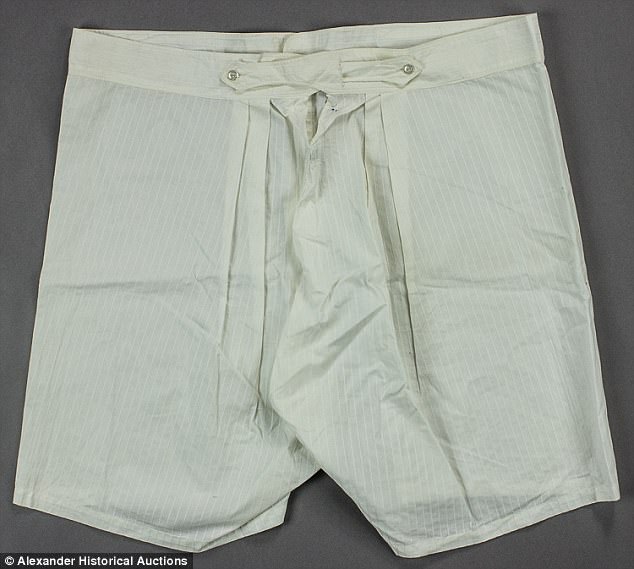 Panagopoulos insisted he had no intention of selling to a neo-Nazi or sympathizer of the Third Reich or any other dictatorship but was instead looking for a collector of World War II historical ephemera for the private auction. A framed pair of Hitler's underwear hanging on the wall in the home of the unidentified buyer would certainly be a conversation starter. It's probably safe to assume that the buyer had more World War II items in his collection.
The family that owned the hotel found the garment and kept it for about eighty years before a grandson of the original owners decided to put it up for sale. The auction house received the shorts clean and in mint condition wrapped in tissue paper inside of a box.
Other items belonging to Hitler have been auctioned off including his Luger pistol equipped with a flashlight for nighttime use went for $160,000 in 2012. A brass writing desk emblazoned with his initials and the Nazi crest on which Hitler signed the Munich Pact was commandeered by Second Lieutenant Jack McConn in 1945 from Hitler's Munich office and was sold by Alexander Autographs in December of 2011 for $422,000.
After exhaustive research to confirm the authenticity of Hitler's Mercedes Benz Michael Frohlich, a German car dealer sold the automobile for $10,000,000 to a Russian collector. Alexander Historical Auctions has also sold one of Hitler's personal copies of Mein Kampf for $20,655 in 2016, one of Hitler's rings for over $60,000 and in February of 2017 Hitler's telephone sold for $243,000.
Other notable World War II items that have been auctioned off were Winston Churchill's Snuff Box sold by Sotheby's in 2006 for $24,000; Italian dictator, Benito Mussolini's Order of Courage medal was sold by La Galerie Numismatique in March, 2012 for $123,000.
Anne Frank's letters to an Iowa pen pal in 1940 were auctioned off by Swann Galleries for $166,000 and Australian soldier, Private Edward Kenna's Victoria Cross Medal earned for destroying a Japanese machine gun position in New Guinea in 1945 was sold by Spink & Son in 2011 for $555,000.