War History online proudly presents this Guest Piece from Jeremy P. Ämick, who is a military historian and writes on behalf of the Silver Star Families of America.
Editor's note: This article is part of a series highlighting members of the U.S. Army Warrant Officer Corps for the corps' 100th birthday on July 9, 2018.
Diana Eberharter has experienced the military lifestyle from many different angles—growing up a "military brat," being married to a military member and making the decision to pursue her own military career. This background became a catalogue of experiences that eventually provided her with both the motivation and expertise to become a warrant officer with the Missouri National Guard.
While growing up in a military family, Eberharter's father moved to a new duty assignment every three years. She was living in Germany when she graduated from high school in 1981 and two years later she met and married her husband, who was at the time on active duty with the Army.
"We came to Missouri in 1984 where my husband was working as a recruiter," she recalled. "I enlisted in the Army the same year because I wanted the education benefits and to begin building toward a retirement," she added.
Completing her basic training at Fort Jackson, South Carolina, Eberharter remained at the post for several weeks of training as an administrative specialist, graduating in the spring of 1985. She was then assigned to Fort Riley, Kansas, to perform clerical work in support of the 1st Infantry Division. While stationed at the Kansas base, she gave birth to her first son.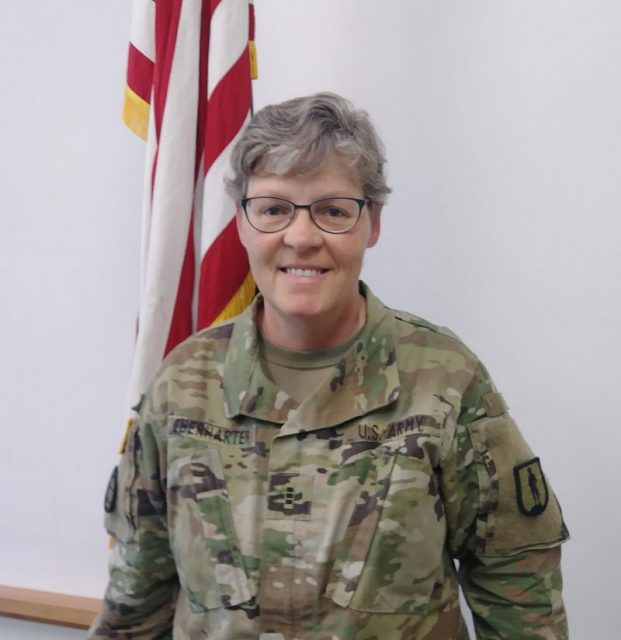 In 1988, her husband received orders assigning him to a unit at Aschaffenburg, Germany. Eberharter, who remained behind at Ft. Riley, filed a request for joint domicile and six months later joined her husband overseas, where she was assigned to the clerical section for the 577th Maintenance Battalion.
"While I was stationed in Germany, I gave birth to our second son," she said. "I requested a Chapter 8 discharge for pregnancy because it was just too difficult for both of us to be on active duty at the same time and raising two young children." She added, "My discharge was approved in 1989."
For nearly a year, Eberharter was a stay-at-home mother to her children and then worked briefly as a security guard at a local military base. In 1992, the family relocated to Barstow, California, after her husband received assignment to Fort Irwin. It was here that she began taking courses through a local college.
"My third son was born in 1993 and shortly after, my husband received orders for Ft. Leonard Wood," she said. "For two years I home-schooled my children and took classes in the evening through Columbia College and finished up my bachelor's degree." In 2002, she and her husband divorced.
After the events of 9/11 unfolded, Eberharter was visiting with a friend who had a break in military service of nearly fifteen years. This individual informed her that he was able to enlist in the National Guard as long as he could complete 20 years of service prior to turning 60, and suggested Eberharter do the same.
"I enlisted in 2003 and was a traditional soldier for less than a year when I received temporary full-time orders with the 35th Engineer Brigade at Ft. Wood to backfill a deploying soldier," she said. "I  then became a full-time (AGR) soldier to work as an Executive Assistant for the general and sergeant major and was promoted to the rank of sergeant."
As 2007 arrived, she finished her master's degree in human resources management through Webster University and, in June the same year, deployed to Iraq. While deployed overseas, she spent a year continuing to serve as Executive Assistant for the commanding general of the brigade.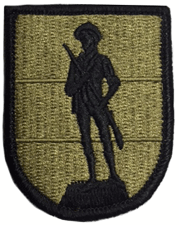 Prior to her mobilization, she submitted an application for the warrant officer program and, following her return to Ft. Wood, went on to graduate from the Warrant Officer Candidate School and was pinned a Warrant Officer One in September 2009.
"When I was stationed at Ft. Riley years earlier with the U.S. Army, I worked for a Chief Warrant Officer Four who always wanted me to become a warrant," she said. "I felt that I could make more of a difference in the lives of soldiers by being a warrant," she added.
Since becoming a warrant officer, Eberharter has achieved the rank of Chief Warrant Officer Three and in her full-time capacity, works at the Regional Training Institute (RTI) at Ft. Leonard Wood as a Human Resources Technician. She processes awards, promotions and other personnel actions for officers assigned to the RTI.
For several years now, she has spent her drill weekends with the National Guard assigned to the RTI to run the program to train warrant officer candidates. It has been an experience, she affirms, which has allowed her to witness transitions similar to one she made several years earlier.
"When you see the candidates on the first day of their warrant officer candidate course, they are often scared and nervous simply because they do not know what to expect," she said. "But then you witness the change as they complete the course and go on to graduate to the next step in their military career."
In conclusion, she added, "When they arrive here for training, we take them through crawl/walk/run phases, teaching them various elements of leadership. I had one candidate that told me it was the hardest thing that she ever had to do but once she successfully completed the course, it provided both of us with a sense of fulfillment that she was able to achieve her goals."