War History online proudly presents this Guest Piece from Jeremy P. Ämick, who is a military historian and writes on behalf of the Silver Star Families of America.
Editor's note: This article is the second in a five-part series highlighting the life and military career of Maj. Gen. Don D. Pittman.
In the few short years following Don Pittman's receipt of his pilot wings and commissioning as a second lieutenant in April 1945, the Jefferson City native had already completed overseas assignments in Canton Island, England and Germany, in addition to qualifying on several types of military transport aircraft.
His early duty assignments included flying relief missions during the Berlin Airlift between 1948 and 1949, which would only serve as the beginning to his lengthy career of Cold War experiences.
In early 1951, Pittman had achieved the rank of captain in the United States Air Force and "was assigned as a pilot with the special air missions squadron at Wiesbaden Air Base" in Germany, as is noted in his official U.S. Air Force biography.
During this timeframe, relations between the United States and the Soviet Union were greatly strained due to the Soviets secretly providing arms to the North Koreans while the U.S. was embroiled in the Korean War; at the same time, the U.S. and Soviet Union were engaged in a nuclear arms race.
It was during this tense period in March 1952 that Capt. Pittman was selected to pilot a C-54 Skymaster that carried U.S. Ambassador George Kennan behind the "Iron Curtain" to his new post in Moscow. As reported by the Jefferson City Post-Tribune in the weeks after Pittman's trip, the crew of the American plane were supplemented by a navigator and radio operator provided by the Soviets.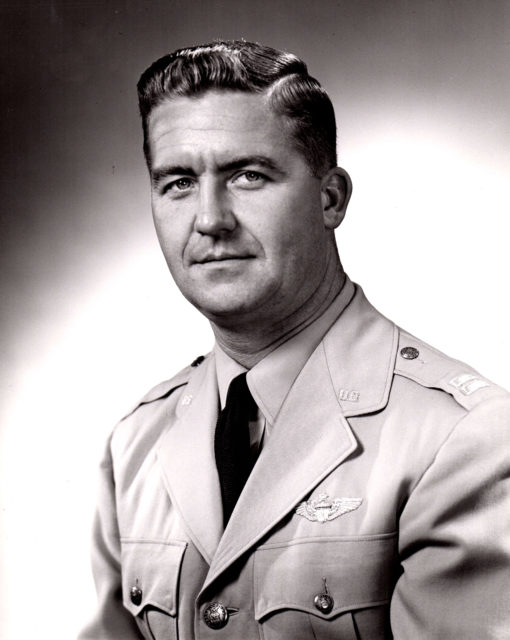 During his three-day stay in Moscow, Pittman was able to take several photographs and make a few insightful observations. He stated, "Only the government buildings are furnished with plaster, stucco or paint. The other buildings or homes are horrible looking shacks that remind one of the low slums in big towns back home."
Pittman also noted that anywhere he or his fellow aviators went, they were followed by secret police. He further observed that the prices of goods in Russia were "sky high" with shoes selling for $100 a pair, a table radio for $250 and $5 dollars was being paid for a pound of butter.
He concluded that Americans "are as lucky as hell and should insure that we stay that way."
The young officer later served as aide-de-camp to the commander of the Sacramento Air Materiel Area located at the former McClellan Air Force Base, where he was stationed when he married Arlene Shelor, who would become his greatest supporter throughout his military career.
As his Air Force career progressed, Pittman transitioned from flying transport aircraft to jets and, in September 1964, became operations officer and commander for the 429th Tactical Fighter Squadron at Cannon Air Force Base in New Mexico. The following year, he was promoted to lieutenant colonel and deployed to Vietnam for nearly four months, flying missions aboard an F-100 Super Sabre—a supersonic jet aircraft.
Returning to the United States where the 429th was deactivated shortly thereafter, Pittman went on to command the 481st Tactical Fighter Squadron and deployed a second time to Vietnam in May 1967, this time commanding the 416th Tactical Fighter Squadron at Phu Cat Air Base in South Vietnam.
The command pilot's official records note that during the combined 365 days Pittman spent in Vietnam between his two deployments, he performed 277 combat missions, accrued a total of 385 hours in the F-100 and earned a Distinguised Flying Cross.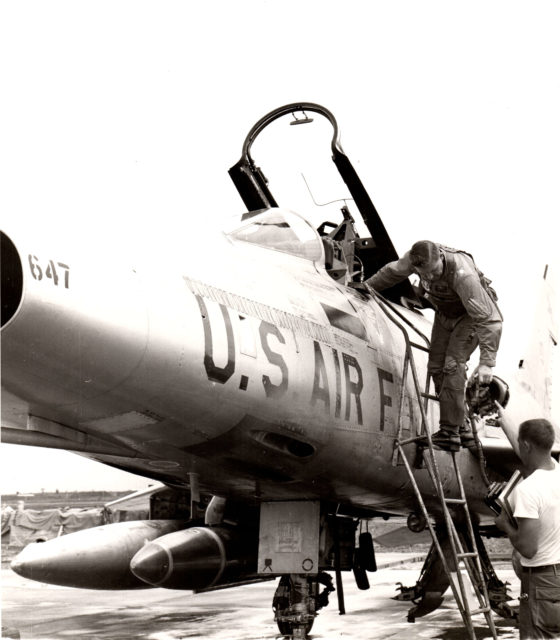 "You have been especially selected, in accordance with carefully established criteria, to command the 48th Tactical Fighter Wing (TFW)," wrote General J.R. Holzapple, then-Air Force Commander in Chief, U.S. Air Forces in Europe, to Pittman in official correspondence dated March 31, 1971.
General Holzapple added, "Your assignment to this important position attests to a superior record of past performance. The (Air Force) structure limits the number of assignments of this kind and because of their importance demands the highest qualification."
Now a colonel in command of a wing (military organization above the squadron level) located at Royal Air Force (RAF) Station near the town of Lakenheath in Suffolk, England, Pittman witnessed the transition from the F-100 Super Sabre (referred to as the "Hun" by the pilots) to the newer, more sophisticated F-4D Phantom II—a long-range supersonic jet interceptor and fighter-bomber.
An Air Force newspaper from 1972 noted that Colonel Pittman received the distinct privilege of flying the first F-4D to RAF Lakenheath during the transition, which became an event covered by the local news media and which was followed by a champagne toast among the dignitaries involved.
Approaching the autumn years of his Air Force career when preparing to leave his assignment of more than two years with the 481st TFW, Pittman reflected on his time spent in England during a departure interview that appeared in the May 18, 1973 edition of Jet 48—a weekly base newspaper at RAF Lakenheath.
"We've taken some hard knocks but we've recovered from them, and we've shown other organizations in the command that we have highly professional people assigned to the wing," Pittman firmly noted. "They are a great bunch of people and I have a deep respect for them."
In closing, the late veteran affirmed, "I would like to thank everyone for what they contributed to the wing's success. I can say that for both my wife, Arlene, and myself. … In looking back over my career … this has been my greatest assignment."