By Jeremy P. Ämick
Donley "Dan" Amick recognizes that although the Vietnam War is often viewed as an unpopular conflict, his personal decision to join the military during this tumultuous period was motivated by a desire to serve the nation he loves.
"I thought that we had a good thing going here (in America)," said Amick, 65, Alton, Ill., "and believed that I should be willing to fight for it … to give something back."
Amick's journey to the military did not commence immediately upon his graduation from Jefferson City (Mo.) High School in 1966; instead, it waited until he completed two years of college in mid-Missouri.
But after watching his older brother return from his own combat tour of duty with the Marine Corp in Vietnam, Amick soon decided, "Why not me, too?"
Graduating from Marine Corps boot camp in December 1968, Amick embarked for Camp Pendleton, Calif., where he completed six weeks training with an infantry training regiment, undergoing a rigorous introduction to a cycle of tactics and weapons instruction.
"I came home for about 15 days of leave and then went to a training battalion for a month or so," Amick said, "where I was given fire direction control training with the artillery."
Weeks later, the untested recruit traveled to 29 Palms, Calif., a location he describes as "a huge artillery base situated in the middle of the Mojave Desert"  and currently the home of the Marine Corps Air Ground Combat Center.
It was here, Amick said, he was first exposed to the notion that even when a recruit is trained to perform within a specific military occupational field, the needs of the Corps always takes precedence.  "They placed me in the intelligence section with the headquarters for the 5th Field Arilltery Group," he grinned. "I was told they were short of intelligence personnel."
However, the pendulum would soon swing the other direction in the latter part of August 1969, as Amick received orders for Vietnam—a deployment that would return him to his preiovusly trained specialty. Arriving in Da Nang the following month, the 21-year-old Marine remained in a "replacement depot" for a few days before receiving assignment to 3rd Battalion, 11th Marines at a location known as "Hill 55/LZ (landing zone) Baldy." As the veteran described, "I reverted back to a fire direction control MOS (military occupational specialty). We had six guns—105 (millimeter) Howitzers—and provided direct fire support to Marines operating in the field."
"Part of my job," Amick added, "was to convert coordinates on a map (called via radio by Marines operating in forward observational locations in the field) and determine such things as elevation, height of the gun, powder charge and type of explosive to be used." The pace of warfare soon resulted in a fluctuation in duty assignment,  moving Amick to other Marine Corps bases such as LZs Ross, Ryder and Bushwack, the latter which was located upon mountainous terrain along the Que Son Valley.
"All that was up there was our six 105s and all the people it took to support them … about a hundred of us," he said. "We spent eight hours on duty and eight hours off—and other intermittent duty—and that's all we knew for about six months."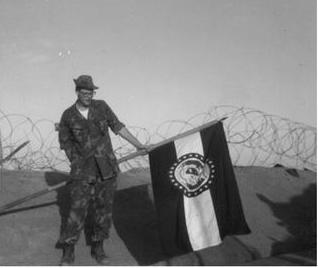 Amick also noted that many of his duty locations, including Ryder and Bushwack, were so remote that supplies such as C-rations, water, explosives, personnel (and the bulky Howitzers) had to be brought in by helicopter. Though much of his time was with I Battery of 3rd Battallion,  the combat veteran was transferred to H Battery during the latter part of his deployment, with whom he remained until leaving Vietnam in September 1970.
After spending a few days in Okinawa for what he jokingly refers to as his "decompression" from combat, Amick flew back to San Diego and was mustered out of the service. In later years, the former Marine utilized his GI Bill benefts to become a union electrician, from which he retired in 2013 after dedicating 42 years to the vocation. While many of his experiences from Vietnam contain memories he would assume leave in a combat zone nearly 50 years in the past and thousands of miles from home, Amick remains proud of his role with the Marines and what he and his comrades did to help maintain the strength of the nation. "This country is worth fighting for and you don't have to be a Marine, in the Coast Guard, Army or any military branch to defend it," he said. "Our nation is just too good to not be willing to give back in some capacity."
A declaration based upon experience, Amick added, "Much of Vietnam was a dirty war with one-on-one combat and a high level of unpopularity back here … at home.
"But there's a lot of people who don't realize that they are enjoying freedoms they never earned, but were paid for by men and women willing to give their lives to defend it."
Jeremy P. Ämick is the son of Dan Amick and public affairs officer for the Silver Star Families of America.
Jeremy P. Ämick
Public Affairs Officer
Silver Star Families of America
www.silverstarfamilies.org
Cell: (573) 230-7456