By Jeremy P. Ämick
When asked why he chose to enlist in the military amid the heat of the Vietnam War, Roger Thompson jokingly responded, "The Navy seemed better than the Army because the Army was in Vietnam."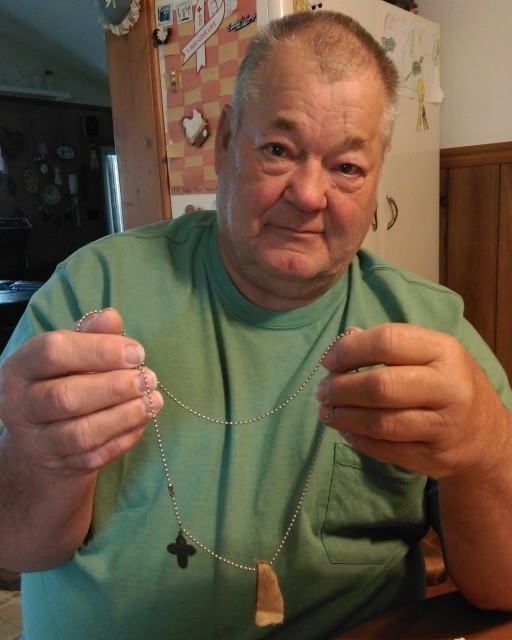 Yet this voluntary spirit would soon land the recent high school graduate in the same overseas location that he believed naval service might help him to avoid.
The spring of 1965 should have been a joyous time for Thompson since he had just graduated from Jefferson City (Mo.) High School, prepared for a full life yet to be lived.
Military service, however, became the primary destination in his personal forecast, as he realized the likelihood of being drafted, thus encouraging his enlistment in the U.S. Navy.
"I enlisted in October (1965) and they sent me to San Diego for boot camp," said Thompson, 67, Russellville, Mo. "Then I reported to the USS Hollister to await my next assignment."
Though he did not receive any specialized training after boot camp, the recruit was slotted for a specific job when reporting for first duty assignment.
"They just kind of said 'You're gonna be a gunner's mate,'" he grinned.
The Hollister—a Gearing class destroyer commissioned shortly after World War II—was stationed in Long Beach, Calif. Shortly after Thompson's arrival, the ship sailed for Yokosuka, Japan.
For the next two years, the ship supported combat operations in Vietnam by retrieving "downed pilots" and performing shore bombardment in areas such as the Gulf of Tonkin.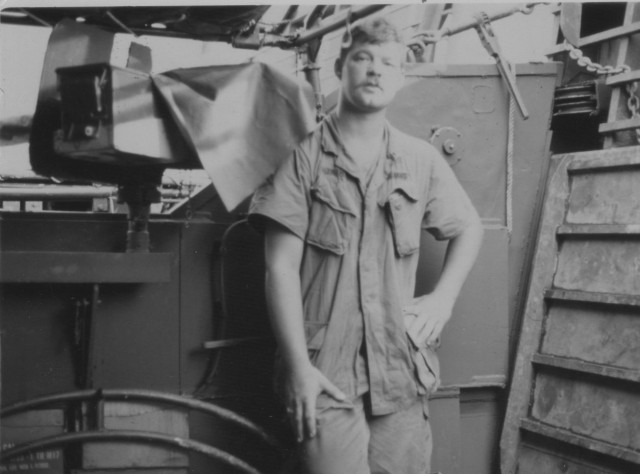 Thompson explained: "There wasn't a heck of a lot to being a gunner's mate; you would load the guns, shoot them and help maintain them."
But it was not long before the sailor's duties removed him from the protection offered by a large vessel and placed him in close proximity with the enemy.
In early 1968, he left the Hollister and was transferred to Vallejo, Calif. For the next several weeks, he trained aboard "Tango" boats, which were the smaller vessels used to deliver troops via the inland waterways of Vietnam.
"Everybody (in our training group) learned how to steer and operate the boat. I was the gunner's mate and operated two 20mm anti-aircraft guns, two .50 cals (calibers), four .30 cals and a MK-19 grenade launcher," Thompson said.
After completing a two-week class in survival and escape techniques, Thompson flew to Tan Son Nhut Air Base, Vietnam, arriving in May 1968.
He transferred to a Tango boat assigned to a larger ship—the USS Benewah. For the next several months, his crew would drop grenades into the water to prevent enemy "swimmers" from mining the waters or attaching explosives to the Benewah and examine brush or other material in the rivers that could be used as camouflage for mines.
Later in the deployment, Thompson's boat began operating in the waterways off the Mekong Delta, ferrying American and foreign military members participating in search and destroys missions.
"That was the fun part," Thompson grinned. "Our top speed was about 12 knots so we made pretty good targets."
On one occasion, the veteran shared, their boat was traveling down a river and came under attack by Viet Cong firing from the shoreline. Thompson turned his 20mm gun on his attackers and began firing.  He then witnessed an event he believed might be his last.
"I saw a rocket coming toward me," Thompson glumly recalled. "I knew for sure it would be the end of me, but I just kept shooting back."
The rocket stuck in the bar armor on the side of the boat but failed to detonate. As the sailor later learned, the enemy soldier firing the rocket forgot to remove the pin to arm the weapon.
Thompson has kept the pin as a souvenir to remind him of his "close call."
In spring of 1969, he returned to the United States after finishing a year in Vietnam. With less than 180 days remaining on his enlistment, he received an early discharge and returned to Jefferson City.
The former sailor married his fiancée, Nancy, and the couple later relocated to Russellville. Thompson went on to finish a lengthy career as a union plumber and pipefitter, retiring in 2009.
While reflecting on his time served in Vietnam, Thompson laments that the combat zone was not the most concerning aspect of his military service.
"The hardest part of my time in the Navy wasn't Vietnam, it was coming home," he said. "People didn't really realize what we went through over there or what we had to endure."
He added: "But when I came back to San Francisco and saw all the antiwar signs," he paused, "…you couldn't even walk down the street without somebody throwing something at you.
"My only wish is that there was some way to make all those people go to the Vietnam Memorial … to see all those names on the wall and witness the number of people who made the greatest sacrifice possible."
Jeremy P. Ämick writes on behalf of the Silver Star Families of America.
Jeremy P. Ämick
Public Affairs Officer
Silver Star Families of America
www.silverstarfamilies.org
Cell: (573) 230-7456