By Jeremy P. Ämick
America seems to have an insatiable appetite for war movies as evidenced by the recent release of military films such as "Fury"—a story about an American tank crew serving in Germany in the waning days of World War II.
Though the film provides a passionate portrayal of the heavy metal clashes that unfolded between American and German armor, one local veteran explains that he experienced firsthand the dangers associated with serving inside a tank destroyer.
"I trained with Company C of the newly-formed 609th Tank Destroyer Battalion," said Norbert Gerling, a 95-year-old Army veteran from Henley, Mo. "Once the war was over, the battalion was disbanded."
According to an official history of the 609th (part of the 10th Armored Division), the battalion was activated at Ft. Bragg, N.C., on December 15, 1941 and began combat operations on September 20, 1944, when landing on Utah Beach in France.
They were equipped with M-18 Hellcats—a minimally armored tank with top speeds of more than 55 mph and armed with a 76 mm cannon. In the book "No Greater Valor," author Jerome Corsi notes that M18s were designed to "race ahead to ambush German armor and then run away before the German tanks could return fire," or, as known in military lexicon, to "shoot and scoot."
Shortly after the 609th's arrival in Europe, Gerling recalls encountering intense combat when traveling through the French village of St. Lo, involving many "skirmishes" with German tanks such as the notorious Tigers.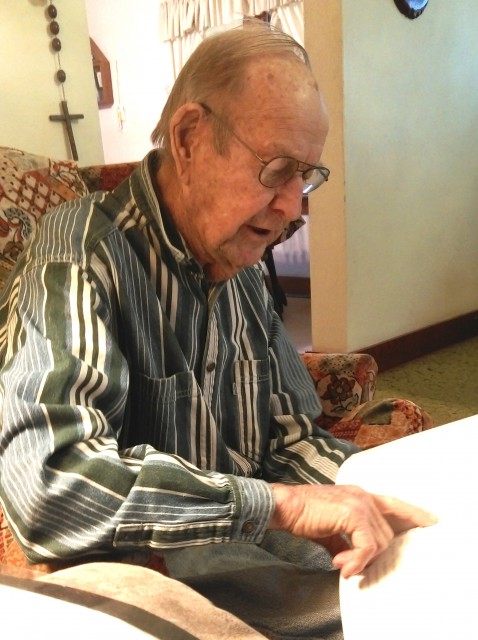 "Everything was so hectic back then that it was really hard to keep track of all the dates of when things happened," Gerling said, while describing an incident involving the employment of an anti-tank weapon.
A copy of orders Gerling received illustrates an occasion when the Hellcat he served aboard was called to assist an American tank in dire need of assistance on March 7, 1945.
"There was one of our tanks sitting right in the middle of this valley," explained Gerling, "and it had been disabled to the point that they couldn't fire their gun or anything."
Although they were unscathed, the tank crew was stranded after being struck by a German anti-tank gun situated on a railcar, which, Gerling added, was partially concealed under an overpass on a hill overlooking the valley.
"There were four of us (Hellcats) that went into the valley," he said. "We went through in a cluster because if we went through one at a time, the German gun could pick us off."
When in a position where he could view the German artillery piece, Gerling stated he could see two of the three pedestals that were supporting the overpass. As the gunner, he used the tank's "10-power scope" to sight in on the enemy threat.
"I fired seven or eight rounds (from the tank's 76 mm cannon), Gerling said. "I hit the two pedestals that I could see through the scope and the overpass collapsed onto the German gun, neutralizing the threat."
For his participation in the rescue of the stranded tank, on July 5, 1945, Gerling was awarded a Bronze Star Medal for his "heroic achievement in connection with a military operation against an enemy of the United States at Trier, Germany," as a copy of his orders read.
Traveling an estimated 1,200 miles across the battered European landscape, Gerling asserts that despite his experiences with tank-to-tank engagements, it is the rescue of the stranded tank crew that remains one of the most memorable encounters of his time spent as a Hellcat gunner.
"Usually we were involved in skirmishes involving German tanks, but it was nice to be part of a team that helped rescue someone," Gerling said.
"It was really a very important event to me because …well," he paused, "you just don't know if what you did might have saved a person's life."
For additional information on the 609th Tank Destroyer Battalion and other tank destroyer battalions, please visit www.tankdestroyer.net.
Jeremy P. Ämick writes on behalf of the Silver Star Families of America.
Jeremy P. Ämick
Public Affairs Officer
Silver Star Families of America
www.silverstarfamilies.org http://www.silverstarfamilies.org Cell: (573) 230-7456