Many stories of a World War II veteran's service involve receipt of the notorious draft letter, travel to a basic training site, and then an overseas assignment in a combat zone in either Europe or the Pacific.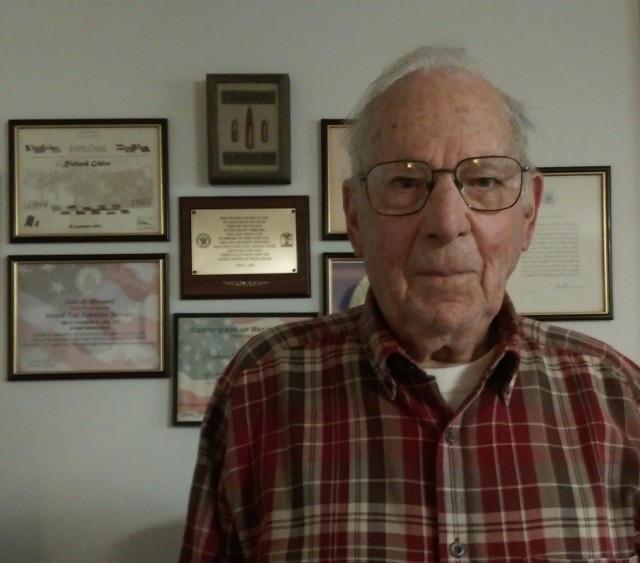 However, local veteran Richard Gibler received the rare opportunity to serve in two combat theatres beginning with his arrival on Omaha Beach on D-Day and ending the following year on an island in the Pacific.
A 1941 graduate of Centertown High School, Gibler, 91, Jefferson City, Mo., explained that he tried to join the Navy shortly after the war began and but was told he "wasn't big enough."
Persistence paid off when, in 1943, he was able to enlist and was soon on his way to naval boot camp at Great Lakes, Ill.
"In training they gave us these Morse code tests—but I thought all the sounds (in the test) sounded the same," Gibler said. "There was no way I could have passed that test but after it was over they said, 'You're going to radio school,'" he grinned.
For the next several weeks, the sailor attended radio school at Northwestern University in Evanston, Ill. In September 1943, he and a group of fellow sailors were pulled from training and boarded a railroad car Gibler describes as "a relic-and-a-half" bound for Camp Bradford, Va., where they became the 6th Beach Battalion and began a cycle of amphibious training.
"The battalion was kind of an independent organization," Gibler said. "We had corpsmen, doctors, boat repair people, communications—everything but lawyers. We were training to become one of the first groups of people to go in during an invasion," he added.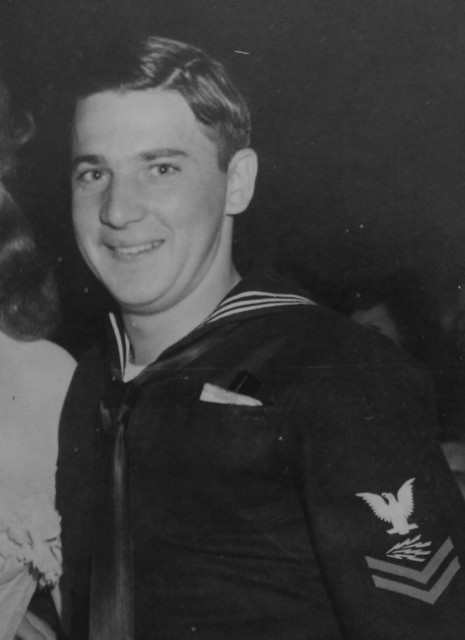 The battalion travelled to England in early January 1944 where they continued to participate in maneuvers that provided additional practice in beach assaults and landings. On June 1, 1944, they boarded an attack transport that brought them to one of the most famous beach landings in military history.
"They got us up bright and early on D-Day (June 6, 1944)," Gibler said. "We were part of the first wave of landings.
"We came in on a LCVP (landing craft vehicle personnel)—I think there were about 30 of us and we were packing radio equipment, generators, code books and an antenna."
Once the group made the landing amid a shower of German bullets and artillery shells, Gibler said they were able to set up communications in order to relay messages to and from ships in the English Channel.
"We stayed right there on the beach pretty much the entire time we were in France," he said.
Several weeks later, as Allied forces continued to press the war inland, Gibler's amphibious-trained battalion returned to England. By the middle of September, they arrived back in the United States and were given 25 days of leave.
Gibler then received orders to report to Oceanside, Calif., spending several more weeks in amphibious training; however, in December 1944, he departed the West Coast bound for Pearl Harbor.
For the next several months, he served aboard an assault personnel attack ship and a Victory ship, participating in several Pacific engagements including the invasion of Okinawa in April 1945.
"When we got to Okinawa (April 11, 1945), we received quite a reception that night—and every night!" Gibler said. "The Japanese really didn't want us there. It really became quite the turkey shoot for us … since you'd just pick out the (Japanese) planes you wanted to shoot at."
Returning to Pearl Harbor the following month, Gibler's service eventually took him to Guam where he was stationed when he learned of Japan's surrender in mid-August 1945.
"Being a radio operator, we got the news firsthand," he said. "It wasn't even a day after the (Japanese) surrendered that we threw out the code books and began to communicate in plain English again."
When asked what he and his fellow sailors did in celebration of the end of the Second World War, Gibler said with a grin, "Drank a little beer, I guess."
The sailor left Guam for the United States on January 2, 1946 and was discharged from the Navy later that month. Returning to Mid-Missouri, Gibler went to work for his father on the family farm.
In 1950, he married Jenetia Gemeinhardt and later went to work for the utility company that became Ameren Missouri. In 1986, he retired from Ameren after 36 years of employment with the company.
Of all his experiences during a chaotic period and in dangerous locations, Gibler notes that there is one remnant from his military service for which he maintains an ingrained appreciation: the camaraderie.
"A lot of the guys I served with are no longer around, but as silly as it may sound, regardless of all of the tough times we went through, we really had some good times as well."
He added: "Out of about 400 people that served in my outfit, there's only about 40 of us left … and though there weren't many of us who served in both theatres, some of us really put on quite a few miles together."
Jeremy P. Ämick writes on behalf of the Silver Star Families of America.
Jeremy P. Ämick
Public Affairs Officer
Silver Star Families of America
www.silverstarfamilies.org http://www.silverstarfamilies.org Cell: (573) 230-7456