I get to do some daft stuff for War History Online but I am not sure standing about on a warship while it is blowing old boots across the south of England is one of them. Unfortunately this was the designated day for my assignment and as I had chosen to accept it I could not duck out. How I got any sleep the night before is a mystery. Gale force winds sounded like they were about to rip the roof from over my head and I have never heard my house creak and moan so much.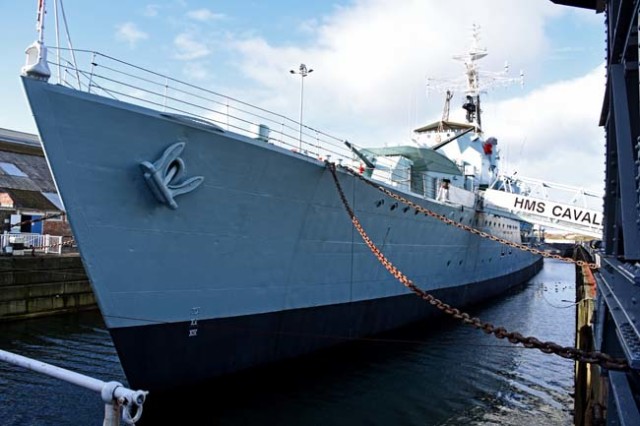 The C-Class destroyer HMS Cavalier was laid down in 1942 and launched in 1944. She was finally paid off from Royal Navy service in 1972.
Some time last year people with serious minds decided that as hurricanes and cyclones have names then so should the storms that batter the British Isles. It seems like no time at all and we are up to 'I' already. Storm Imogen blew in and caused a good degree of chaos but it didn't stop the work going on aboard the WW2 vintage destroyer HMS Cavalier berthed in the Historic Dockyard at Chatham where our friends from Wargaming were filming using 360-degree VR technology. The Cavalier episode is part of a series entitled Virtually Inside Warships. The films are presented by our very own blogger, Dan Snow, accompanied by Wargaming's Richard Cutland.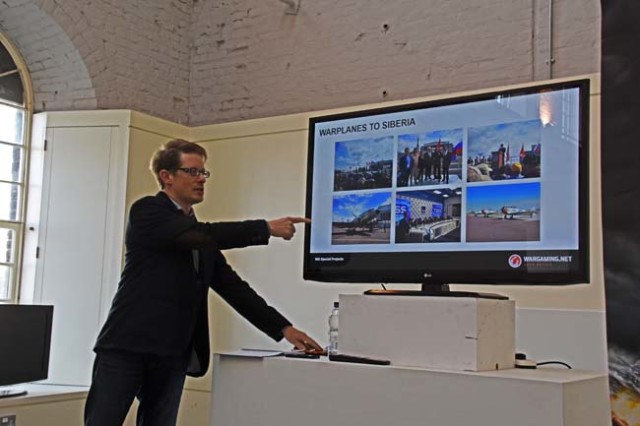 Tracy Spaight of Wargaming gives examples of recent conservation projects and support for special events sponsored by the company.
Wargaming have used the technology in tanks and at re-enactments using drones and the results are spectacular. The Google Cardboard smartphone app combined with their clever design for a viewer is a great way to watch the films and my son James reports it is very effective. Even though tanks are hardly huge spaces, the cramped interior of the Cavalier engine room seems almost tiny and James had an interesting time squeezing in to take a few pictures for us. We are intrigued to see how the VR technology performs in such a cramped environment that needed plenty of lighting.
Up on deck we were literally freezing our bits off in a biting wind. Clouds were scudding across the sky at a rate of knots and the sun only showed itself for a short time before grey became the uniform colour. But before then we had a bit of fun seeing and hearing one of Cavalier's 4.5inch guns firing. Matt Daly from Wargaming did the honours for us on the second occasion. Firing guns on warships is generally a noisy business and a short timeframe had been agreed for when this could take place. There was the shrill sound of expletives as the gunfire made some people jump. Once we were done everyone shuffled indoors for a hot drink and something to eat.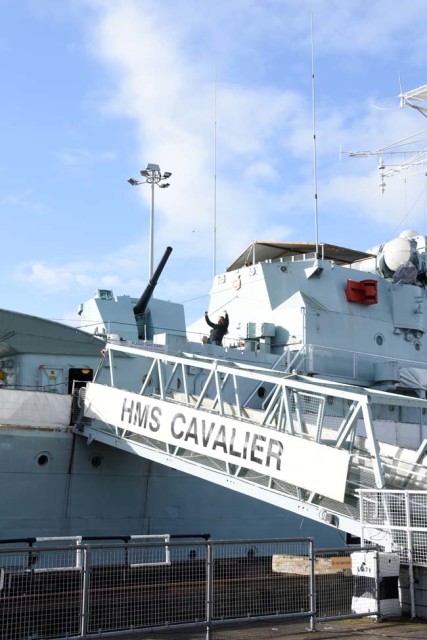 Matt Daly celebrates 'firing' one of HMS Cavalier's 4.5inch guns. The effect of the two blasts were a bit hit and miss. One journalist was sufficiently impressed to throw coffee down herself!
There were journalists from a wide range of specialised subjects at Chatham including people from history, gaming and VR magazines and it was fascinating to hear what each of them was hoping to take from the day. I admit to being a little bewildered by all the technology, which was why James came along to assist. Other journos had come from far afield and it is such a shame Imogen was on hand to greet them. Thankfully she didn't spoil the party.
Tracy Spaight, Director of Special Projects at Wargaming, gave us a talk about the aims of the Virtually Inside Warships series and we were treated to a brief outline of some of the projects the company has supported all over the world. Finding historic warships that are largely intact is a challenge but there are a number where further instalments of the series will be filmed. Many museum warships have been heavily modified to make them suitable as public attractions and this process removes much of the authentic fixtures and layout the series is intended to feature. It will be interesting to see which ships are added to the list.
One person I was keen to talk with was a former crewman of the Cavalier, Barry Knell, who has written a history of the ship. He told us of his time with her back in the early 1960s and recalled runs ashore in Hong Kong and Singapore with a glint in his eye! Cavalier was a trials ship for the Seacat missile and mountings for the weapon are still installed on her. Not many vessels passed from the era of firing broadsides to the missile age but this lovely old ship is one of them. Barry explained a bit more about his navy career and some of the history of Cavalier's life after the Royal Navy decommissioned her back in 1972. Barry's book The Fastest Ship in the Fleet looks fantastic and I will have to nab a copy from somewhere.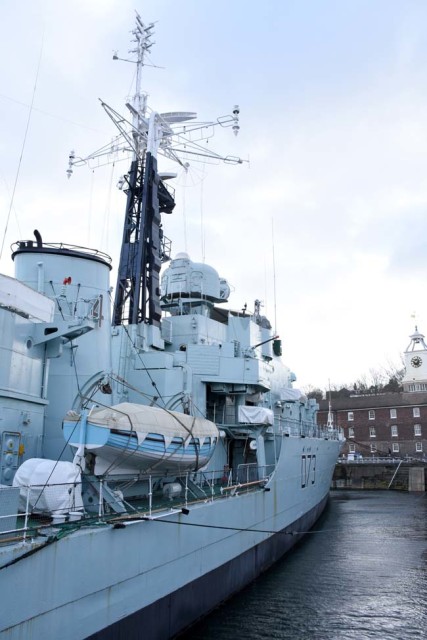 While conditions were hardly Arctic standard the cold is quite obvious in this chilly image.|
HMS Cavalier entered service in 1944 and served in the Home Fleet, including a notable mission to Russia reinforcing the escorts in an Arctic convoy. She went out to the Far East in 1945 and saw out the end of the war there and performed a number of roles in that part of the world as the European empires began to lose their grip on the region. She was placed in reserve in 1946 but re-entered service in 1957 after a period of modernisation work. As said, she continued to work until 1972 and she was eventually bought for £65,000 by a trust hoping to preserve her. Soccer players spend more on their kitchens. Unfortunately things did not go to plan and Cavalier moved around a few times before finding a permanent home at the Historic Dockyard at Chatham which had once been one of the Royal Navy's principal manning ports. Having sailed from there in another venerable old warship some years ago I have a bit of a soft spot for Chatham.
James and I would have liked more time to explore the ship, but the crew were on a tight schedule and the weather was not helping. I only saw our mate Dan to offer a quick hello and that is the last I saw of him. There was time for a chat with Tracy and Barry along with other chaps from Wargaming and then it was time to head off. The high winds forced the closure of the Dartford Bridge across the Thames back to civilisation (being from Essex I am naturally a little wary of spending too long in Kent!) and the roads were a nightmare.
Wargaming have built a solid track record of supporting conservation projects and other schemes. It's easy to be a tad cynical about the motives for all these good works because people do not trust big companies much these days. If Wargaming earn a big slice of positive PR off the back of helping projects get done or supporting events I enjoy then I am quite happy. It means our military world is a bit more secure and when we consider how much has been lost in terms of collections, vehicles and aircraft, having a helping hand to reverse that trend in any way possible has to be applauded. But can we leave Imogen and her mates at home next time, please?
Words and pictures by Mark Barnes with additional photography by James Barnes.