By Jeremy P. Amick
When war-hardened veterans returned to their communities following World War I, many struggled to leave behind memories of the adversities they had endured in combat, while also maintaining the relationships and friendships they had forged in the trenches of France.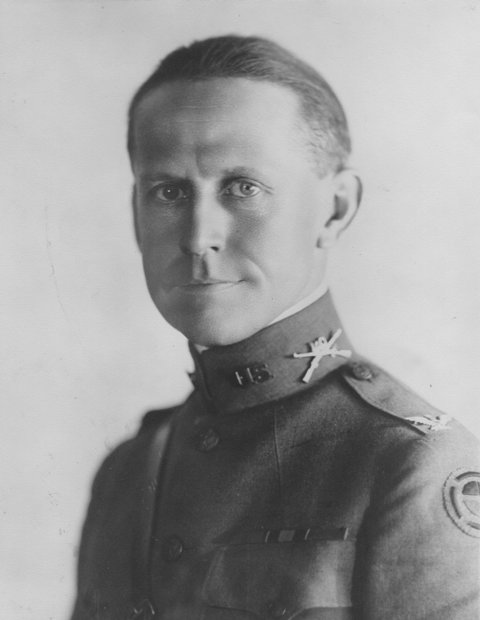 With an unyielding loyalty to their country, many of these veterans chose to continue their legacy of service by forming the American Legion in 1919—an organization whose preamble affirms a "devotion to mutual helpfulness."
Though not native to Mid-Missouri, the life of Colonel Albert Linxwiler exemplifies the principles of public service and brotherhood espoused by the American Legion nearly a century ago.
Born January 30, 1878 in Hillsboro, Ill., a military career was not young Linxwiler's initial career objective when he chose to enroll in pharmacy school upon graduation from high school.
As noted in an article appearing in a 1943 edition of the Daily Capital News, Linxwiler soon "evinced a keen interest in military affairs" while attending college in Chicago, which inspired him to enlist with Company L, 1st Regiment of the Illinois National Guard in 1897.
He received his baptism of fire the following year while serving with the regiment during the Spanish American War, participating in the Santiago Campaign in Cuba—a major offensive involving an estimated 25,000 American troops.
Progressing through the enlisted ranks, the 1904 "Biennnial Report of the Adjutant General of Illinois reports that Linxwiler was appointed as a second lieutenant with Company E, 5th Infantry of the Illinois Guard on July 22, 1903.
In the years following his return from the Spanish American War, Linxwiler maintained employment with the Missouri Pacific Railroad in Wichita, Kan., and was later tranferred to Nevada, Mo., where he joined the Missouri National Guard.
While living in Nevada, Linxwiler became a captain in the Missouri Guard's Company H, 2nd Infantry Regiment in 1909 and, four years later, relocated to Jefferson City, Mo., when appointed as chief clerk in the office of the adjutant general by Missouri Gov. Elliot Major.
Evan Alexander Edwards, regimental chaplain and official historian of the 140th Infantry Regiment, noted that Linxwiler "served nearly ten years in the Illinois National Guard and nine years in the Missouri National Guard," and attained the rank of major in 1916 while serving in Texas during the Border War with Mexico.
In his book "From Doniphan to Verdun," Edwards mentions Linxwiler's promotion to colonel and his involvment in the formation of the 140th Infantry Regiment from the remnants of two Missouri Guard infantry regiments.
Already a seasoned combat veteran, Linxwiler accompanied the newly-formed regiment overseas during World War I, but then left the regiment to serve in other leadership capacities to include "faithful and consientious" duty during the Meuse-Argonne Offensive. Months after the armistice, he returned stateside with the regiment on May 14, 1919.
After the war, he was restored to his position with the office of the adjutant general—this time until 1921, at which time he shifted his career focus to more entrepreneurial endeavors and helped reorganize the Cole County Abstract Realty and Insurance Company, serving as the company's administrative head.
Col. Linxwiler also helped organize the City National Building and Loan Association and became a founding member of the Roscoe Enloe American Legion Post in 1919, serving as the post's second commander the following year.
In later years, following his retirement from the military, Linxwiler remained active in military affairs and was elected to serve as the third-vice president at a meeting of the 35th Division Association of World War I veterans in 1940, while then-Sen. Harry S. Truman was elected as the organization's president.
The colonel continued his meteoric rise when President Roosevelt appointed him as postmaster of Jefferson City in 1934. While serving his third term in this capacity, Linxwiler committed suicide in the basement of the United States Post Office on High Street on April 14, 1943.
Newpaper accounts of passing explained that the veteran of three wars had experienced a decline in his health and had "expressed his regret that the age limit prevented him from service in (World War II)."
This caused shockwaves of disbelief and sorrow among his vast company of friends and associates, yet he was remembered as a soldier, businessman and public servant who chose to dedicate his life in service to others.
And may his own words—written in 1919 to the soldiers of the 140th Regiment as they prepared to return from months of deadly combat during World War I–serve as proper close to Col. Linxwiler's extensive career and contributions to community, state and nation.
"You can go to your homes realizing to the fullest extent that you have performed your duty well and faithfully, that you belonged to an organization of whose record you can be proud …"
Jeremy P. Ämick writes on behalf of the Silver Star Families of America
Jeremy P. Ämick
Public Affairs Officer
Silver Star Families of America
www.silverstarfamilies.org http://www.silverstarfamilies.org Cell: (573) 230-7456