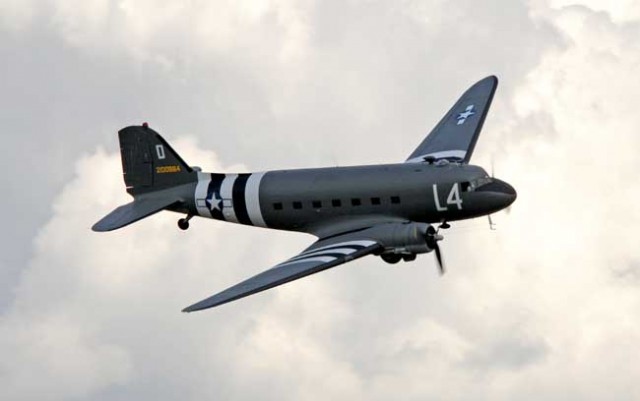 MUTTS, A DAKOTA AND A VERY NICE CUP OF TEA!
Mark Barnes attends the Military & Flying Machines show at Damyn's Hall aerodrome in a pleasantly sunny Essex.
Things change. It was always the case that the first weekend of August would find me heading to the Ballearics or out to France with my wife and kids. A relaxing holiday was always essential after a week at the War & Peace Show and I was not sorry to miss out on the annual military vehicle event run by my local Essex MVT. Being in sunnier climes with my family was always much more appealing. Life has moved on. My children are kids no more and the MVT has seen changes. The Essex branch is now the HMVA. Nothing lasts forever.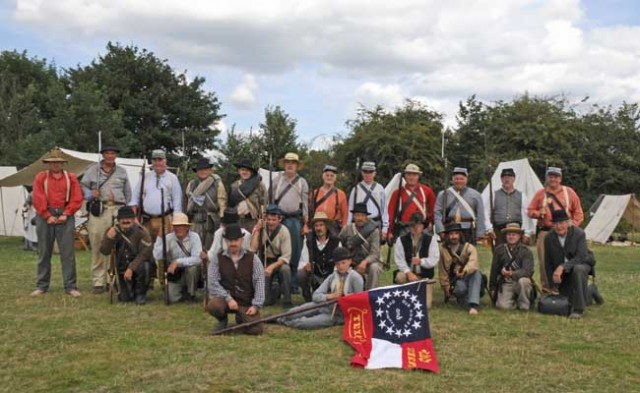 The last time I attended this event it was a very different animal based at Hylands House near Chelmsford. I owned an ex-Castle Martin BundeswehrVW Iltisin those long lost days and was enjoying crossing from a world behind the lens into one that still means so much to me. Prior to that the show had been at Tilbury Fort on the River Thames until English Heritage fell out of love with it. My son James and I had some memorable days there and I have snaps of him loading a Mauser rifle which firmly set him on a path of interest in classic firearms.
The show is now well established at Damyn's Hall aerodrome and I
am here to tell you that as an unabashed Johnny Come Lately I am really glad I made the journey for a day's visit on Sunday. The event is a bit like a small festival and despite all the hard work behind the scenes it has the feel of a thoroughly laid back chill-out.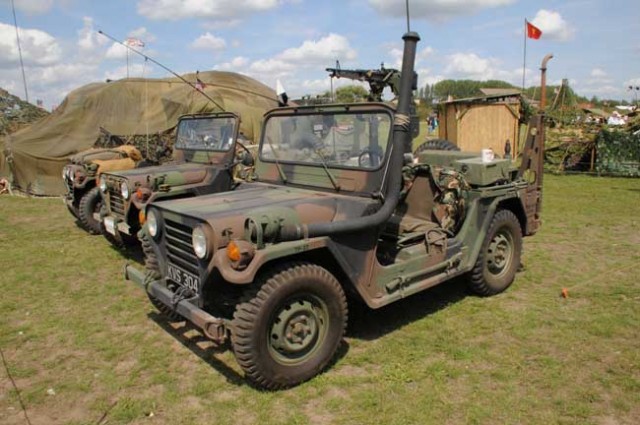 My MUTT is confined to the garage, but seeing three in a group made me determined to get the old girl up and running again. I had a chat with some of the owners and came away enthused about MV ownership after some difficult years. There were plenty of other vehicles – quite a few Land Rovers and jeeps, but without wanting to be churlish I didn't expect it to be any different. There was, in fact, plenty to look at when we include trucks and motorcycles in addition to a display of classic cars and other delights. The smattering of armour was kept busy and I had a quick jaunt round in Neil Plucknett's OT90, an unforgettable experience to say the least. Nigel, my fellow passenger enjoyed himself winding me up about how things would go. As it happens, a few circuits were exhilarating enough and I wobbled away from the experience wondering how Warsaw Pact troops coped clinging on to the things when they are going at full chat.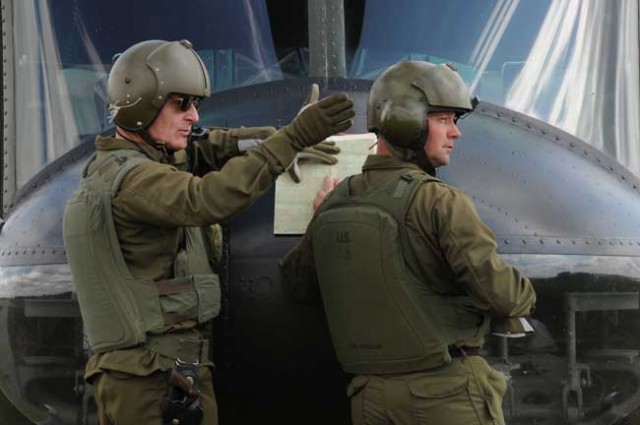 The living history stuff was all pretty casual and cheerful. The AfrikaKorps chaps were dressed for sunny weather and I was unsurprised to see our very own Phil Hodges modelling his favourite shorts again. The man is such a poser. A western camp included a large group of US Civil War types; a company of rebels from Texas and sundry gunslingers looking the part a long way from the wilder bits of the west. At one point a free for all battle took place in pure multi-period chaos straight out of a Tom Sharpe novel. It was great fun watching cowboys and Vikings knocking seven shades out of each other while someone let rip with a .50 cal. Totally bonkers, but in keeping with the spirit of the event in every sense of the word. It isn't every day you see warriors bombarded with fruit unleashed by an enemy armed with frying pans.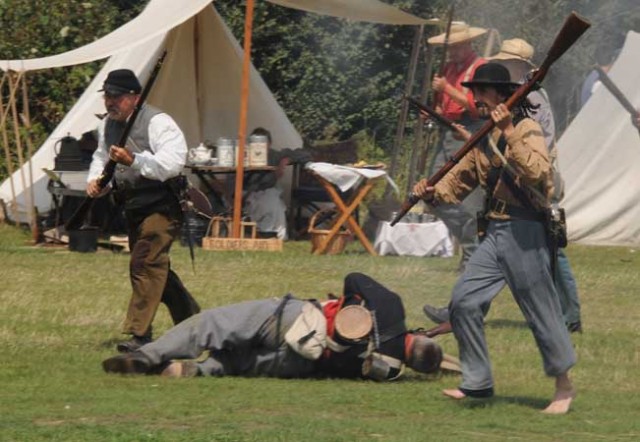 In truth, I had come to see the aircraft. I am trying to improve my aviation photography and this seemed like an ideal place. It was a hit and miss affair and when the Maurice Hammond owned P-51D Marinelle took to the skies I did not get one decent snap and I completely fluffed abonus pass made by a pair of Folland Gnats. I faired much better with a Tiger Moth and YaK 52 and then came the Douglas C-47 sporting invasion markings and I hit a seam of successful snapping.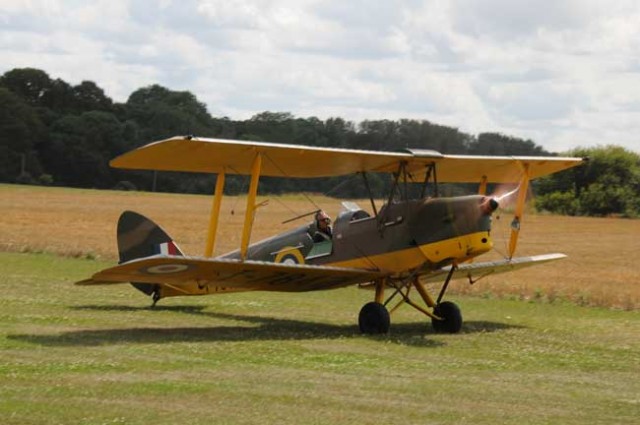 The afternoon was drawing on and I could not stay to see the Huey and a Spitfire. Long running trials recovering from a broken foot at Weymouth in June were taking their toll and I was getting a firm message that it was time to depart. The Dakota was making a few final passes over the aerodrome so I snapped off a few more frames from the car park before getting my lift home. The queue to get off site was building and it made sense to get a shift on.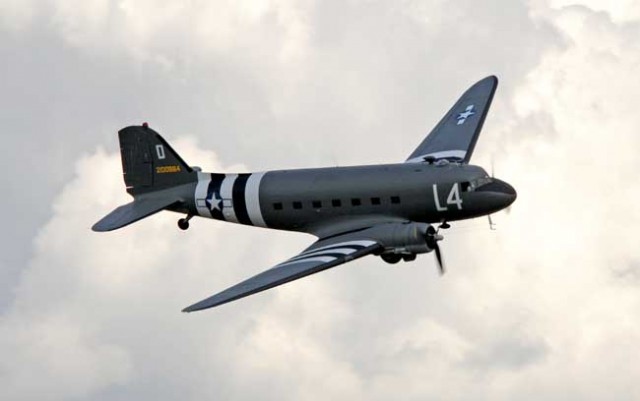 This compact but diverse two-day event takes place just inside the M25 motorway orbiting London. It is around a forty-minute drive from my house; so attending was a bit of a no brainer. I'd like to congratulate the organisers for putting on a really nice event where I managed to have a good chat with friends, drink their excellent teaand see some very shiny kit. Seventies car lovers will smile knowing I even found the battered remains of a Triumph Toledo hiding in a clearing to snap. Perfect!