I own one dark grey suit. My low fashion Swiss army knife, it does weddings, funerals, court appearances and invitations to the seat of national government. On Wednesday night my suit and I were ushered past airport style security into the Churchill Room of the Houses of Parliament. The security regime was polite but firm with not too many guns on view. I got off to a great start by spilling my loose change over the floor. I had a sympathetic audience but I could feel my face going the colour of my blood red tie. From there it was a matter of wondering through the splendour of the Palace of Westminster past more polite but firm eyes. Much of the important art seemed to be wrapped in plastic while renovations are in progress.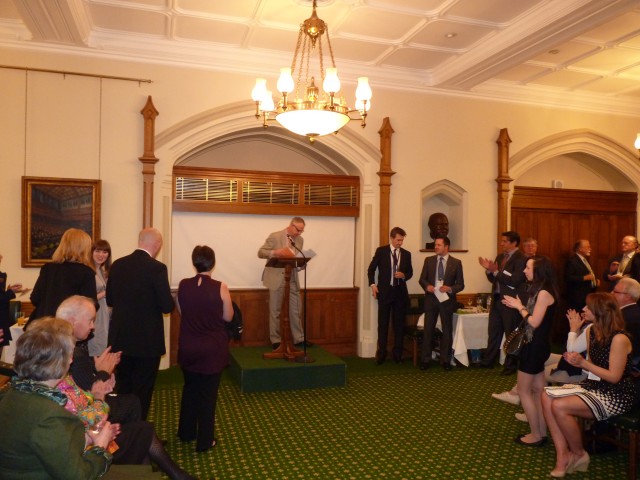 In the appointed room a bustle of the great, the good and the bemused had begun to gather. A scowling bronze of Churchill bore down on one of those surreal evenings I sometimes find myself a part of. How did I get here? Like I said, they invited me. It was an evening hosted by Dan Jarvis MP with the publishers Pen & Sword. It was a good night for Barnsley all round.
The serious side was to draw attention to the centenary of the Great War. Now there is a hot potato if ever there was one and I'm not short on opinions, but there didn't appear to be anyone in the room who was not of one mind about the importance of commemoration.
I drank my orange juice and enjoyed the canapés while making polite conversation with people guardedly curious about War History Online and heard opinions on the projected dominance of digital media as print predictably declines. I'm a firm advocate of the power of both and the dominance of Pen & Sword illustrates any real change is some considerable way off. Being new kids on our particular block makes invitations to events like this significant for us. The industry is beginning to take us seriously.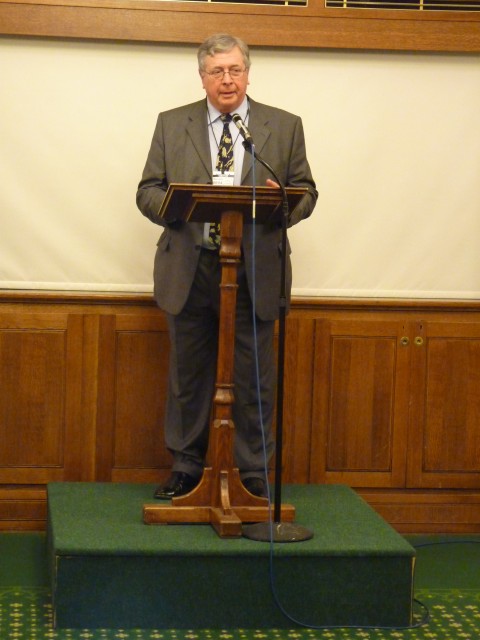 Our host Dan Jarvis got proceedings under way with an impressive and passionate introduction. He was followed by a cluster of speakers who chose different tacks to essentially give the message that this centenary should be all about the people who lived and died in the war. That line from John McCrae's In Flanders Fields does it for me; "If you break faith with us who die, we shall not sleep." Ok, I can see you rolling your eyes and thinking WTF is the Barnes on about? Well, it's simple. It isn't all about nationalities or winners and losers, it's about all the men ,women and children who paid a price because of a war that changed our world in more ways than we perhaps care to acknowledge or even vaguely appreciate today. It did so much more than ruin empires and make heroes of poets, it had a profound impact on every level of society and brought about lasting change to whole nations and peoples; freeing some while subjugating others. Its horrors were not confined to the smashed ribbon of land we call the trenches. It was a vast and terrible affront to all the progress many of the elites – the political and intellectual classes – took so much smug pride in. So, it's surely right that we take time to remember. Of course, how governments choose to do this is a moot point.
The speakers took turns to encourage ways we can all do this. You can wear your Poppy with pride for a fortnight in November. You can become a pilgrim on the battlefield trail where you can achieve a priceless kind of peace and connection with your ancestors or just get down to learning as much as you can about those terrible four years and the way they altered your world from the general media, books and with us at War History Online. I'd do the whole lot. Simple!
Humour should form a part of anything we do. It can't be all grim and tragic. War isn't funny but, as in any part of life, funny things happen. Jack Sheldon told the story of two men in a British observation balloon cut adrift by a German attack. The lost balloon drifted across the battlefield as it sank slowly until one of the hapless crew called down to the upward gaze of men below. "Where are we?" A voice replied "You're in a balloon." The man turned to his companion and said "He must be a staff officer." His mate nodded "Yes, you're right. He was prompt, entirely accurate and absolutely bloody useless."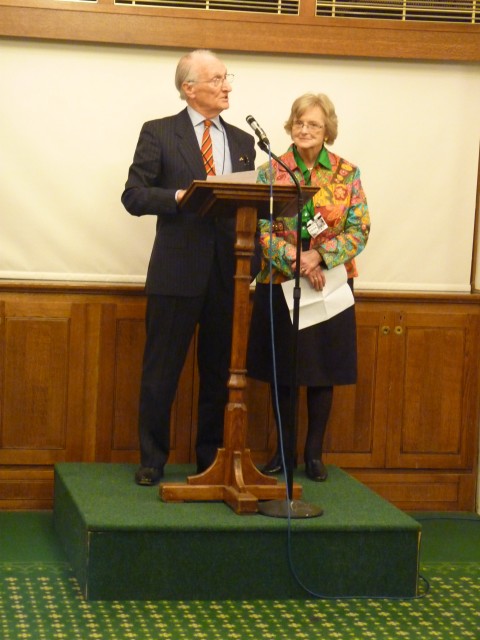 I had fun networking and meeting some of the people whose books fill the shelves of my house. I knew a few of them beforehand, but it was a real pleasure to chat with Tonie Holt who seems filled with a boundless enthusiasm for what he does. I'm going to Gallipoli this summer and he told me about a fisherman's hut on X Beach where I should spend a night with all the ghosts and a gas powered fridge. My grandfather served in the campaign and a big part of my visit will be looking out across a place he knew. It will strengthen a connection with a man who died before I was born but means the world to me. One of the speakers reminded us that interest in the Great War can start with a single photograph. I have one of my grandfather wearing his navy whites and I can see him there sweating in the engine room of the pre-Dreadnought HMS Canopus as her guns pounded the Turkish positions. The connection is real. The centenary matters. All you have to do is navigate through the inevitable deluge of tosh attached to it. Four years to go!
I am grateful to Pen & Sword and Dan Jarvis MP. They can take pleasure in having organised a truly memorable evening.
~Mark Barnes