The best laid plans of mice and men are always game for a laugh. The WHO command team had been planning a meet up between the three of us in Dorset to combine with Weymouth's victory weekend events. This involved the perpetually sunburnt Dutchman, Joris, flying in from somewhere unpronounceable and me driving over from sunny Essex to rendezvous with Jack in Dorchester, the likeable county town of Dorset. Such are the delights of the British roads system the flaming journey took me nearly six hours travelling round London and then heading southwest; a distance of little more than two hundred miles. But I got there in the end.
I really like Dorchester. It is a town I have liberated twice. I was there in 2010 on the first Armour & Embarkation – a most memorable experience running tanks and other vehicles through the place for a bemused and grateful public. We had to go back in 2012 because they got careless and we retook the town again.  On both trips I was recovering from either serious injury or illness. There is something about Dorset.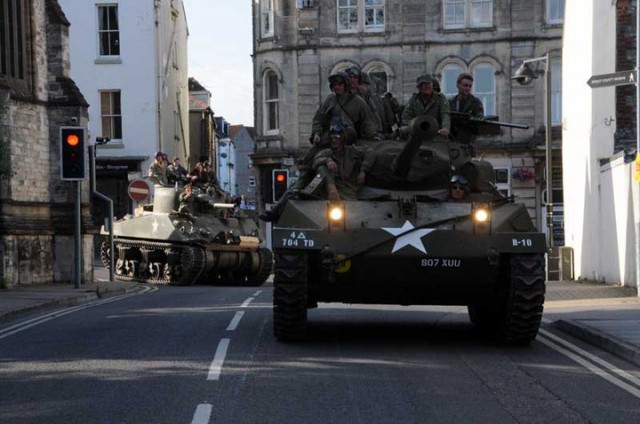 Having sorted out our admin I drove us into Weymouth where we found a suitable pub and got down to discussing the future of WHO. It was a glorious evening and so we decided to stroll down to the harbour past the point where the famous images of Rudder's Rangers were taken as they left England for Pointe du Hoc seventy years ago. Out on the beach the modern military were unloading kit to be used in the weekend's events and there was a buzz about the place.
We had a good night and spent the time casually insulting each other as mates do. It was all good fun and we actually got a lot sorted. Joris and I stayed at a very nice B&B in a place called June Whitfield where the affable landlady appeared to be watching the World Cup while winning a hand of online poker. Multitasking at it's best!
Saturday dawned bright, full of promise of a great day. We met up with our mate Jim Clark who had brought his Sherman and Mack NO truck for the event. The tank is one of the stars of Fury and we look forward to seeing her in it.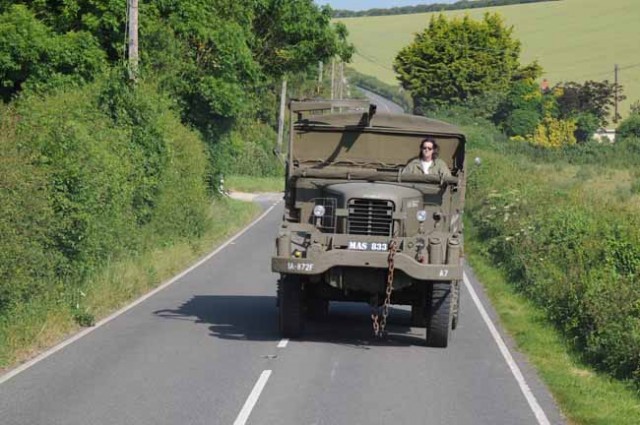 In all my time in this crazy world I had never ridden on a Sherman, so the offer of a ride into Weymouth was not to be missed. We had to do a quick change out of civvies into HBTs and I elected to keep on my ordinary brown shoes leaving my boots in the car. In no time we were off and Joris and I clung on the back, sometimes only just, as Jim drove the old girl down to the seafront. It was an exhilarating experience and I wish I had a photo of me on board. Unfortunately the only snaps I got were in my foot as I slid down the last few feet off the front on to the ground.
I walked about for forty-five minutes and had an essential cup of tea before it was apparent I was in serious difficulty. There followed the embarrassing scene of being taken in an ambulance by a trio of credulous paramedics.  I left my camera with Joris and he managed to get a few snaps of the day I was missing out on and I can report that one or two of them would pass the censor.
Service at Dorchester County Hospital was brisk and cheerful. It appears they don't get many old farts falling off tanks in the Accident & Emergency department. A kind nurse began to prep me for surgery but at some point an unseen hand intervened and decided I could get any essential care back in Essex. The only other person to talk to me was an inmate manacled to a couple of prison guards. It was a colourful scene to say the least. So, with nothing doing, off I took myself to Jack's house for a rest.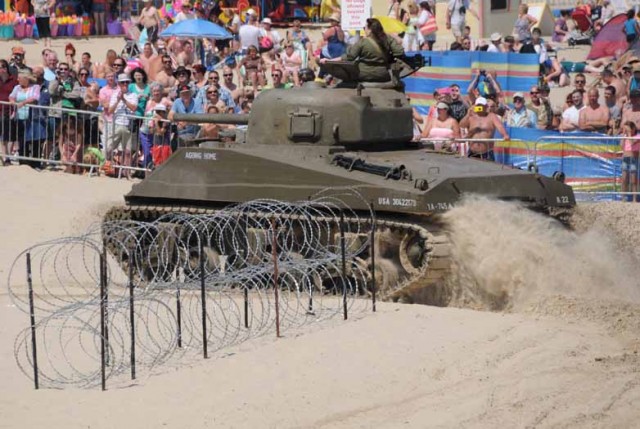 When the burnt Dutchman and Jack appeared we went straight out to get some dinner in a smart pub built on the former brewery site where we had parked up the tanks in 2010. I drank quite a lot of beer to dull the pain and clearly the other two had aches of their own – Joris being burnt red as a berry and Jack being Jack, his brain always hurts. Nuff said.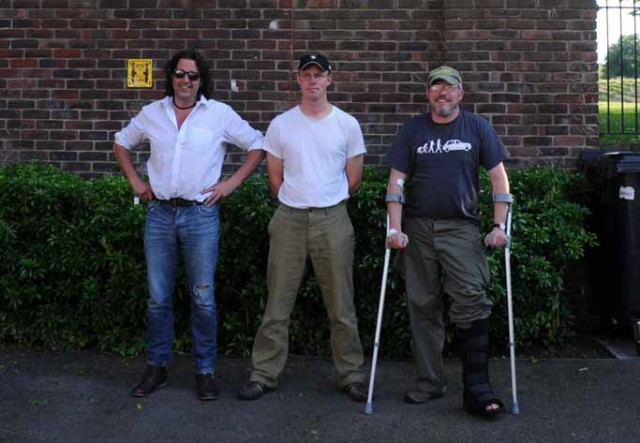 When Jack checked we were going to be ok at the B&B our landlady asked Is it the Dutch lad or the old bloke? Yeah, cheers for that, love.  A whizz at Texas Hold 'em and witty with it. Whodathunk?
We carried on with our discussions about WHO but whether it made any sense I do not know. There was a rash of taking selfies and trying to look cool amongst the Dorchester elite who had drifted in to find a burnt Dutchman, a cripple and a local irritant hogging their favourite booth near the bogs.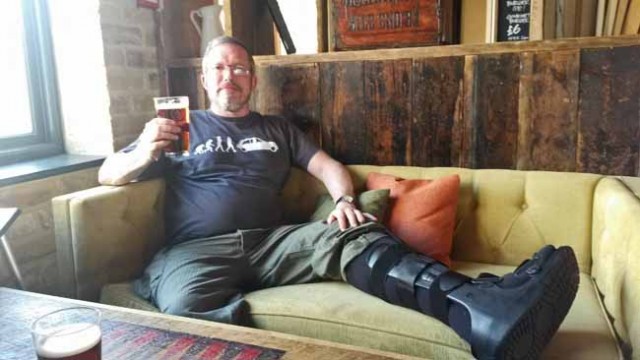 Somehow I managed to get back to June Whitfield and got into my bed.  The next morning our card shark landlady took herself away from the football highlights long enough to scoff at my situation.  Not only had she never had guests who played with tanks, she had never met a casualty of one. What odds would she have got on that double whammy? Joris glowed like a tomato and quietly spread Nutella on his sausages while she continued to laugh. What is it about the Dutch?
Back at the Sherman the witnesses of the disaster were intensely sympathetic. One of them even sent me a friend request on Facebook. What an impact I have on people! The priority for me was not the day's parade but getting my car and I back to Essex. A succession of increasingly frantic phone calls eventually bore fruit and I rolled out of Weymouth at just after two in the afternoon. In the meantime I watched the convoy leave and one kind soul in a Unimog gave me a sweetie.  The Sherman passed with everyone waving and smiling with Jack and Joris following up in the big Mack. The bastards didn't even wave. Tea and cake in a café was welcome. Sitting out on some grass a few passers by took me for a vagrant. It was one of those days.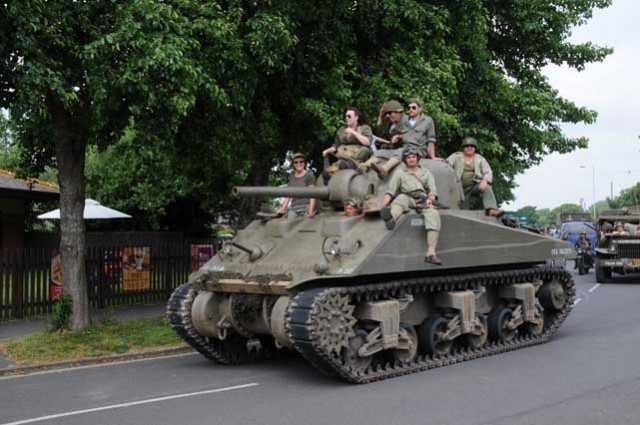 By 2000 hrs I was on my sofa with a big mug of tea and a plate of fish and chips. Things were improving. Jack texted me later that evening to remind me that although we have both done two A&Es; only I have done three. Cheers, Jack, you.. ( rhymes with dock).
Now I have a month off work to get myself healthy. No surgery required, but my foot looks like a bad omelette. One end of the break is worse than the other and at my age these things take longer to heal. I think my tank riding days may be over – but we'll have to see about that.
~Mark Barnes