This is an article on a U.S. Air Force veteran, who witnessed some very amazing event in Air Force history:
Veteran witnessed firsthand many historical Air Force events
By Jeremy P. Amick
In his modest apartment at Heisinger Bluffs Senior Living Community in Jefferson City, Mo., Joe Gibson flipped through an old photo album, recounting many of interesting experiences from his brief stint in the United States Air Force during the Korean War era.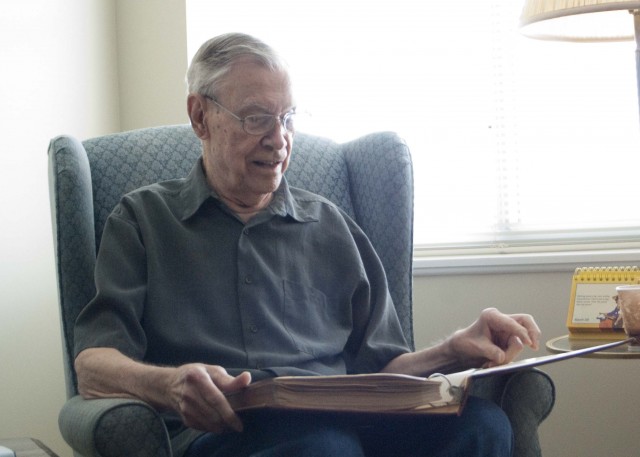 A native of Potosi, Mo., Gibson graduated from high school in 1947—and like many young men of the day, was focused on making a living in a post-Word War II rural community.
"I went to work at the high school for about three years," said Gibson, 84.
But as the veteran explained, the draft became a reality as the armed forces sought young men to serve in support of the conflict brewing in Korea.
"One of my friends was on the draft board and I asked him to at least give me a two-week notice if my name was selected (for the draft)," said Gibson. "He did, and I went ahead and enlisted in the Air Force."
In October 1950, Gibson traveled to Lackland Air Force Base, Texas, for his basic training, and from there continued on to Denver for advanced training in career guidance.
"One of the things we learned in the training was how to use the Dictionary of Occupational Titles, and to then categorize—based upon that—the various job positions of the airmen that we worked with," he said.
Gibson then transferred to his first and only duty assignment at Eglin AFB in Florida, working in the officer records section for the next three and a half years.
As the former airman explained, though the nature of his own duties were, at times, somewhat routine, Eglin was the sight of the Air Proving Ground Command, which provided him the opportunity to work with many interesting individuals.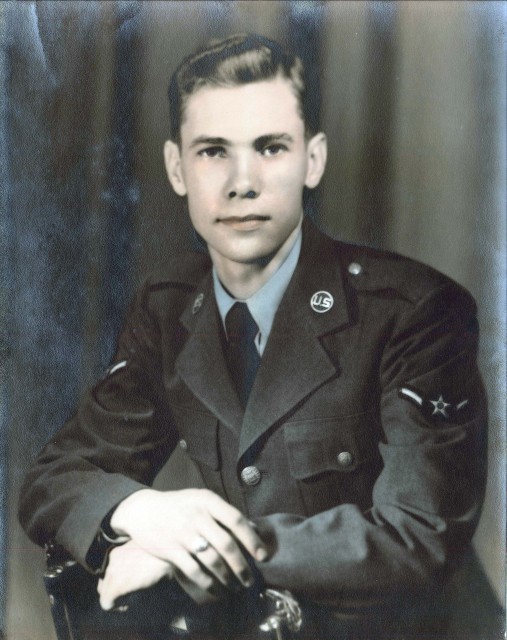 "There was one gentleman whose records I worked on—an older fella," laughed Gibson, "who was the oldest currently serving reservist … he had served in World War I."
Gibson also described many of the important events he witnessed when emerging technologies and weapons were being tested.
"Every few months we would have ceremonies where important people—like the president—would come and watch maneuvers," he said. "While I was (at Eglin), I got to see them test napalm bombs," which, he added, were later used during the Vietnam War.
"There were ranges used for testing and the planes would come screaming in at about 500 feet or so," Gibson continued. "They would drop the (napalm) bombs and then skip them into foxholes trying to demonstrate the most efficient use of the weapon."
The former airman notes that his duties also brought him face-to-face with one individual whose participation in a historic event was of worldwide consequence.
As part of his duties, he interviewed airmen to complete brief summaries of their service for inclusion in their personnel files. One such encounter captured the service of Paul Tibbets, who piloted the Enola Gay—the plane that dropped the atomic bomb on the Japanese city of Hiroshima.
"I stood in awe of Colonel Tibbets … of what he'd done in his career," said Gibson, smiling, when describing an encounter that occurred more than 60 years ago. "There I was, a (low ranking) airman questioning a legend about his past military affairs."
Gibson added: "Col. Tibbets was truly a humble man, dedicated to whatever mission he was given and fully understood the consequences of his actions (at Hiroshima)."
By 1954, the Korean War had come to a close and the Air Force began granting early releases to those who wanted to attend college. Taking advantage of the opportunity, Gibson left the service six weeks early and returned to the states to begin classes in Warrensburg, Mo.
Having been married while in the service, Gibson chose to leave college early to start a career to help support his growing family; first as a factory superintendent at Brown Shoe Company in St. Louis.
The veteran went on to work several years managing the custodial program for the hospital at Ft. Leonard Wood, Mo., before transferring to the National Records Center in St. Louis, from which he retired in 1991.
Now enjoying the relaxed pace of retirement, Gibson said the people he met during his Air Force service, blended with the opportunity to observe the unveiling of new technologies, are the highlights of his brief military journey.
"My job in the Air Force was often little more than that of a bookeeper—keeping records and personnel files," Gibson said. "But it did give me the chance to meet some very important individuals and observe major events in Air Force history.
"That was certainly the chance of a lifetime for me and the most exciting part of my time in the service," he concluded.
Jeremy P. Ämick writes on behalf of the Silver Star Families of America.
Jeremy P. Amick
Public Affairs Officer
Silver Star Families of America
www.silverstarfamilies.org
Cell: (573) 230-7456