D-Day 360
Our resident universal soldier, Phil Hodges, tells us about filming a groundbreaking documentary for PBS.
After years on the drawing board, D-Day was the most meticulously planned operation in military history – a logistical effort on a scale never seen before or since. On June 6, 1944, 3,000 planes dropped 23,000 airborne troops behind German lines, and 7,000 ships delivered around 20,000 military vehicles and 130,000 Allied soldiers, who stormed five heavily defended French beaches in an all-or-nothing assault on Nazi occupied Europe. Once on the shore, the troops had to negotiate two million mines buried in the sand, 46,000 fearsome beach obstacles and hundreds of miles of barbed wire, while dodging the shells and bullets fired by 40,000 German defenders.
So said the official trailer and synopsis for a new American documentary entitled D-DAY 360. The new documentary was filmed in the UK and on the actual beachheads of Normandy. It was commissioned by American TV giants PBS and made use of the most advanced filming technology to date. PBS reaches nearly 109 million viewers in The US alone. That's some viewing figures even for America.
However, on my mind whilst filming the documentary was how on Earth do I manage to get out of London's Shepperton Film Studios and home during the worst floods this country had seen for the last fifty years? As it happens, I reached home at 1am. For I was one of the lucky chosen ones stepping back in time and walking the paths of heroes ( and in my case villains) as I was filmed in glorious Technicolor and 'fighting' on D-Day.
I've been more than lucky in recent years in that I've managed to combine my passion for history and re-enacting with the odd filming role in documentaries. This in itself has been no easy task as the rule of thumb, be it for the BBC or Sky is detail, detail; detail. As a living historian I often add correct in front of the word. After all, who wants to sit and watch a documentary about ,say, the Dieppe raid and pick holes in kit or uniforms?
For D-Day 360 the guys and girls at Windfall Films and PBS focused on the most important strip of Omaha beach that day, the exit at Vierville-sur-Mer along the French coastline. This was to be the backdrop that covered the story of the Bedford Boys – a group of men who are iconic in the US for obvious reasons but perhaps not so well known here in the UK. The story of the Bedford Boys is both sad and humbling. The small community of Bedford, Virginia lost nineteen men on June 6, 1944, proportionally the United States' worst D-Day losses for any single town.
I was both fascinated and enthralled with the technology being used and soon discovered that instead of keeping my questions to myself we were encouraged to actually ask and have some input. We were asked for opinions on how kit would have been worn, the way weapons were carried and all the little things that turn a soldier like thousands of others around him into an identifiable human being and not a cog in a giant machine.
My role was somewhat harder, for amongst the dozen or so lads who were to portray the Bedford Boys I was the token German machine-gunning and mortaring away at all that moved. It was acting, but it was hard work both physically and mentally. This wasn't fiction. This was a real story, a real event, with real lives and real deaths. This was the story of the biggest show on the modern Earth. I don't think anyone involved lost sight of this and to watch the assorted dying scenes throughout the day and consequent later filming days was both upsetting and poignant. Man versus man, man versus machine and man versus nature; all the twists and turns and coincidences that a dozen of the best fiction writers couldn't come close to matching, even if they pooled their efforts.
The film takes advantage of light detection and ranging technology, or LiDAR, to re-create the landscape and allow viewers to switch effortlessly between the macro and the micro — pulling back for the big picture and zooming in to a close-up of a single soldier on the battlefield. It's a new approach and perspective that tells the story with details never before available
This was proper groundbreaking stuff, and furthermore I was in it!
D-Day was a logistical effort on a scale never seen before or since and its ambition and scope are reflected in the cutting-edge use of technology pioneered in this film," says Ian Duncan, film director and Creative Director of Windfall Films. "Conveying the sheer scale of the D-Day operation is at the heart of our radical approach to the graphics."
Hallelujah to that Ian!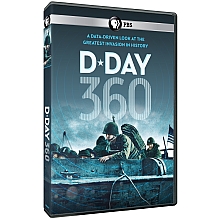 Produced by Glenn Swift and Directed by Ian Duncan for Windfall Films, D-DAY 360 is available to buy on DVD at shop.pbs.org
~By Phil Hodges for War History Online