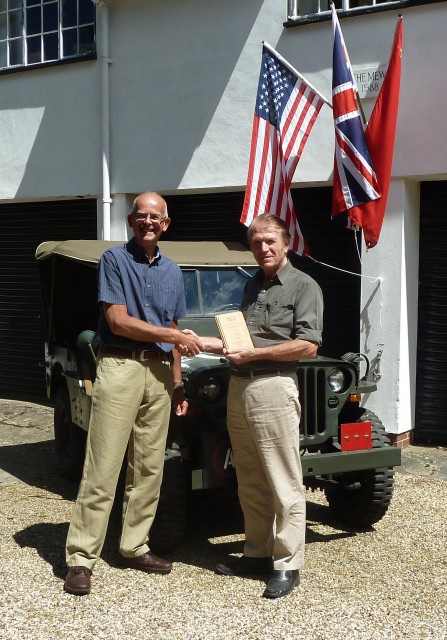 After the Battle is pleased to announce that John Blackman has been nominated for the Bart Vanderveen Award for 2014 which was presented to him at After the Battle HQ on July 14, 2014.
John has enjoyed a life-long passion for photography but it became clear to him that the easiest way to get an image published was to write words to accompany it. So for many years he moonlighted from his nine to five job by submitting articles — mainly aviation related — to a range of magazines. And it was at air shows that he first became acquainted with the military vehicle scene.
In 1994 he accompanied a group of MV enthusiasts to Normandy for the 50th anniversary of D-Day which was the catalyst for his first book on MVs: World War 2 Allied Vehicles. John admits that he drew heavily on Bart Vanderveen's publications and that Bart's Historic Military Vehicles Directory, published by After the Battle, is still the most thumbed publication on his bookshelf.
A second book, Heavy Metal, followed in 1998 and he was later asked to contribute to Classic Military Vehicle magazine when it was launched in 2001 before being appointed editor in March 2007.
John says that he has always strived to portray military vehicles with the same care and passion that one would expect to see lavished on classic cars, and to make the text that accompanies the photos not just factual, but as entertaining and easy to digest as possible.  In his view it isn't enough for a magazine to inform, it must also enthuse.
An editor of an enthusiast magazine is invariably a one-man band and it tends to rule one's life, so this year, after seven years at the helm, John decided to retire from Classic Military Vehicle, the June issue being his last.
'Nevertheless, he says, 'I'll still be around the MV scene doing the things I enjoy – taking pics and chatting to people – but letting someone else worry about deadlines, proofing and budgets!'
Over the years John has photographed many recipients of the Bart Vanderveen award but he says that he never expected the prestigious award to come his way. 'That it has, is a delight, particularly since I know the nominations come from MV enthusiasts, people I admire for their ability to restore a rusting tangle of metal to its former glory. All I ever did was photograph and write about the results of their hard work . . . and that's easy in comparison.'