Former U.S. Navy Vessel Named in Honor of Missouri WWII Veteran:
USS Amick DE-168
By Jeremy P. Amick
As a young man coming to age in pre-World War II small-town America, mid-Missouri resident Eugene "Gene" Earle Amick, Jr. possessed a strong sense of family, duty and patriotism.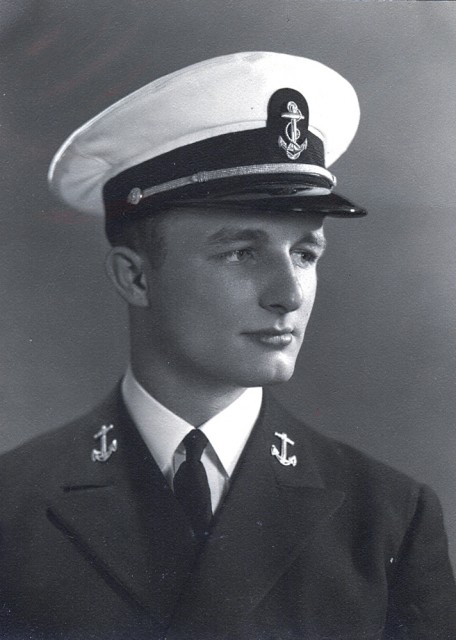 Born in Boonville, Mo., on January 26, 1919, Amick served as both a mentor and role model for his younger sister, Joanne Amick Comer, who now resides in Texas. She recalls the genuine interest her older brother often displayed regarding her well-being.
"Gene taught me how to ice skate on a lake in a nearby park, taught me that if I punched a hole in a top of a soft drink bottle and sucked my soft drink through the hole it would last longer…and taught me how to play touch football," recalled his younger sibling.
The interest in his young sister did diminish with the passing years. Even after Gene left to attend college—which included studies at the University of Missouri- Kansas City and William Jewell College (graduating from the latter in 1941)—he assisted his sister in establishing her own soda pop stand and allowed her to retain any profits; so long as she did not consume too much of the product between her sales.
Gene eventually joined the Navy Reserve less than three months prior to the attack on Pearl Harbor. Amick completed his initial training and was appointed as a midshipman in February of 1942. He was then commissioned as an ensign on May 14, 1942, after successful completion of the officers' candidate course at the U.S. Naval Reserve Midshipman's School at Northwestern University.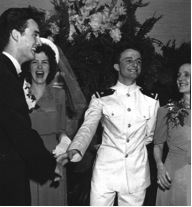 Following his departure for military service, Gene continued to provide guidance to his younger sister. She recalls her brother giving her a Tootsie Toy naval fleet upon his departure for training and explaining to her the proper placement of the ships within the fleet so to best protect the battleships.
Comer (his sister) fondly recalls keeping a small flag fastened to a wall above the bookcase on which her diminutive fleet rested—and the letters she received from her brother, while he was out to sea, encouraging her to keep the flag flying high above the fleet of which he was now a part.
Ensign Amick was married on May 17, 1942, just a week prior to reporting to his new assignment as the communications officer onboard the USS Astoria.
During August of 1942—just three months following his marriage—the young officer's cruiser was attacked by the Japanese while attempting to protect American beachheads off of Savo Island, which is part of the Solomon Island chain off of Guadalcanal.
During the shelling that ensued, Radio Station No. 1 was demolished and all hands killed—Ensign Amick was commanding radio station No. 2. In order to get his radio station up and running so that communications could be reestablished, Amick realized he would need two communication reels, located in the now demolished first station.
The ensign dashed through a barrage of shellfire and miraculously reached the first station where he was able to locate the two reels. But when making the return trip to the second station, he was struck by shellfire and killed instantly. A fellow sailor told Gene's father that when his son's body was found, the young ensign was still clutching both reels.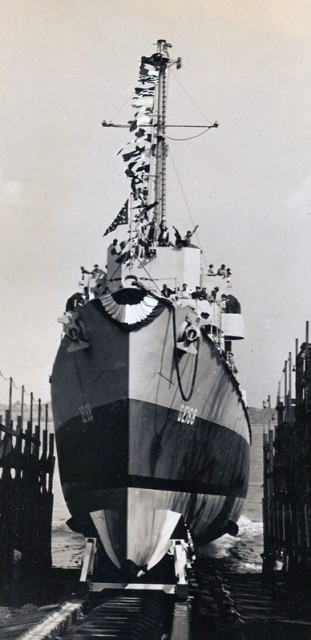 In honor of the young sailor's bravery and ultimate sacrifice, the U.S. Navy chose to name a ship in his honor: the USS Amick (DE-168). The ship was laid down on November 30, 1942 (meaning the first parts of the keel were placed on the dry dock where the ship was to be built) and officially launched on May 27, 1943.
The destroyer escort served the remainder of the war and on September 2, 1945, she eventually played host to the unconditional surrender of the Palau Islands by Japanese forces —the same date of the formal surrender by Japan aboard the USS Missouri in Tokyo Bay.
The USS Amick served in various naval capacities where it even operated as part of the Japanese Maritime Self-Defense Force. The aging vessel was sold to the Republic of Philippines in 1976 and—according to online naval sources—was scrapped in 1989.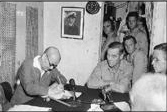 A handful of former sailors who served on board the USS Amick attended a reunion a few years ago and dedicated a plaque at the National Museum of the Pacific War in honor of the vessel.
From the annals of Second World War arose several accounts of heroism by young men and women who would never again witness the shores of America.
Many of these sacrifices have been preserved for posterity; however, few servicemembers have been bestowed such a tribute as to have a naval vessel christened in their honor.
Though the USS Amick may have been relegated to the scrap yard of distant memory, the sacrifices made by a young Mid-Missouri native in securing our precious freedoms resonates as loudly now as it did more than seven decades ago.
Jeremy P. Ämick writes on behalf of the Silver Star Families of America
Silver Star Families of America
www.silverstarfamilies.org
Cell: (573) 230-7456