Hannibal Barca – he crossed the Alps with elephants, supposedly took a sworn oath to forever hate the Romans, and inflicted some of the worst defeats the Romans ever suffered on their own soil. He certainly ranks among the all-time greatest generals, and although many historians know the broad history of Hannibal, there are probably a lot of amazing details about the genius tactician that few people know about.
5. He lost an Eye Early in his Campaign Against Rome
Most statues and paintings of Hannibal do not show him with an eye-patch. Though those of him crossing the Alps are correct, many other later ones are not, as Hannibal lost vision in one eye after just the first major battle in Italy. After winning the battle of the Trebia River, Hannibal had two options.
He could proceed down the east coast of Italy, marching quickly and efficiently along dry, flat country, but would run into large and well-prepared Roman armies. His other option was taking a crossing of the Apennine Mountains that emptied into a massive swamp to surprise the Romans and take the battle to central Italy.
Hannibal chose the swamp route, much to the detriment of the men and animals. Hooves and feet rotted in the constant exposure to water over days of marching. The water was so evenly distributed that there wasn't a place to sleep, so when Hannibal got a nasty infection in his right eye, he simply bore it until dry land was found.
A few days later and the damage was irreversible, Hannibal suffered along with his men and took no special treatment. His eye-patch would be a constant reminder of this and he would continually win the respect and loyalty of his men.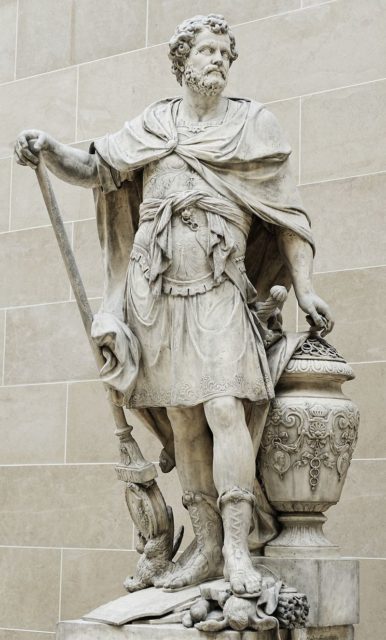 4. He Rode on an Elephant
There are quite a few works of art depicting Hannibal on an elephant, but did he actually ride them? He most certainly did. Many of Hannibal's elephants were of the smaller African variety, though there seems to have been at least one large Asian elephant as well. This large elephant seemed to have been the mount of choice for Hannibal. The elephant was named Surus, meaning "The Syrian" and was missing a tusk.
Hannibal likely rode the elephant as a status symbol. He recruited mercenaries from Spain and Gaul. The Gauls were often fickle with their alliances, and so the impressive show of a commander riding in on a massive elephant would help ensure that they would give continued loyalty.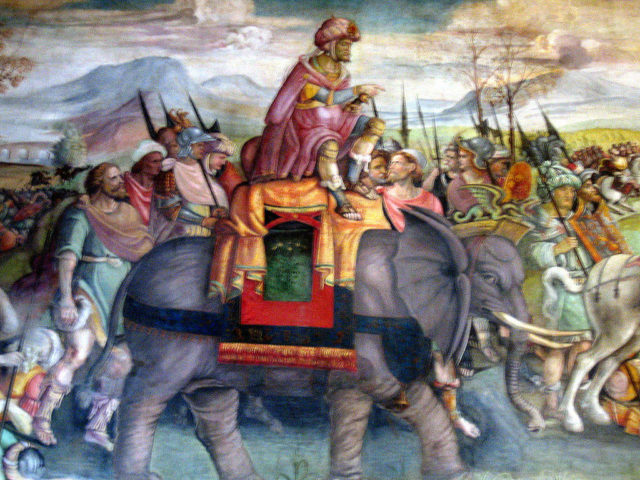 Hannibal rode the elephant through the swamps mentioned above and after he lost his eye he often rode into battle on his elephant to get a better view of the battlefield. At Cannae, especially, Hannibal was right behind his critically-positioned center, and his elevated view gave him the ability to send out precisely timed orders to his flanking units.
It is hard to tell how long Surus stayed alive as accounts of Hannibal's elephants are conflicting and heavily debated. Surus may have died in the very first winter in Italy, or maybe it (likely a female) traveled all through Italy and back to Africa with Hannibal.
As a side note, both Livy and Polybius describe an elaborate method used to get the elephants across the Rhone river before crossing the Alps. Hannibal supposedly decorated the great barges to look like an extension of the land, with trees and earth. He then led a female elephant to the barge, causing the males to follow.
This is somewhat represented in the article's cover image, though the reality was likely much more simple. Elephants are natural swimmers able to handle strong currents with ease. The elephants were probably just goaded to cross, though that may have required some special effort as well.
3. He Threw Venomous Snakes at His Enemies
How many people know what Hannibal got up to after the war with Rome? He was certainly a distinguished leader and general, but his side lost. Soon after the war he became a wanted man and fled to the East to sell his service to foreign kings eager to have a wise tactician.
After bouncing from King to King, Prusias I of Bithynia, in modern Turkey, took Hannibal in. As a naval commander, Hannibal soon faced the much larger fleet under King Eumenes of Pergamon. He knew the king would be there, but wasn't sure which ship was his. He sent a message to the king, the messengers revealing where the King's ship was. He also sent men out to fill clay pots with as many poisonous snakes as they could find, and Turkey was beyond full of all things poisonous.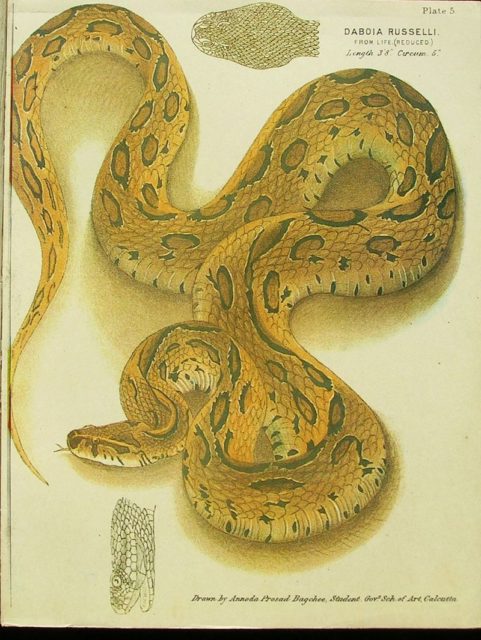 Once battle commenced, Hannibal sent a few swift ships straight at Eumenes' ship with the snake pots. The clay pots were thrown and shattered all over the deck of the commanding ship. The guards of Eumenes at first laughed at the harmless projectiles but soon panicked as they had nowhere to run from the very angry snakes. Eumenes and his ship were soon overrun, and it was captured or sunk very soon after. A little-known bit of tactical trickery from the aging Hannibal.
2. He Tied Fire on Oxen to Create a Fake Army
It wasn't very common for Hannibal to be in a terrible position, but the cautious and calculating Fabius Maximus eventually managed to trap Hannibal in a low field known as Ager Falernus. Hannibal was led here from mistranslated directions from his guide and interpreter. Once here, Hannibal faced Romans on the hills, covering every avenue of escape. He needed to do something drastic to escape with his life.
Hannibal devised a plan and waited for the cover of night. Gathering up about 2,000 oxen, Hannibal, and his men tied bundles of wood to the horns of the animals and set the wood on fire. The Oxen were driven away as a massive and elaborate diversion while Hannibal's men pushed through the weakest pass.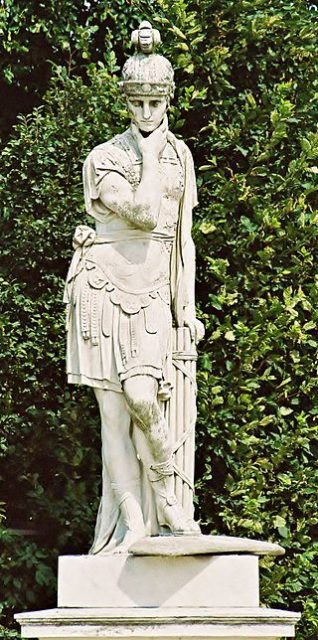 The Romans were seriously confused as they saw what appeared to be an army on the move, but also heard sounds of combat elsewhere. Ultimately, Fabius was too cautious and decided to remain in a defensive position, letting Hannibal push through the isolated and unreinforced pass to safety.
1. He Broke Boulders with Fire and Wine or Vinegar
Hannibal's trek through the Alps was quite the ordeal. He faced hostile and tough mountain tribes and lost countless men and animals to terrifying falls. Supposedly, Hannibal was able to show his men a view of Italy at the top to liven their spirits for the descent. The rise in morale would be short lived as rockslides blocked normal paths and freezing cold and ice made the trip down as dangerous as the ascent, if not more so.
In one particularly treacherous area, Hannibal had enough and decided to take out the rocks once and for all. His men were exhausted, so old-fashioned hard labor was all but out, thus Hannibal worked with the elements. He lit a massive fire on and around the big boulders to get them as hot as could be.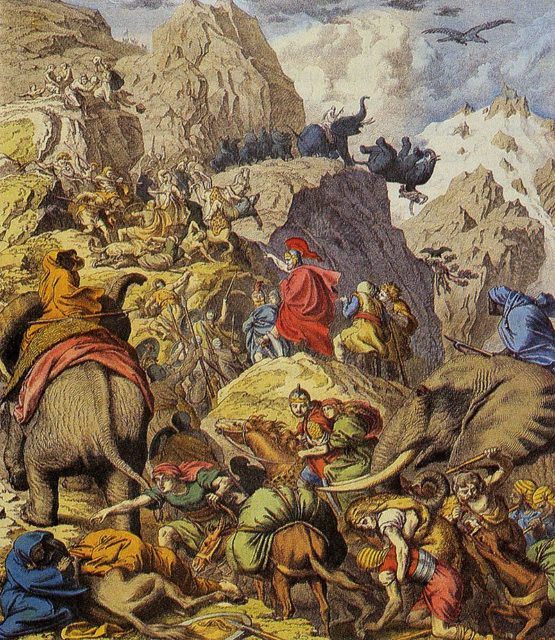 After this, he quickly extinguished the fire by throwing vats of old wine/vinegar on the stones. The transition from being as hot as fire to being freezing cold soon cracked the giant rocks. As cracks formed it became easier to get more wine and water into the cracks where it soon froze and expanded to crack the boulders even further.
After employing a little labor to move the rocks and pick away at the weakened stone, Hannibal's army was able to take a much easier path down to Italy.