Michael Augustine Healy was the first African-American man to command a US ship. He was well known and well respected for his actions off the Alaskan coastline towards the end of the 19th century.
He joined the US Revenue Cutter Service in 1865 while the American Civil War raged, and served until 1903, an incredible career. During that time he represented the Federal Government in Alaska.
Much like his career, Healy's background and upbringing were remarkable. He was born to a mixed-race slave mother and Irish immigrant father outside Macon, Georgia in 1839. Due to his mother's slave status, he and his siblings were considered slaves under Georgia law and therefore barred from education. However, because of their mixed background, they could pass for white outside Georgia, and were sent north for their schooling.
Michael attended the Holy Cross school in Worcester, Massachusetts but was often rebellious and did not enjoy it. He was then sent to France to attend a seminary in 1854, but again the young man rebelled. Traveling to England, he signed on as a cabin boy on the American East India clipper Junma and discovered his place in life was at sea.
Ten years later in 1864, Healy applied for a commission in the United States Revenue Cutter Service. He was accepted and commissioned as a 3rd Lieutenant in 1865. He first traveled to Alaska in 1867, and in 1870 served out of New Bedford, Massachusetts, where he became very familiar with the American whaling fleet. By 1881 he had his first command, US Revenue Cutter Rush.
The Bering Sea and Alaskan coast are often treacherous to sailors who are not prepared for them, and Healy demanded excellence from his crew. The officers and men who served with him often thought he was difficult to work with and his demands exacting. He earned a reputation for being one of the toughest, but most successful captains on the Alaskan station; he had a job to do, and he would be damned if the weather would get in the way!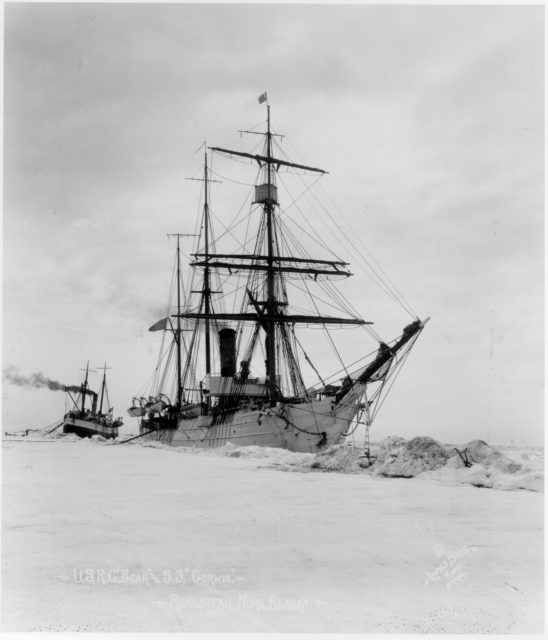 He certainly earned his nickname, "Hell Roaring Mike".
Despite his gruffness, Healy had a genuinely compassionate heart. Whether it was from his church schooling or his troubled upbringing, Captain Healy could never turn away from a person in distress. If it was a whaling ship caught in a gale, or native people in need of food or protection, Healy, and his Revenue Cutter Bear (which he commanded from 1886 to 1895) would be on the scene.
He also assisted with the introduction of reindeer to the Alaskan frontier in 1894.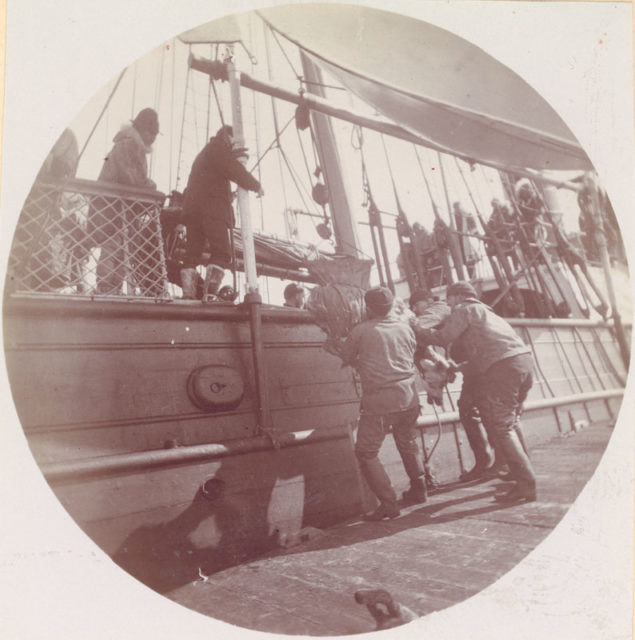 Overfishing and whaling had depleted the native population's main food supply, and Healy, who had observed Reindeer being used by indigenous people in Siberia, transported a herd of the large animals across the Bering Sea. It not only helped to avoid a famine among the natives but eased tensions between them and the American whaling and fishing fleets.
Constantly battling the elements would wear down any man, and Healy was not without his weaknesses. He slowly succumbed to alcoholism and was court-martialed for it and other grievances. He was moved to the bottom of the Captains' advancement list and placed out of service for four years in 1896. In 1902, he was back in Alaskan waters for one final voyage aboard USRC Thetis, until his mandatory retirement in 1903.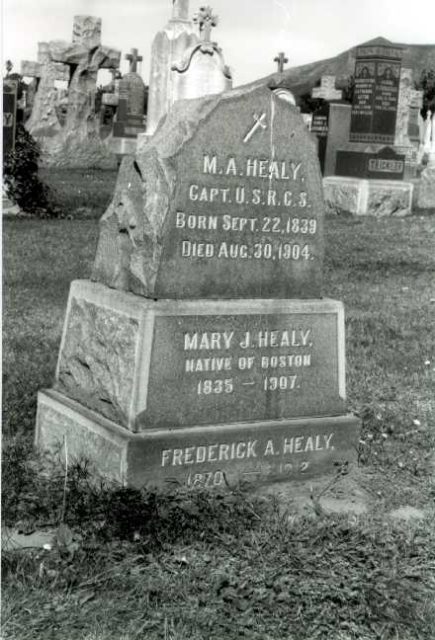 It has been said that once a man has sailed the seas he is unfit for life on land, and Captain Healy was no exception.
Within a year of leaving the service to which he had dedicated 38 years of his life, Micheal Augustine Healy died. His dedication to his fellow sailors, the people of Alaska, and the excellence he demanded from his crew are a lasting example to all those who risk their lives to help others, whether in a battle against a foe, or the elements.