On November 2, 1942, British and Commonwealth troops broke through the German lines, heralding a climactic moment in the Second Battle of El Alamein.
Heroic duels on the scorching desert sand, brilliant strategists, and warriors that remind us of the knightly fighters of old: the fight in North Africa during WWII was in some respects a myth along the lines of Arthurian tales, even while it was taking place over 70 years ago.
It was the fight between Field Marshal Erwin Rommel's feared and respected Afrika Korps and General Bernhard Montgomery's Desert Rats.
Nazi Germany's Adolf Hitler had hesitated for a long time to intervene in the North African theater of war. His primary focus for 1941 was the long-awaited invasion of the Soviet Union.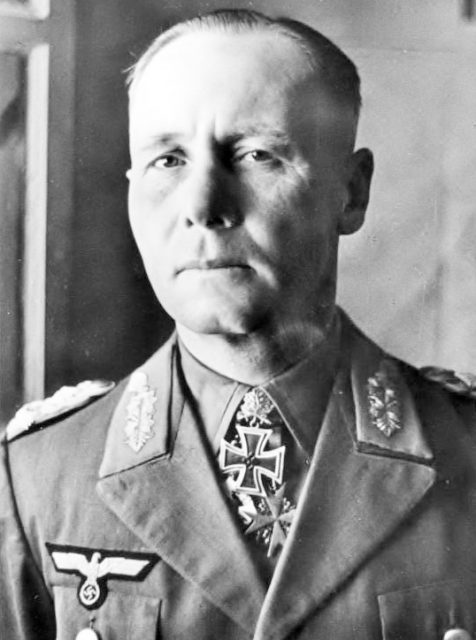 However, south of the Mediterranean, the Italian army, which had attacked Egypt in September 1940, was increasingly in dire straits. British forces had invaded Italy's colony of Libya in a decisive counter-offensive. The reputation of Italian dictator Benito Mussolini, Hitler's ally, was at stake.
So, on February 12, 1941, Hitler sent one of his ablest commanders in support of the Italians. Erwin Rommel landed in Tripoli and took command of the German forces there, marking the foundation of the legend that would soon come to be known as the Desert Fox and his much-feared and lauded Afrika Korps.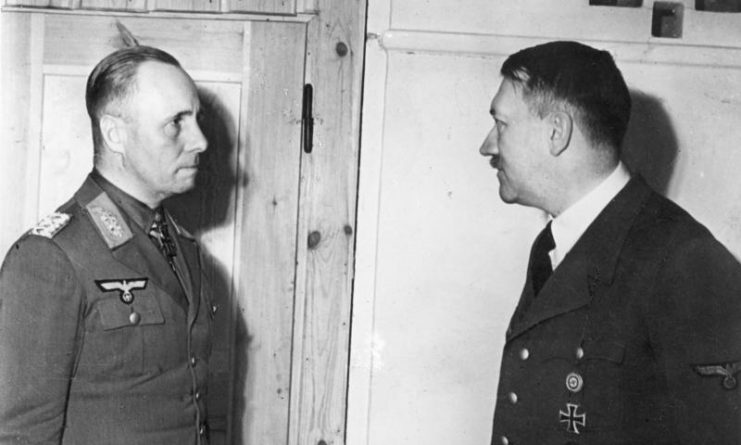 Forty days after his arrival in Africa and before the bulk of his forces had landed, the Desert Fox attacked. With blitzkrieg élan, the Germans recaptured Cyrenaica and the fortress at Tobruk. Within three weeks, the Afrika Korps had pushed about 500 miles east to the Egyptian border. Rommel was promoted to the rank of field marshal for his daring and success.
For a long time, Hitler regarded Africa merely as a secondary site of the war. Therefore only a small part of the German army was deployed there. Nevertheless, the so-called Africa Campaign played a significant role in Nazi propaganda.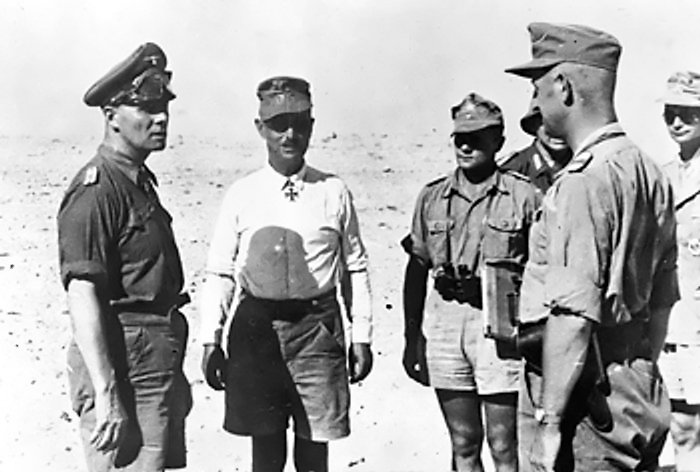 The fight in North Africa offered Goebbels, the Reichs Minister for Propaganda and Public Enlightenment, an ideal setting for his propaganda machine. The romantic notion of Rommel and his Afrika Korps thundering across the desert under an African sun with panzer divisions with swooping panache was far more appealing to the public at home than the bleak expanses of the Soviet Union.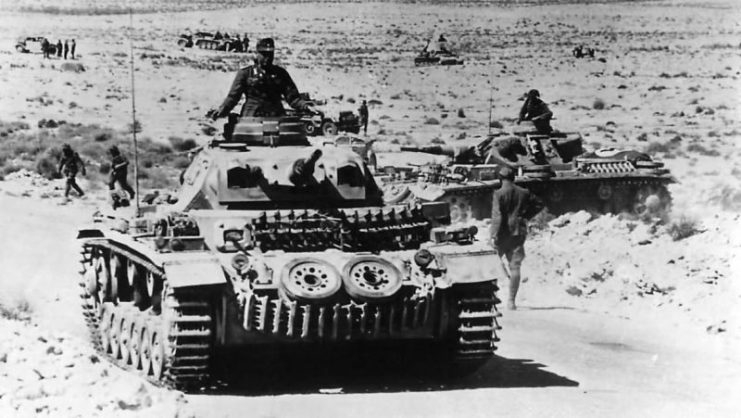 The Afrika Korp's exploits even inspired a marching song, "Die Panzer Rollen in Afrika Vor," or "The Tanks Are Rolling in Africa":
"Panzer des Führers ihr Britten habt acht!

Die sind zu eurer Vernichtung erdacht!

Sie fürchten vor Tod und vor Teufel sich nicht!

an ihnen der britische Hochmut zerbricht!

Es rasseln die Ketten, es dröhnt der Motor

Panzer rollen in Afrika vor!

Panzer rollen in Afrika vor!"
Translated into English, it goes:
"The Führer's Panzers, beware you British!

They are made with your destruction in mind!

They fear neither death nor the devil!

Let British pride be vanquished!

The tracks are rattling; the motors are humming!

The Panzers are rolling in Africa!

The Panzers are rolling in Africa!"

Afrika Korps, Anti-tank unit pulling a 37 mm gun comes to a halt.Photo: Bundesarchiv, Bild 101I-782-0016-34A / Moosmüller / CC-BY-SA 3.0
But not even the most talented tactician and crack troops can fight without sufficient supplies, equipment, and manpower. It did not take long for the British to regain their footing in northern Africa thanks to a massive influx of new tanks, reinforcements, and a new commander.
General Bernard Montgomery had twice as many men and tanks compared to the fearsome Afrika Korps. On November 2, 1942, British and Commonwealth troops broke through the German lines, heralding a climactic moment in the Second Battle of El Alamein.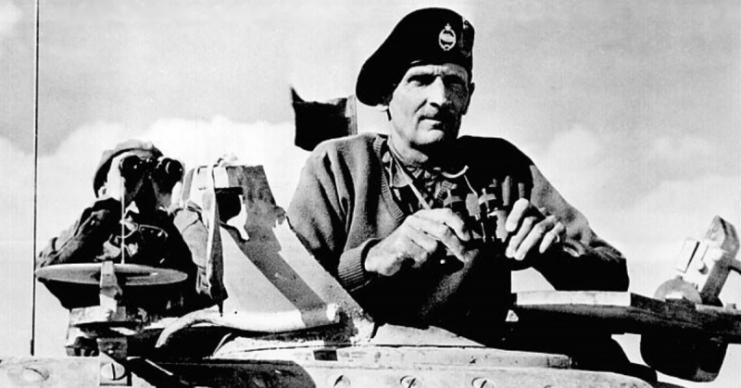 Not only did this defeat crush the Afrika Korp's hopes of a comeback, but it was also the start of an irreconcilable rift between the Führer and his former star general.
After the defeat at Al-Alamein, it was only a matter of time before the Allies annihilated the Afrika Korps completely.
On November 8, 1942, during Operation Torch, Anglo-American troops landed in Morocco and Algeria, resulting in a two-front war in Africa. Despite many US setbacks, this made the situation in the African theater of war more difficult for the German and Italian troops.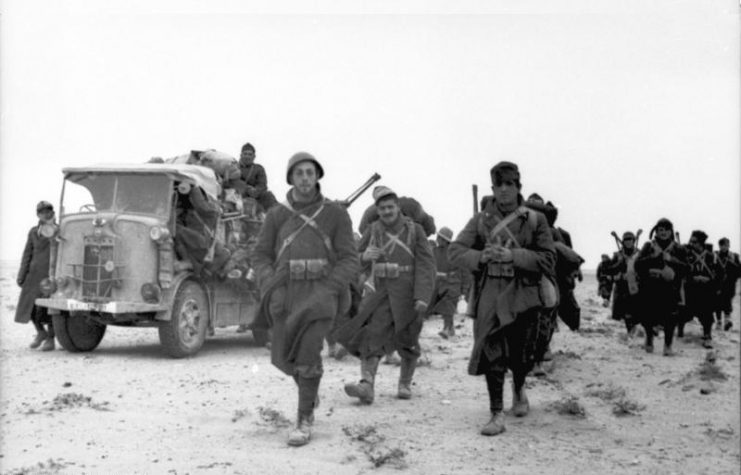 Germany and Italy, therefore, moved more troops to Tunisia, where the armored divisions and infantry had retreated. Given the hopeless situation, the German and Italian soldiers capitulated on May 12-13, 1943.
As a result of the failure to get these forces back to Italy in time, 150,000 Germans and about 125,000 Italians were taken prisoner. In Germany, one spoke behind closed doors of "Tunisgrad," in reference to the Battle of Stalingrad which had taken place only months earlier. Tunisia was one of Nazi Germany's most ignominious defeats.
Read another story from us: "Desert Fox" – Field Marshal Rommel in Photos
For the brave men of the Afrika Korps, the war was over. Their dashing commander, Erwin Rommel, had been called back to Germany before the surrender to save his reputation of invincibility.
His men ended up spending the rest of the war in POW camps at Camp Shelby in Mississippi, Camp Hearne in Texas, and other locations in the US. Their defeat marked the end of both a legend and a thorn in Prime Minister Churchill's side.
We hope you enjoy our content. We think it's important to keep war history alive. If you do too, please consider becoming a supporter. Thanks.
Become a Supporter