Clearly, the deputy chief and photographer of the National Park Service's Submerged Resources Centre (SRC) has been touched by the latest images from the sunken battleship USS Arizona, which has lain at the bottom of Pearl Harbour since December 7, 1941.
Brett Seymour, viewing recent images from remotely operated vehicles says the most striking find was a jacket hanging in an officer's quarters.
It was clean, not covered in sediment, and hadn't fallen off the hangar. It was there, standing proud.
Seymour was part of a team which was comprised of the NPS and National Geographic photographers that for ten days documented the interior first and second decks of the 608-foot long battleship.
The ROV, custom built by Marine Imaging Technologies and the Woods Hole Oceanographic Institute, amassed scientific data such as levels of dissolved oxygen, pH, and salinity in addition to samples of oil, microbiology, and sediment.  A Harvard University lab will analyze the results for the next half-year.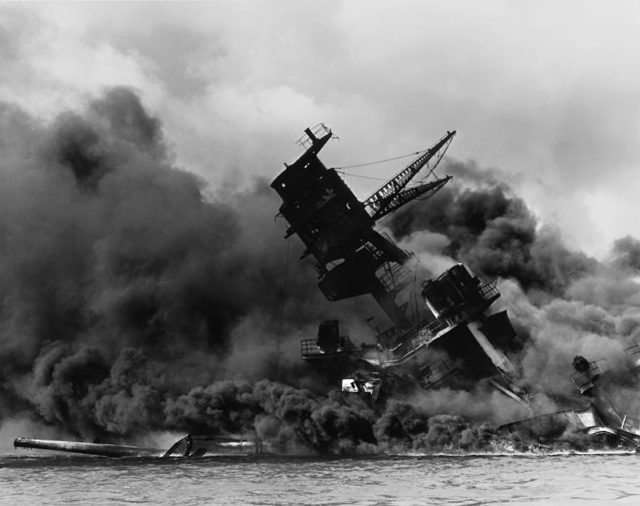 The battleship is the most studied shipwreck in the world. Initially mapped in the 1980s, the Arizona's lifespan and condition were analyzed, but the ship's interior had to wait for technology to improve, National Geographic reported.
Seymour said the low levels of dissolved oxygen in the water, in addition to the protective cover provided by marine life, helped preserve the contents and the ship. Much of the water is over 80 percent dissolved oxygen which can quickly decay a vessel. But as the ROV went lower and lower, the levels of dissolved oxygen kept dropping precipitously. The oxygen level in some cabins on the third deck was only four percent.
They've always suspected that would account for the preservation. Now they have the science to understand why.
The next stage is to penetrate under the third deck. When that occurs, said Seymour, the questions remains that goes back to the park service's first mission statement: how to leave the area unsoiled for the future? How can the Arizona be protected, interpreted and preserved without doing harm?
The Arizona has a soul. It's the only shipwreck in his 20-year career and 400 dives where a person can feel an emotional, personal connection. The vessel is not just a shipwreck. It's THE shipwreck. It's the USS Arizona.