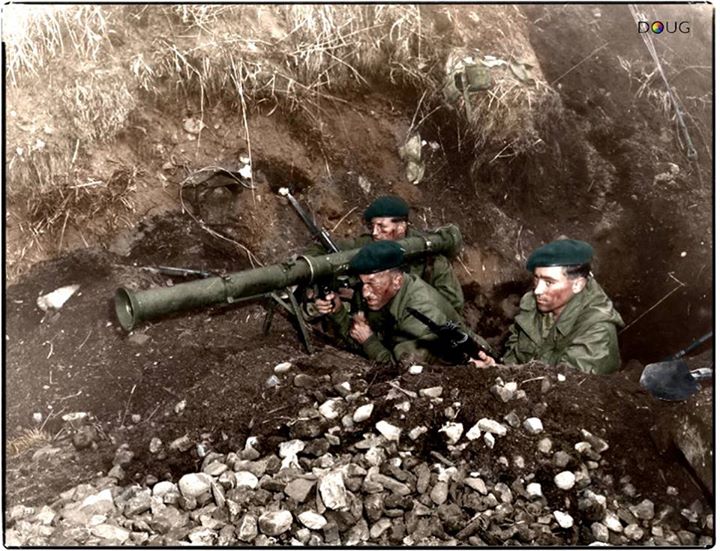 Royal Marines of 41 Commando, armed with an M20 3.5-Inch 'Bazooka' watch for enemy tanks during a seaborne raid on a North Korean rail supply route near Songjin, Korea, 6th October 1951.
On 10 November 1950, 41 (Independent) Commando joined the United Nations advance in North Korea where they served with the United States Marine Corps; the second time the two organisations had served together, the first being the Boxer Rebellion. During the Battle of Chosin Reservoir Lt. Col. Drysdale was given command of a 900 man unit of his own Commando, American, and South Korean forces called Task Force Drysdale.  Their hard fighting together with the American Marines and Army led to 41 Independent Commando being awarded the American Presidential Unit Citation that the 1st Marine Division earned.
The Commando reformed in Japan and in April 1951 were assigned to what eventually became the 1st Commonwealth Division. They raided the North Korean coast with the Republic of Korea Marine Corps until 41 Commando returned to England in December 1951.
(Colourised by Doug)
https://www.facebook.com/ColouriseHistory?fref=nf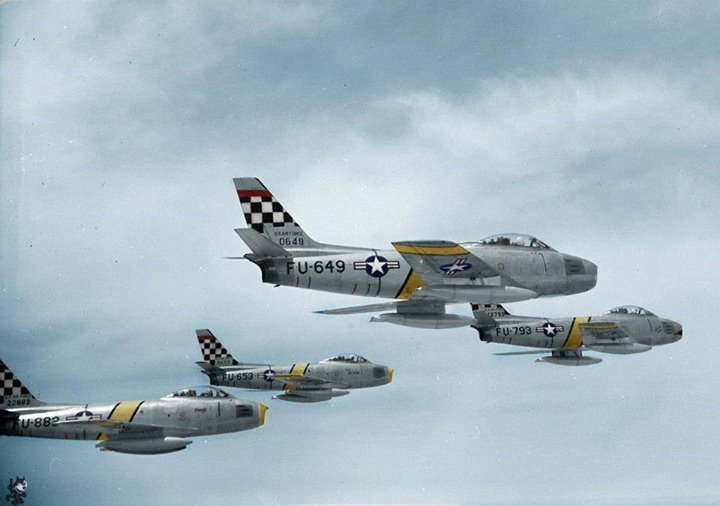 Four U.S. Air Force North American F-86E Sabre fighters of the 51st Fighter Interceptor Wing over Korea on 22 May 1953.  The aircraft "FU-649" (s/n 50-649) and "FU-653" (50-653) are F-86E-5-NA models, "FU-793" (51-2793) is a F-86E-10-NA, whereas "FU-882" (52-2882) is a F-86E-6-CAN that was originally built by Canadair (ex-RCAF 19351), but delivered to the USAF.  50-653 is today on display at Hickam Air Force Base (Honululu International Airport), Oahu, Hawaii (USA).
(Source – National Archives and Records Administration – 542186) (Colourised by Mike Gepp from Australia)
Australian Pilot Officer Randall (Randy) Green, a former member of No. 23 (City of Brisbane) Squadron RAAF prepares for a mission against targets in North Korea with No 77 Squadron RAAF.
The nose art on his aircraft reads "the Korean Kid'.
This Meteor, A77-316, was normally flown by Sergeant James C Kichenside, who served in Kimpo, Korea, from March until September 1952, completing 148 operational missions.
Sgt Kichenside was the youngest pilot in the squadron and was known as 'the Korean Kid'. The ground crew of 77 Squadron decided to organise the painting of the logo on A77-316, after which a brief handing-over ceremony was held to 'present' the aircraft to Sgt Kichenside. It was standard practice that after a period of consolidation, and, whenever practical, a pilot could sign for and fly the same aircraft consistently.
He flew many missions in this aircraft until its last flight on 27 August 1952, when a mix-up meant he flew A77-258.  Aircraft A77-316 was piloted by Flying Officer Oelof M. Bergh RAF, an officer flying with 77 Squadron as part of an RAF exchange program to bolster the depleted numbers of operationally trained pilots. On this occasion the aircraft A77-316 was hit by ground fire, F/O Bergh ejected safely but spent the remainder of the conflict as a prisoner of war.
"Stories of Oelof are legion. He was one of the few RAF pilots who was chosen to fly in the Commonwealth Squadron in Korea.  He spent 18 months in the hands of the North Koreans who tried to break him. He spent most of his time up to his neck in freezing water in a pit. Oelof would always make light of this, although I believe he never fully recovered from the experience. He said that the North Koreans unusually sent him back before the end of the war as they couldn't put up with the hard time he was giving them!"
(Wing Commander Mick A F Ryan – Retd)
Oelof M. Bergh died 15th May 1983, aged just 58
Randall Green died 16th September 2008
Squadron Leader James C. Kichenside, RAAF, whilst commanding the Antarctic Flight at Mawson Station in 1960, had a glacier named after him.  (Source – Australian War Memorial collection JK0351)
(Colorized by Tom Thounaojam from India)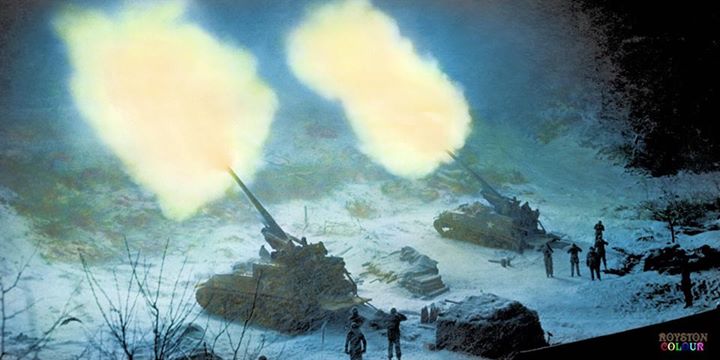 A pair of M-40 155mm GMCs of Battery B, 937th Field Artillery Battalion, providing fire support to U.S. Army 25th Infantry Division, Munema, Korea, 26 November 1951.
The M40 155mm Gun Motor Carriage was a self propelled gun based on a modified M4A3 Sherman chassis. It arrived too late to see significant service during the Second World War, but was used in large numbers during the Korean War.  The 937th Field Artillery Battalion was mobilized on the same day as the 936th and moved to Fort Hood, TX for training. It arrived in Korea on the same ship as the 936th and fired its first combat mission April 3, 1951. The battalion went in to line with the I Corps on April 30 near Uijongbu, Korea. During the Chinese Spring Drive the battalion fell back to Seoul and was moved to IX Corps. Battery A continued with X Corps and was attached to the 1st Marine Division. On May 17, 1952 the Battalion was attached to 2nd Division, IX Corps. For the action with 2nd Division, Battery C and Headquarters Battery received the Distinguished Unit Citation.  The battalion continued in general support to IX Corps from July 28, 1953 until October 9, 1954. The 937th fired 223,400 combat rounds in Korea and suffered 13 killed in action and 156 wounded in action.
(Colourised by Royston Leonard from the UK)
https://www.facebook.com/pages/Colourized-pictures-of-the-world-wars-and-other-periods-in-time/182158581977012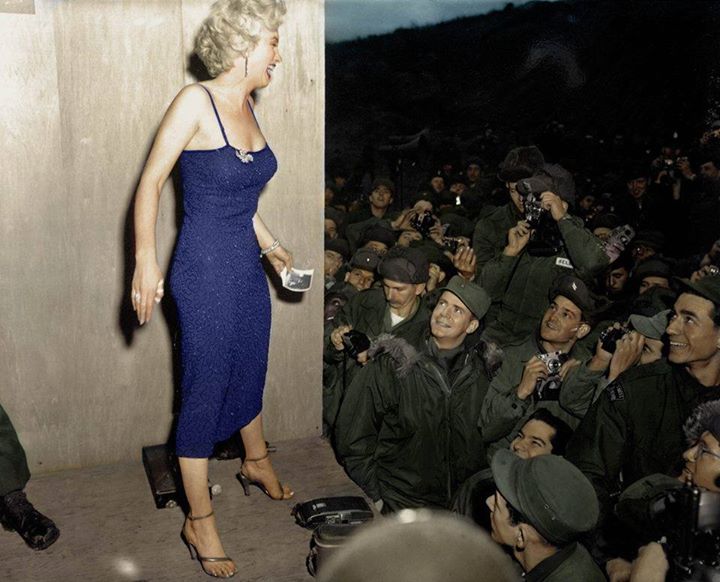 Marilyn Monroe poses for soldiers in Korea after a USO performance at the 3rd U.S. Inf. Div. area, February 17, 1954.
In February 1954, actress Marilyn Monroe traveled to Korea to entertain the troops. Right before she flew into Korea, Monroe was in Japan on her honeymoon with Joe DiMaggio. She flew alone to Korea as DiMaggio was still attending to business in Japan. In the four days Monroe spent with the troops she performed ten shows. She later said that performing in Korea helped her get over her fear of live performances as she entertained audiences that totalled more than 100,000 troops. She remarked that the trip "was the best thing that ever happened to me. I never felt like a star before in my heart. It was so wonderful to look down and see a fellow smiling at me."
The troops greatly enjoyed her visit. Ted Sherman, who served in the Navy during World War II and Korea, recalled: The movie star was at her glamorous best when she performed ten USO shows in four days for U.S. soldiers, airmen, Marines and sailors during the Korean War in early 1954. I was with a group of Navy guys who happened to be at Daegu Air Force Base when we heard Marilyn would entertain there that night. We convinced our transport pilot to find something wrong with our R4D transport, so we could delay the return flight to our ship in Tokyo Bay for that one night.
It was a great evening for all the homesick guys who were dazzled by the movie star's performance. The sight and sounds of Marilyn singing "Diamonds Are a Girl's Best Friend" is a memory I still cherish. (historybyzim.com) (Photo Credit: National Archives)
(Colorized by Tom Thounaojam from India)
https://www.facebook.com/pages/Coloring-Past/631167093560788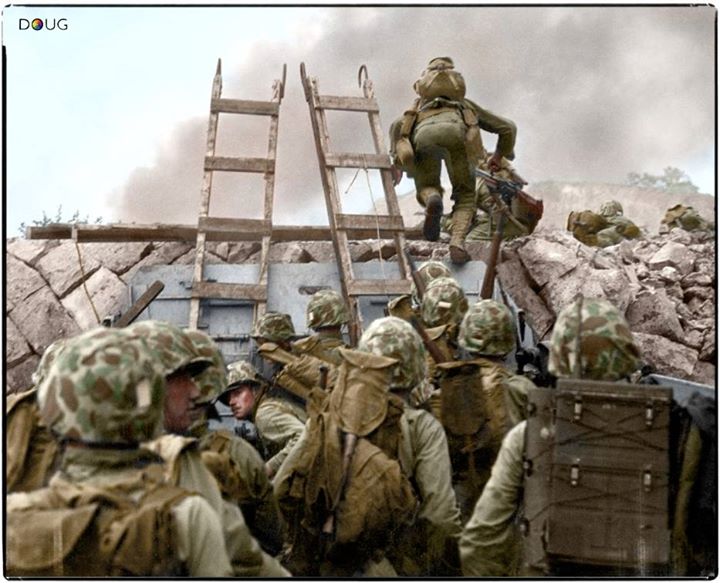 US Marines from Company's 'A' and 'E' of the 1/5 and 2/5 Regimental Combat Teams, bridge the four foot gap over the seawall at 'Red Beach', Inchon, Korea. 15 September 1950. #Inchon
At 1724, with intermittent rain squalls spitting down, the leading waves of 1/5 crossed the line of departure and headed for that ominous seawall. Preceding them was a shower of 5-inch rockets, more than 2,000 of them, fired from LSMR-403, blanketing the beach and its north flank. Almost too soon for the Marines in them, the landing craft snubbed their noses against the sheer face of the seawall, and the scaling ladders were thrown into place.
Among the first over the wall was First Lieutenant Baldomero Lopez, leading his 3d Plt of A/l/5. A former Navy enlisted man in World War II, Lopez had entered the Marine Corps via the United States Naval Academy, where he had been a standout boxer. Confronted immediately by a bunker, Lopez silenced it with a grenade, then turned to hurl another grenade at a second bunker. Bullets ripped into his arm and shoulder. The armed grenade dropped to the ground. Unhesitatingly, Lopez fell upon the grenade and drew it to him, absorbing the full force of the blast as the grenade detonated. His selfless action would bring him a posthumous award of the Medal of Honor.
By 0200 on the morning of 16 Sept., Inchon was firmly in Marine hands. A 1st Marine Div that had been cobbled together from nothing had streamrolled everything in its path. Total casualties amounted to 21 Marines killed, one missing and 174 wounded. It had been a textbook Navy-Marine operation, one that had taken the North Koreans completely by surprise. Despite the staggering natural obstacles, by the end of D-day Rear Admiral James H. Doyle had put 13,000 troops ashore.
Speaking of the commander who had refused to accept the impossibility of Inchon, Lt/Gen Shepherd, a future Commandant of the Marine Corps, said, "Doyle is a great commander and is the best naval amphibious officer I have ever met." (koreanwar-educator.org)
From the Photograph Collection (COLL/3948), Marine Corps Archives & Special Collections
(Colourised by Doug)
https://www.facebook.com/ColouriseHistory?fref=nf