A British Special Ops agent in World War II, Violette Szabo was a posthumous recipient of the George Cross for her impressive work in occupied France. During her second mission she was captured by the Germans, interrogated, tortured and sent to the infamous Ravensbruck concentration camp.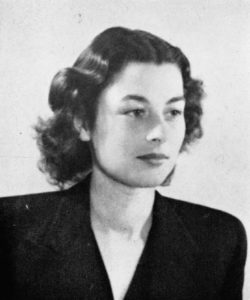 The Start of the Action
Szabo was born in Paris in 1921, then moved to London, age 11, to join the rest of her family. A very active and tomboyish girl, Szabo was known as a good shot and was very popular in her circle. She began work at a department store after school; then World War II broke out.
Initially, Szabo joined the Women's Land Army, where the work was rather dull. She also worked as a strawberry picker for the war effort, as well as in a factory. She married a French soldier, who went to fight in the Free French attack on Senegal, in South Africa and the Middle East.
Szabo continued to work, becoming a switchboard operator for the London Post Office, where she remained through the Blitz. However, she became bored and enlisted in the Auxiliary Territorial Service. She underwent training, before finding out she was pregnant, forcing her to leave her work.
Putting her child under the watchful eye of trusted carers, she went back to work at an aircraft factory. Then Szabo was informed of her husband's death in action. It prompted her to volunteer as a field agent for the British Special Ops, spurred on by a desire to fight the enemy that had killed him.
Work in the Special Ops
It was Szabo's fluency in French and her previous work with the Auxiliary Territorial Service that caught the eye of the Special Ops Executive. She was given a cover as a section leader within the First Aid Nursing Yeomanry, which was often the case for female Special Ops agents.
She underwent extensive training on fieldcraft, navigation, weapons, demolition, escape, evasion, uniform recognition, communications, and cryptography. During her parachute training, she sustained a bad fall and needed to recoup. Back on her feet again, she passed the second time allowing her to enter the action. Prepared for the worst, she made her will before leaving for her first mission.
In April 1944, Szabo parachuted into France with Philippe Liewer. There, she became Corinne Reine Leroy, a commercial secretary who lived in Le Havre, giving her plenty of reason to travel into German restricted zones. There, she and Liewer (under the name Major Charles Staunton) were to assess the damage caused by German arrests.
Unfortunately, their intelligence circuit had been exposed. Szabo did gain information on which local factories in the area were producing German war materials, making it easier for the Allies to pick their bombing targets.